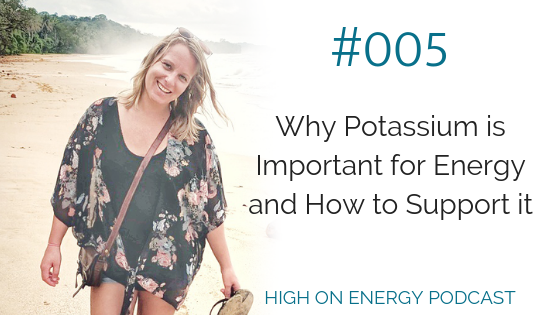 Why Potassium is Important for Energy and How to Support it
HIGH on Energy TV Episode #5: Why potassium is important for energy and how to support it
Potassium is BEYOND important for your energy levels. Many people are deficiency in potassium and it is making them impossible to feel vibrant and energetic.
In this episode, we discuss the importance of potassium, who is at risk for potassium deficiency, common symptoms of potassium deficiency and my three most important foods for raising potassium.
Grab your FREE Endless Energy Checklist to get my top 5 non-negotiable strategies for eliminating fatigue: https://go.kendraperry.net/energy-checklist
Work with me here:
https://bit.ly/2OZ4kxQ
Transcript:
Hey guys, how's it going? Welcome to episode five of, of High on Energy TV. I'm your host Kendra Perry from KendraPerry.net. And I am so excited to help you get more energy.
So today we're going to be talking about potassium and why it is so important for energy and how you can support it. And so this is actually one of my favorite minerals. The reason for that is because so many people are incredibly deficient in it and it plays a major role in the fatigue that people are experiencing and it's one of the minerals that when people start to boost it and people start to replenish and restore their status, that they tend to get pretty big results. I have to tell a lot of my clients that potassium needs to be their mission. Okay. So today we're going to be talking a little bit about what is potassium, why should you care about it? We're going to be talking about how much potassium you need in a day and it's actually quite a bit. You'll probably be surprised. We're going to talk about what can cause potassium deficiency, symptoms of potassium deficiency and who is at risk for potassium deficiency. And then I'm going to give you three simple ways that you can support your potassium levels.
So. Hi, Marion. Marion just hopped on the live recording on my facebook page. How's it going? Welcome. I'm super glad you're here. I hope you are excited to learn about potassium. Okay.
So what is potassium? So potassium, I think when most people think about potassium, they think about bananas. I think everyone is well aware that potassium is very high in bananas, but there's way more to potassium than this, I promise. So it's one of your body's major electrolytes, which means that it's just a very abundant mineral in the body. It's very important for regulating your heart, very, very important for this. It helps dissolve and keep calcium in the bone. So that means it's very important for bone density and not having brittle bones. When people have lower potassium, they tend to have calcium building up in the wrong place, which is the soft tissue, which means that, they break bones more easy, they have brittle bones, they may have osteopenia, osteoporosis. It's very, very important in regulating the thyroid and in fact, people who have hypo thyroid or hyper thyroid, so underactive or overactive thyroid, they tend to have lower potassium levels. Potassium is anti cancer, so it helps fight cancer. So in a lot of natural cancer protocols, there's a lot of juicing and a lot of potassium support in those protocols because it does have anticancer effects. It regulates fluid in the body, that fluid balance in the body, it controls cell permeability, so it controls how well things get in and out of the cell and it helps your water get into the cell. Okay.
So as you can see, it's very important. Potassium is incredibly important. And a lot of us aren't getting enough of it. And even if we are consuming enough of it, there may be other factors, other sort of factors either in our diet or in our body that might be preventing us from properly absorbing potassium. So according to the recommended daily allowance for potassium, it's about 4,500 milligrams. You probably need a little bit more than that because I feel like, the RDAs are always on the lower side and usually they're just enough to, for you to avoid nutritional diseases rather than actually build and promote health. 4,500 milligrams is actually quite a bit and it's actually even challenging I find to get that 4,500 milligrams. So at the end of the livestream I'm going to be telling you guys like what foods will give you the best bang for your buck with potassium. So that's coming up. So stay tuned.
Okay. So what causes potassium deficiency? So people who have thyroid issues have a really hard time with potassium retention, meaning that they don't hold onto potassium well. So if you have hypo thyroid or Hashimoto's, then I do encourage you to pay attention and make potassium your life mission because it's really gonna help. It's gonna help with your energy. It's going to help you feel better. And so the thing for people who have hypo thyroid, it may not necessarily be that they don't consume enough potassium, but they don't retain it well. So their body has a really hard time holding onto this. And I see this all the time when I'm running hair mineral analysis. I see really bottomed out. Potassium and people who have thyroid, typically they have very high calcium, they have very low potassium, sometimes it's barely registering and, they tend to feel a lot better when you raise the potassium. But the thing is is when you look at, I look at their diet and I'm like, well, they actually consume a lot of potassium rich foods, but they just have this really low retention because of this thyroid issue. The other thing that will promote potassium loss from the body is hormonal birth control. Okay. So, the synthetic estrogen that is in pretty much all hormonal birth control, some talking about the pill, the patch, the ring, the implant, the needle, pretty much the whole Shebang of any hormone containing birth control form of birth control, has the effect of raising copper. So estrogen and copper have this very unique relationship where copper actually boost estrogen and then estrogen increases the retention of copper. But what copper does is it causes potassium loss, so it makes it really hard to retain copper, so copper will get pushed out of the body. So if you're someone who is currently taking hormonal birth control, or you have for a significant amount of time in your life, then again, I encourage you to pay attention and make potassium your mission. Okay.
The copper IUD also will have the same effect, right? Copper in the copper iud will have that effect of driving potassium out of the body. Stress can greatly increase the burn rate of potassium. Pretty much all your minerals, stress burns through your minerals, stress is actually pretty energy intensive, right? So if you have a lot of stress, mental and emotional stress, then yeah, there's a good chance that your body is losing a lot of potassium. Inflammation can also cause potassium loss because there is, again, there's a lot of interesting relationships between minerals, but there's an interesting relationship between sodium and potassium, and they actually help synergize each other. They help enhance the retention of the other, but when they get really out of balance, they can start to antagonize each other or drive the other one out of the body. So inflammation will drive up sodium and sodium drives up inflammation. So there's again, this interesting relationship between stress and, sorry, sodium and inflammation. And when sodium gets really high, it will actually help start to push potassium out of the body. The other thing that will make it really hard for your body to retain potassium is iodine deficiency. And this is probably one of the most common deficiencies that I see. A lot of us aren't getting enough iodine because, you know, we're not living near the sea. We're not bathing in the ocean. We're not consuming seafood and seaweed and Kelp and even these days you have to avoid a lot of fish, right? Because of how toxic the ocean has become.
Hey Teresa, welcome. Anyone else's here? I'd love to know who's here. Give me a Hi. Give me a heart giving a little thumbs up. I love knowing who's hanging out in the audience because right now all I see is an eyeball with a number. That's all I see on my end. I know there's seven of you hanging out here.
Hey Ellen. So yeah, there we got a few of you here and thanks for saying hi.
So like I mentioned, I had an deficiency, very common. A lot of us aren't getting enough of it and a lot of...
Hey jenny.
A lot of us are bringing things into our diet, into our lifestyle, into our environment unknowingly that actually make it really hard for the body to retain iodine. And so when I run hair mineral analysis, there is no marker for iodine. That's because iodine.
Hey Allison.
Iodine does not actually get excreted through the hair. So if there was an iodine marker, it would always pretty much be zero. Okay. But I can actually look at your potassium levels and some of the other minerals and get a pretty good idea if you're someone who's iodine deficient and if you have a thyroid issue.
Hey Brittany, she says, 'Yay potassium.' I know Brittany also loves potassium just like me.
Then I can, you know, if you have that low potassium than I can tell that you're probably iodine deficient, especially when it's really bottomed out. When there is a severe iodine deficiency, usually that potassium, it's like, it's not even registering like the lab, the lowest number of the lab can report is one. So it'll say one, but then we'll have these little arrows. This basically means that it wasn't even detectable. What they have to report one. So those are all the things that can cause potassium deficiency. I would say a poor diet can also cause that not getting enough fruits and vegetables. And then, you know, even if you are eating a really healthy whole foods diet, just the fact that our soil tends to be more deficient and what Google tells you is in something is probably not actually true, right? If Google tells you, well, this, you know, like 200 milligrams of this has this much potassium in reality, it probably varies quite a bit depending on where that vegetable or fruit, was actually grown, right? Because it all depends on the soil that it's grown in and we know that our topsoil in North America especially has been pretty depleted. So if that's going to vary a lot as well.
Okay. So let's talk about symptoms. So if you were suffering from potassium deficiency, what might you be experiencing? So the number one thing is typically water retention. So you're kind of, you're bloated and you know, it's not weight, you know, it's not fat. It's like this water retention and woman might notice this in the week leading up to their period, you know, they gain a bunch of weight. More than likely it is water weight, right? And that is because potassium is what brings water into the cell and there are two oceans of water in the body. I like to think of these two oceans, there is what is inside the cell and what is outside the cell. So if you have potassium deficiency, you have nothing to bring that water into the cell, which means that when you drink water, it just hangs out outside the cell and bloats you and then you pee it out. So another sign that you might have potassium deficiencies that you don't retain your water well. So it's like you drink water, you pee it out, you just don't actually feel like you are retaining it and you constantly feel dehydrated even though you might be drinking eight glasses of water a day or more.
The other thing that you would likely experience is heart palpitations. So potassium is very much responsible for regulating the heart. So if potassium is deficient and sodium is in excess, which is really common, that will actually drive high blood pressure, you can get a lot of heart palpitations, pelt, pelt, palpitations. I'm probably totally butchering that word.
I'm terrible at pronouncing things. I always have to go on Google and just type it in and ask for the pronunciation because I'm always saying things wrong. People are always calling me out for it.
The other thing you would experience would be muscle cramps and spasms. So those little spasms that maybe you get in your eyebrow and your leg in your back, a lot of muscle cramping. That can be a sign that you might have potassium deficiency, thyroid issues if you have any thyroid issues at all. Hyperthyroid, hypo thyroid, Hashimoto's, I guarantee there's going to be a potassium issue. And then bone density issues and we kind of already discussed this, but potassium helps keep calcium in the bone. So, if you have low potassium then you might be struggling with Osteopenia, osteoporosis or just, you know, breaking your bones pretty easily.
So who is at the highest risks for potassium deficiency? Well, like I mentioned, I, we've kind of already went through this, but just to sort of reiterate this, are the people with thyroid issues. I would say that is the biggest, people who have Hashimoto's, hypothyroid or hyperthyroid, even graves' disease are going to be really at risk for low potassium. Anyone who's on hormonal birth control, the copper Iud is that risk for very low potassium. And then if you're someone who lives inland and North America so you don't live near the coast, you're not consuming fresh fish and seaweed or marinating your body in the sea, you're going to also be at risk for having potassium deficiency.
And you know, for me personally, like as you guys have probably heard me say over and over, like I struggled with chronic fatigue for so long, you know, my energy levels have been an issue for the past six years or probably even longer now. And potassium was a really big piece for me and it still is a really big piece for me. I always have to be super on top of my potassium levels because I'm copper toxic. I'm still dumping copper a year and a half after I initially started. And copper will help drive potassium out of the body. So I always need to be really on top of it. I have a huge need for potassium. Okay.
So the good news about potassium, is it, is the most well absorbed through the food, which is great. You don't necessarily need to take a supplement, although sometimes I do recommend a potassium supplement, especially when people are really deficient. But this one's actually a little bit new and I kind of hate to say this because I kind of fought it for a while and I hate to jump on this train but I'm jumping on celery juice. Okay. And so I know the medical medium guy, he's all over celery juice. Everyone's drinking their celery juice and I kind of thought it was a bit bunk until I actually started to research it and read into it. And then when I discovered how much potassium that celery juice actually has, I was blown away. It has probably one of the best profiles for potassium than any other food I've really seen. Okay.
So you want to, you obviously need a good juicer and you want to be juicing celery, but for a cup of celery juice you get almost 700 milligrams of potassium, which is really awesome. Okay. And so you need your 4,500 milligrams, you're going to get some of that from food, you're going to get some of that from, you know, sprinkling sea slat on your food or putting salt in your water. But, but that celery juice is actually a really, really good potassium support. I will warn you, it doesn't taste good. I started drinking it every morning and it, it actually, it does tend to make me feel even a bit nauseous, like the taste is really bad. So I've actually started adding it later in the day because first thing in the morning is just a little too much on my gut. So you may want to mix it with some other type of juice just because, yeah, I don't really think it tastes very good. And, the, the great thing about it is you get a lot of other minerals as well. The potassium has a really good sodium profile as well, and then on top of that it's a bitter food, so it's a bile stimulant as well. And I love bile. I think most of us need to be focusing on bile. I think a lot of reasons why people have thyroid issues, why people are fatigued is due to, a sluggish, toxic, thick, bile instead of that nice, thin, viscous. I don't think that's the right word, but a nice thin, like kind of easily movable, like watery, sort of bile, which is what we want. So celery juice as number one. Trying to get a cup in a day. I think it's really, really helpful.
Laura has a great question in the audience. She says, doesn't matter if you're taking out the fiber by juicing it? So don't think of the celery juice, Laura as a replacement for food. Think of it as a supplement. Okay. So, you know, just juicing. Yes. Like not having the fiber is going to be a big issue because we do need fiber. It's really important. It's important for detox, it's important for bowel movements. It's important for a gut bacteria, there's so many reasons we need fiber, so you still want to be consuming your cooked vegetables, you're three to four to six cups of vegetables a day, but you're using the celery juice more as a supplement, as an extra boost so you're not using it to replace. So hopefully that makes sense.
And then Jenny says, 'Hi Kendra, would you be able to touch on high potassium levels? I've been warned to watch how mine get with my kidneys tested high in the last few months.' So yeah, if you have a kidney disorder, you may have to be more concerned about potassium. Definitely, everyone's different and people who have a faster metabolic type do tend to have higher levels of potassium. So those are the type of people who probably don't want to take potassium. Remember that It is all, everyone's different. Right? And that's why I always like to work with hair mineral analysis testing. I know Jenny's in my membership, so she's probably either done the hair mineral analysis or we're waiting on results. We're going to do one soon, but for those of you who aren't in my membership, it's the best way to get access to the testing, it's a pretty low price point to be in the membership and then you can upgrade and get the hair mineral analysis because really in the end you do want to know your levels, but if you're someone who doesn't have kidney issues or any specific, yeah, like kidney disorder, kidney to disease, and then you have some of the issues we talked about, the hormonal birth control history, copper iud, the thyroid issues, then it's not going to be a big deal to use food as a support for your potassium. Your body does a really good job of regulating and if you have too much, typically the kidneys will just move it out. But of course if you do have, a kidney issue, then, maybe that's not happening as much. So you do want to be wearing obviously if you've been diagnosed with something like that.
Teresa says, 'Heart to the membership.' Yes, Teresa is one of my members. It's a great place, for, to work with me to connect with me and we actually have a pretty awesome group of ladies. I would say that they're all pretty bad ass and the support I see everyone giving each other just like makes me cry every single day.
Okay. And then Jenny says, 'I do add celery to my vitamix for smoothies to keep the fiber.' Yes. So you can do that as well. The reason I like a juicing is just because it's a really potent potassium hit versus having to consume all that fiber and getting full. You can just get a lot more bang for your buck from the juice.
The second way to increase potassium is coconut water. So I love coconut water, not only is coconut water, a great source of potassium, but it's a really good electrolyte replacement drink. I think the biggest concern that people have with the coconut water is that it has sugar in it, but I wouldn't worry too much about the sugar. This is a natural sugar. Yes. There are some coconut waters that have higher levels of sugar. Maybe because of the coconuts had been bred to produce higher levels of sugar, or there's sometimes added sugar sometimes. There's really weird things added into coconut water, but you just want a basic. I wish I could remember the brand of the stuff I've been buying. I really like it. It's, it comes from a Thai coconut. It's in a big grain long bought bottle. I can't remember the name of it, but, the other one I use is blue monkey. I do like blue monkey. And, yeah, you just want to make sure it's straight up coconut water and there's nothing else added. I don't worry too much about the added sugar because it is natural and the minerals that you get from coconut water are awesome. So if you're someone who uses the sauna, if you're someone who likes to exercise and sweat a lot, coconut water is something you should take for a mineral replacement drink. It would take the place of something like Gatorade, right? Like obviously don't drink gatorade, drink coconut water. That's what I would say. But I really love coconut water. You're someone who does struggle with really low potassium. I would, you can drink up to a liter of coconut a day. There are some days where I'll drink a full liter of coconut water in a day.
'What about coconut water with high ammonia levels?' So I'm not super familiar with that. Emily. I don't actually, I'm not super familiar with ammonia being in coconut water. I would think that it shouldn't be in coconut water. I would say good quality organic coconut water shouldn't have high ammonia.
And then the third way that I like to support potassium is with nettle. And nettle is comes from stinging nettle, but when it's dry it into a tea, loses that stinging quality so you don't have to worry about that. But you can brew like an infusion. And that actually is a really great way to support potassium as well. And I actually have combined coconut water, so like three parts, coconut water to one part nettle in the summer and made this cold drink and actually really like it. So that's a really good way to support potassium as well.
Ellen says, 'If you were to take potassium, what would a potassium supplement?' So I wouldn't take citrate. The only supplement I found that I like. I haven't right here. It's the designs for health, K Plus 2 potassium and this one is actually a mixture. It's a mixture of bicarbonate and glycinate and this is the only one I found that I like that I think is a high quality well absorbed form. I don't, I wouldn't use it as your only way to support potassium if you have low potassium because three of these is only giving you about, I think you're getting about 900 milligrams. So it's good. I take this every day. I'm someone who's very copper toxic and so I need to be really on top of my potassiums. I do take a potassium supplement. This is the only one I've found so far. There is actually one other, but I found it really hard to get, premier labs makes the HCL activator and that's just comes from potassium foods. But basically it's just potassium foods. So I prefer to support potassium with food. It's better tolerated.
Laura says, 'I love nettles. Nettle infusion. Two thumbs up.' That's great.
Emily says, 'High blood ammonia from infections.' Yeah. So certain infections that consume protein will produce ammonia. I don't see coconut water and ammonia really being an issue. Like if you have high ammonia levels from infections, I would say you can still consume the coconut water. I had several infections that do tend to produce ammonia as a byproduct. Drink lots of coconut water. I don't think it's an issue.
Marion says, 'How can you make coconut water tastes better? I have a hard time getting it down.' So that's funny because I actually love the way it tastes. I love it. I'm obsessed with. I think it tastes great. Marion, I would just say that, maybe it's just a brand thing. I find depending on where the coconuts are being grown or where they come from, they have a bit of a different flavor. So you may just want to experiment with different brands of coconut water to see if you find one that you like or if you really just don't like it and some people just aren't into it. Right? It's a, it's a palette thing. I would stick to, nettle, I would try celery juice or you can even do coconut milk. The only thing I don't love about coconut milk is it comes from an aluminum cans. So there is that, you know, whatever the can is lined with. I never liked that. But you can do a coconut milk because it has about the same potassium profile as, a coconut water.
Jenny says, 'Smoothies.' So that's actually a really good, good recommendation is put it into a smoothie.
'In the US, we have pineapple, pineapple, coconut water. It's fabulous.' That's awesome Ellen.
Awesome. I love how stoked everyone is about coconut water right now. And Potassium. This is like my favorite group of people ever. I talk about potassium so much because the truth is, with potassium, it is the hardest mineral to raise. It can take time, especially when you have other things working against you, like high copper, high sodium, iodine deficiency, adrenal issues, that sort of thing. All of these can affect your potassium.
Theresa says, 'Can you make coconut water?' So you don't actually need to make it, you just need to break open a coconut. When I was in Costa Rica in, when was I there in November, I was literally just buying coconuts and I was using a, a wine opener, a corkscrew and I was just drilling into the coconut and then drinking it. And it was actually amazing, like even though it was getting all the coconuts from the same place, the difference in how they all tasted actually range quite a bit. So I think the taste of coconut water really depends on the coconuts and each individual coconut and where it's coming from. Okay.
So I think that's all I got. Anyone in the audience who's on me on with me on facebook live right now, just let me know if you have any more questions. I'm happy to answer them. I'm going to throw these into the show notes. If you guys want to connect with me, if you want more for me, you can grab my free high energy checklist with my five non negotiable tips for getting more energy or if you want to work with me, the best way to do that is in my high on energy membership program. Bunch of people we have here in the audience are members. And in that program we help you get more energy. We support you with regular group coaching calls and we give you access to the functional testing that helps us get the information we need to customize a protocol specifically for you because you know, I believe in testing and not guessing.
Alright guys, thank you so much. Remember that we go live on the facebook page for High on Energy TV every Tuesday. And the podcast gets released every Thursday. So I will see you guys in one week for the next episode. And thanks guys. Thanks so much for being here. Love you all. And I'll talk to soon.