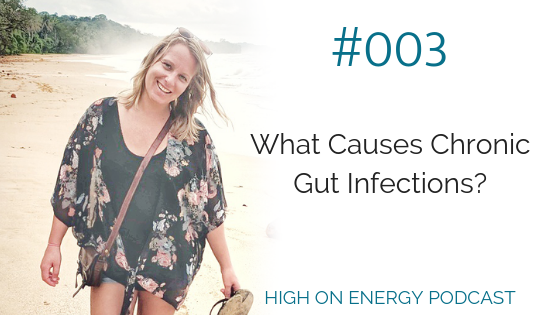 What Causes Chronic Gut Infections?
HIGH on Energy TV Episode #3: What Causes Chronic Gut Infections?
What's up with a chronic Candida or a parasite infection that just won't go away? You try everything! You eat a restrictive diet like GAPS, SCD, AIP or the Candida diet. You take round after round of antibiotic or herbal antimicrobial. Yet, every time you test you have yet another infection or the original infection is STILL there. Learn the shocking cause of chronic GI infections that no one is talking about.
Grab your FREE Endless Energy Quick Guide: https://bit.ly/2rkYmx5
Learn more about me: https://kendraperry.net/about-me
Say hi on Facebook: http://facebook.com/kperrynutrition
Join the HIGH on Energy Membership: https://bit.ly/2OZ4kxQ
Transcript:
Hey guys, how's it going? Kendra here, welcome to episode three, I believe of High On Energy TV. Super excited to be doing these every week for you. And as always we're talking about a topic that I'm pretty into. So we're going to be talking about today, we're gonna be talking a little bit about chronic infections. And we're going to be discussing the cause of chronic infections because this is something I see all the time. I'm seeing it in a lot of my clients and a lot of people who are reaching out to me is that they have infections that no matter what they seem to do, they've taken antibiotics, they've done the conventional route, they've taken herb's, they've done diets, they've done all these things, yet they continued to have these infections and when they go back and they retest, these infections just keep coming up.
So if you guys are on with me, live on facebook live, say hi, let me know you're there. I'm super stoked to be able to connect with you and hang out with you guys today. So let's talk a little bit about what causes chronic infections. So before I get into that, getting a little ahead of myself here, as always, my brain's just like spinning a million miles a minute right now, but I want to talk a little bit about the importance of the gut and what happens when the gut isn't functioning properly. So, you know, the gut is how you break down your nutrients, your minerals, your vitamins, like pretty much everything you need for the body to function properly. I'm, your gut needs to actually break it down, break it down. It's not like we can just take a piece of Broccoli and transform it into energy, right? It has to go through this whole process of digestion, of getting broken down, getting pulled apart, getting absorbed, and then eventually ending up in our cell to actually give us that cellular energy. So it's a long process and it requires pretty good gut, gut function for us to be able to do that.
So, you know, digestion really starts when we, even when we smell food, so when we smell something that actually starts to stimulate the salivary glands, that's why your most starts to water, right? Because that's your body getting primed, you know, getting ready to start digesting because it's something that you're about to eat a meal. So that's what happens. First, he put the food in your mouth and probably about 5 to 10 percent of digestion happens here by salivary amylase. Which is in the mouth and help start to break down carbohydrates. Now, if you liked to inhale your food hole and don't chew, you're probably going to get a lot less digestion actually occur in the mouth because you actually want to be, you know, manually and sort of physically actually breaking down your food with your teeth in your mouth and allowing the families to work, okay. From their food goes into the esophagus and down into the stomach and in the stomach, this is when stomach acid gets secreted. And stomach acid is primarily responsible for breaking down protein. But also it's very important for mineral absorption. So for mineral and vitamin absorption. So that happens in the stomach and that stomach acid being triggered actually starts to have downstream effects. It stimulates the pancreas to start producing enzymes and it also stimulates or sort of sends a message to the gallbladder to tell the gallbladder to give off bile. So as the food travels outside the stomach, into the small intestine, that's where the pancreatic enzymes begin working on the food. And then you get the bile which comes from the gallbladder, which really starts to break down the fat content of the food. So a lot of that digestion is happening in the small intestine, is that food travels further down, it starts to feed bacteria in the large intestine, and those bacteria in your large intestine will actually start to pull further, further things like short chain fatty acids from the foods. So that kind of continues on. So pretty, pretty good, pretty, pretty important to have good digestion. You know, there is that saying that you are just what you eat, but really you are what you digest and absorb. You know, you could eat a really healthy diet, but if you're not breaking it down, if you're not digesting, if your gut is unhealthy, then yeah, I mean, you're just not gonna feel like you're getting anything from your food. You're going to feel like, I think I'm just making expensive poop, right? Because you're spending all this money on organic, high quality food yet, yeah, it's just not really getting to where it needs to go. Okay.
So one of the biggest hindrances on good digestion is actually infections and I test pretty much all the people that I work with, with a gut panel to identify infections and I don't really see any clean panels. I've seen the odd one where I'm like, oh, this is like strangely clean. And we ended up finding a different infection somewhere else. But most gut panels are actually pretty messy, pretty shitty pun intended. They've got a lot of stuff on them, that needs to be addressed. So when I talk about infections, I'm not just talking about parasites, I'm also talking about Candida or other strains of yeast. There are other strains of yeast that can inhabit the human body and cause issues. I'm talking about negative bacteria, infections. I'm talking about viruses, worms, and even something like h.pylori which infects the stomach. So when somebody gets infections, this is kind of a big deal, right? And you can go down a lot of different rabbit holes on various infections of what they cause and what they might be correlated with, but really like when we look at this from a bigger picture, when we look at sort of the take home message of infections is when they excrete their excretion is toxic. So just think of it as bug poop is toxic, so that is going to damage the lining of your intestine. It's toxic. So it is going to clog up detox pathways. It's going to put those detox organs and cells into overdrive. It's going to cause inflammation, right? And then the other thing it does is going to sort of out compete some of that more friendly, healthy flora that you want in your gut. So I feel like when I talk about this with clients, we're always talking about like war zones, right? There's always this kind of push and pull this ongoing battle between friendly and healthy flora, but also, the more negative ones and it's totally normal to have unhealthy strains of bacteria and organisms in you. But what we want is that the good always outweigh the bad and that the friendly flora, the one that you have a symbiotic relationship, a healthy relationship, the ones that help you boost your immune system, breakdown food, keep the gut lining healthy. We want to always have those out competing the bad. Okay.
So yeah, I mean, when someone has infections, because the gut is so crucial to us absorbing minerals and nutrients, I mean symptoms can be pretty far ranging. Yes. Some people do have those typical gut symptoms. They have bloating, constipation, diarrhea, maybe stinky gas, they have abdominal pain, they get cramps, they have acid reflux, gerd, that sort of thing. That's all very common. But what a lot of people don't realize is that a lot of people who do have chronic infections and gut issues, they don't actually have gut symptoms. So they're actually getting the brain symptoms. So they get the fatigue, they get the brain fog, they get anxiety, depression, maybe ocd, panic, they can get all those things. So you know, I, I often see that people have tons of infections and they're like, 'oh, but I don't have any symptoms of these. I have no gut infections. My gut feels really healthy.' And it's like, yeah, but those, that might not be how your symptoms are actually manifesting. Everyone is a little bit different. Everyone has a different experience and some people are just going to get acne or they're going to get really severe brain fog or they're just going to be frigging tired all the time. Like all of those things are possible because if you don't have minerals or nutrients because you can't absorb them properly from food, basically at a very basic level, your body doesn't have what it needs to function. Okay.
So let's talk about, because I think this is a really big confusion, is people think, well, 'I don't, I don't do a lot of traveling, like I'm really clean, like I always wash my hands, like, you know, I don't eat street meat, you know, like I'm not traveling to, you know, South America or wherever, Thailand,' wherever, any of these foreign countries that people may think that they can pick up infections. Like the truth is, organisms are very good at adapting. They can survive in a lot of different environments and they can be in North America or Europe or New Zealand, Australia. They can be anywhere in the world. It's actually totally normal that you do get exposed to pathogenic organisms. Like we're always getting exposed to them. But the big question is, well, why aren't they getting excreta? So let's talk about some of the lines of defenses when you excrete these, or excrete, when you ingest these, these negative organisms. And of course we could be digesting them through food, water, air, right, in our environment, even through our skin.
First line of defense is stomach acid. So we want a very acidic environment in the stomach because that actually kills off organisms. This is a big reason why you're usually told to take probiotics on an empty stomach. It's because that acidity and that stomach acid is actually very good at killing microorganisms. So when you have really healthy stomach acid, a lot of these things just die in the stomach, they don't even make it past. Beyond the stomach. The next thing we have are the gut flora. So the friendly flora that help, so something gets through those friendly flora, just come in and out compete it and get rid of it. So that's our second line of defense. And then our third line of defense is our immune system, right? So, our immune system will engulf these things, destroy them, send these killer cells towards them and get rid of them. So we do have those three lines of defense and if any of those are compromised, that means that these things can actually start to make a home in it. Because, you know, if you really needed a home as a parasite, like you're going to get into this dark, warm space in our guts, like that's a pretty sweet living situation, free rent, right? And a constant food source. So why wouldn't you want to make a home in a dark, warm gut, right? So those are the three main ways that people, you know, first begin to get infections. They have low stomach acid, they have poor immunity or they have imbalanced gut flora. So then we need to kind of look at this a little bit further and try to think about some of the things that might actually affect stomach acid. And so a big one is having an h.pylori infection. So you could have an h.pylori infection, which is a serious infection. It's an infection that I typically prioritize above everything else because it does open you up to having other infections. The other thing is mineral imbalances, so as zinc deficiency, or a sodium deficiency, these are things you actually need to build healthy stomach acid. If you have a deficiency in either of these, that can play into it as well. Copper toxicity is actually huge in this. A copper excess will deplete zinc and sodium. So it's a big reason why people have those deficiencies to begin with because there are copper toxic, okay. Stress will deplete stomach acid levels. So does alcohol, so to sugar and refined processed carbohydrates. So does Proton pump inhibitors. So a medication that lowers purposely stomach acid. If you read the fine print on Ppi's on Proton pump inhibitors, it actually actually tells you that you should not be taking these for longer than six weeks. And of course doctors have people on those for 30 years. So that is a big, bad thing. I mean, if you can avoid being on those longterm, that's, that's a big thing because it's a really hard medication to get off of. Okay.
And so I find that low stomach acid and chronic infections go hand in hand. But I want to dig a little bit deeper into why this is happening. Not a lot of people are talking about this. So get ready. This might actually surprise you, but there's actually quite a few research studies, not specific to human guts, but specific to fish and environmental pollutants. So parasites and yeast are actually very good at concentrating environmental chemicals and heavy metals in their cell walls. Okay? So you'll see this in fish and other organisms where there is a ton of toxins, metals, chemicals in the wall of the parasite, but there isn't the same level of toxicity in the fish or in that other organism or in the host.
So parasites actually act as sinks for pollutants of the host. So let's think about this for a second. What is a massive problem in the industrial industrialized world? It's metals, heavy metals, environmental chemicals. I like to call them xenobiotics, which is basically just a chemical does that does not belong in the human body. We are getting exposed to a lot of these things. Okay. So, they're all around us, right? Regardless of where we are, we have a pretty intimate relationship with toxins. Okay. And there has been quite a few researchers, that has suggested that the reason why we have these chronic infections that we cannot get rid of is because our body is allowing them to be there because they are giving us a symbiotic relationship to some degree, right? They are concentrating these toxins and metals. They are protecting us from them. So our body is like, these are actually incredibly beneficial. So yes, they are toxic and they're fucking shit up in there, but they are protecting us from something that is much worse. Okay. And you know, the research around this isn't really related to what's actually going on in the human body. I don't really think it has been proven that this could, this is definitively going on in the human body, but I 100 percent believe it. It makes sense if this happens in other organisms. I believe it does happen in humans too. If you want to read the research on this, just Google 'Parasites act as sinks for the pollutants of hosts.' That's sort of like the key words that will get you to those studies that I'm referring to. But I see this all the time, you know, I see people with these chronic infections that every time we retest we find more and more infections and we don't actually have any success in getting rid of the infections until we address the toxicity. I've had this experience as well. I'm like the poster child for chronic infections. I've had like six parasites. If had bacteria, like I've had all the strains of yeast, like pretty much on a GI-MAP test, I can click off and check off almost every box so far for infections except for h.pylori, which maybe I'm going to find on the next test. Okay.
So I'm, I'm someone who is very toxic. I have only started to see improvement in getting rid of these infections once I've started to address toxicity. And so I think it can be a big mistake to only address infections without actually addressing detox. Okay. And I know in the functional medicine world it's very trendy to talk about the gut these days. Everyone's talking about the gut because everyone's gut is unhealthy and there are so many people who , who are telling you that the gut is the root of all illness. They are telling you that, you know, the key to health is the gut and I don't buy it and I put probably a pretty unpopular view and people might feel weird about that but I don't buy it because I just see this time and time again, chronic infections that won't go away over and over and over again. People are getting these infections and nobody is addressing toxicity and it, it almost seems like kind of like, like a course like this of course moment to me because I'm thinking like we have 84,000 chemicals alone in the US and Canada that we are putting into the environment. We live in a plastic chemical world. I can't remember who said this, but 'we are marinating and chemical soup.' Those are not my words. I definitely heard someone else say that on a podcast, can not remember who it is. So I wish I could give them credit, but it's true. We are marinating in a chemical soup, and our body has found a protective mechanism. We have to address toxicity, we have to get metal out of the body, we need to address zinobiotics, we need to address environmental chemicals, we need to address glyphosate, glyphosate, roundup, we need to address it. And you know, personally I can speak of my own experience like I have had all the infections. I have been on probably seven different gut protocols and they didn't really do anything for me. Like yes, they made my digestion a little bit better, but they didn't really play into the bigger overall picture of my health. And every time I tested they would be back. And so now that I am on a detox program, I'm always detoxing. I'm always thinking about it. I'm balancing my minerals. At this point, my infections are finally starting to clear. Okay. So I think this is a really important piece. I don't think the root cause of illness is the gut. I think that the gut plays into that. I think the gut makes that worse. And I'm not saying you shouldn't get rid of infections, you still do need to get rid of the infections, but I believe the root cause of our illness, of hormonal imbalance, chronic gut issues, fatigue, brain fog, skin issues, it's the chemicals, right? And it's kind of like, well, 'Duh, you pollute the environment. You make it so incredibly toxic. Of course people are going to start getting sick,' right? And unfortunately we pass down our toxicity to the next generation. There is a thing called generational toxicity where we pass that on to our children and it's no wonder our children are so sick. Okay?
So when you work on the guts, when you work on your chronic infections, if you want to get rid of your chronic infections, you need to ask the question why? And you need to be addressing the detox in metals piece. So you might be wondering, well, how do I detox? I have a lot of opinions about detoxing, but the best way to start detoxing is with hair, mineral analysis testing. When you balance the mineral system, you allow the body to detox more effectively. And the body will start to do it naturally. Detox needs to be a very slow and calculated process. I don't think you should do it on your own. You should do it with someone like me, a practitioner who knows what they're doing, who has a good understanding of detox and how to actually do it safely. So I do recommend hair mineral analysis testing. If you want to do this with me, the best way is to join my group membership program. I have the High On Energy group membership where you get access to that testing as an upgrade and you get support from me. We work together. Also, it's a pretty bad ass sweet group of women. I have to say. I'm pretty stoked on everyone who's in that group. Very supportive. You know, it's really good to know you're not alone. So I do recommend signing up for that. If you want to do hair mineral analysis, if you want to do, if you want to detox and address the source of your chronic infections, if you want to grab that link for that, I'll put it in the show notes for the podcast or for, for facebook is just in the description.
And as always I like to give you guys some actionable tips. So let's talk about some things you can do to help yourself detox. So number one, best way to detox is get in a sauna. Any sauna we'll do, sweat it out. A lot of toxins can only leave the body through the, through the skin. And if you are so tired that you can't exercise, there is a good chance you are not getting any sweating or if you're like me and it's wintertime outside, you know, you're not sweating because it's freaking cold, right? So get in a sauna that can be really helpful. A coffee enemas are another great strategy. This is probably scares you, but most people do love them once they try them. A really great way to mechanically detox the liver. Supplement wise, I always talk about Pectasol-C from econugenics, it is a really great binder, it binds to roundup, to glyphosate, it binds to environmental chemicals and toxins, and it also binds to heavy metals, but it does not bind to minerals, so most binders will also bind to minerals which makes them not a good longterm strategy. Econugenics Pectasol-C, great product. I do not work for this company, I just think they have a great product and they backed up their strateg,y and their method, with testing. So I definitely recommend those. Those can be really great strategies to help yourself detox. And if you want to take it to the next level, do some mineral testing with me by joining my group membership program High On Energy. And if you just want to get started boosting your energy, if you don't know where to start and you just want to get my basic tips, grab my free energy checklist, again, I'll put that in the show notes for the podcast, in the description for my facebook live show. Definitely grab that. I have five of my basic tips, five tips that everyone should be doing if they want to have better energy levels, and these five tips will also help you begin to detox gently, slowly, and not in a scary, aggressive manner.
Okay, so thanks so much guys. I appreciate you being here. I love connecting with you guys. I'll see you guys next week. We do one of these every single week on Tuesdays at 4:30 on facebook live and I released the podcast episode every Thursday, so thanks so much. I hope you guys have a great day and I will see you in the next show.