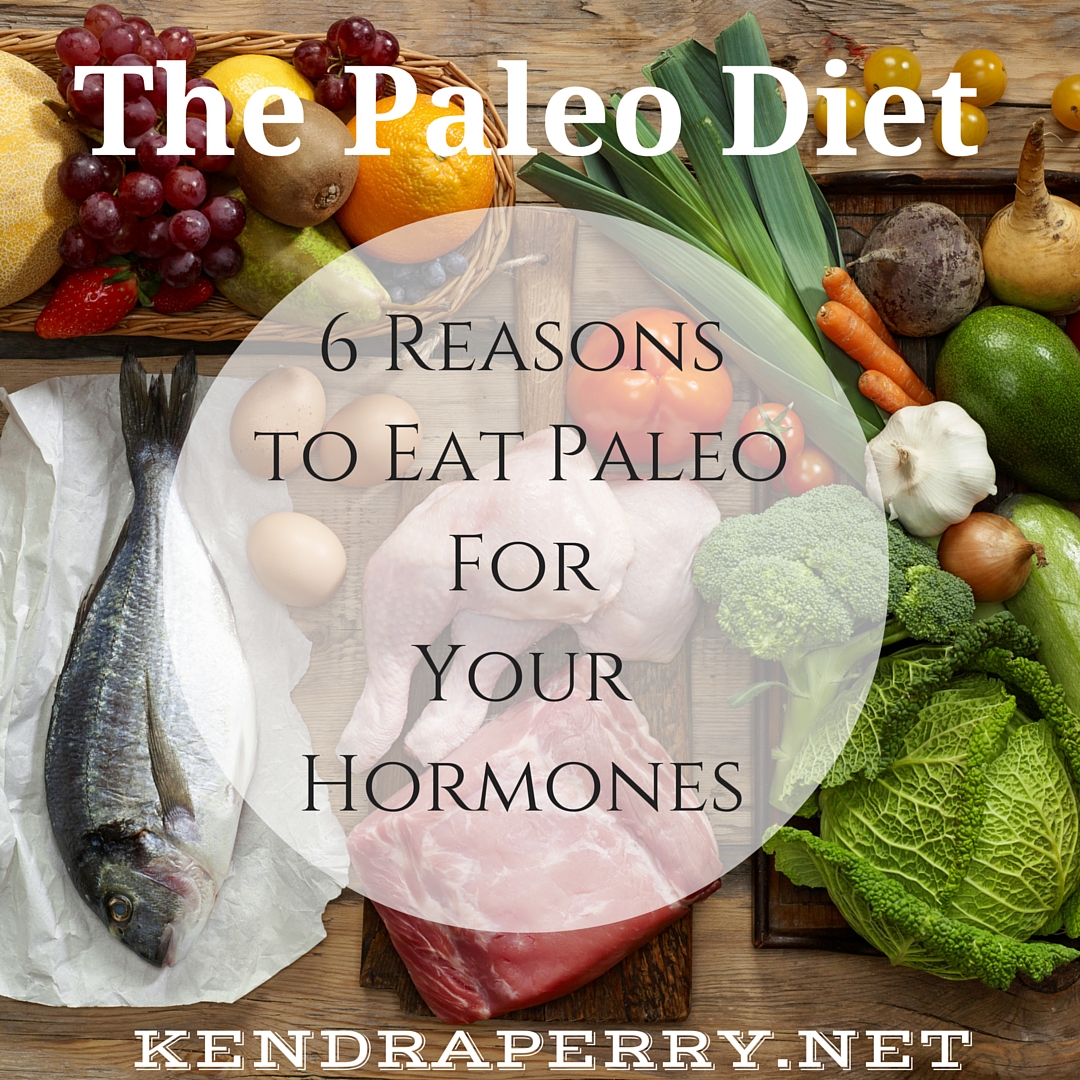 The Paleo Diet for Your Hormones – 6 Reasons Why
As you may have noticed, I am a huge supporter of the Paleo diet. In the past few months, I have mentioned this diet as a therapeutic way to deal with hormonal issues such as estrogen dominance and PCOS.
There is some controversy surrounding the Paleo diet. Proponents of this style of eating discuss earlier times in human history when people were healthier and free of degenerative illness. Many believe the Paleo diet mimics that sort of diet, when access to grains, dairy and legumes was limited.
This may be true but many dispute this, saying that our current diets in no way represent foods that were available in prehistoric times.
The truth is, I don't care much for either of these arguments. It's true our food has changed significantly in the past few thousands of years. Nothing we eat today has much resemblance to the foods that were available to our ancestors. It has been modified many times over to be sweeter, bigger and to resist disease. Replicating an ancestral diet is virtually impossible.
That being said, we can rely on certain principles that helped our ancestors to be healthy and free of many of the diseases that plague modern society. These principles involve eating real, whole foods, reducing sugar, eating free range meat, growing our own food and reducing processed food as much as possible.
The reason I am such a huge supporter of the Paleo diet is due to it's therapeutic qualities. When it comes to hormones, the Paleo diet can be extremely helpful.
Why Paleo is Great for Hormonal Health
1. The Paleo Diet Eliminates Sugar
The Paleo diet eliminates sugar. Sugar has a significant effect on blood sugar. Yo-yoing blood sugar is incredibly stressful to the body and is a main culprit behind imbalanced hormones. The adrenal glands, which produce stress hormones, also produce a significant amount of your sex hormones.
If you blood sugar is consistently crashing because you are eating a high sugar diet, your body will be stressed and the adrenal glands will pump out cortisol to deal with it. Since cortisol gets priority over your other hormones, your sex hormones can become depleted.
Too much sugar can also lead to weight gain. Excess weight becomes an organ of it's own because fat cells can produce estrogen and upregulate an enzyme the increases the conversion of testosterone into estrogen. This can lead to Estrogen Dominance. Sugar also stimulates testosterone production. Too much testosterone can lead to Polycystic Ovarian Syndrome and prostate problems in men.
2. The Paleo Diet Eliminates Soy
Soy is a phytoestrogen, which means that it is shaped similarly to natural estrogen. When consumed, phytoestrogens can increase estrogen load in the bloodstream. Excess estrogen can cause weight gain, PMS, menstrual cramps, ovarian cysts, and mood disorders.
Estrogen Dominance is a huge issue in both men and women. To learn more about estrogen dominance, click here.
3. The Paleo Diet Eliminates Grains & Legumes
Like sugar, grains & legumes have a significant effect on blood sugar. They are broken down quickly and do little to give you long lasting energy. As we know, fluctuating blood sugar levels have a massive effect on hormonal health and energy levels.
Additionally, grains can be irritating to the gut lining. Many health practitioners implicate grain consumption in the development of Leaky Gut Syndrome. Leaky Gut Syndrome can lead to GI infections, yeast overgrowth and autoimmune conditions.
4. The Paleo Diet Encourages a Healthy Omega 3 to Omega 6 Ratio
A Standard American Diet tends to be high in Omega 6 fats such as canola oil, soybean oil, vegetable oil and other seed oils. Too much Omega 6 fats can lead to inflammation. Inflammation is an issue for most genders but for women it can increase premenstrual cramps and other PMS symptoms.
Too many Omega 6 fats can also negatively affect an infants brain during the last trimester of pregnancy, leading to decreased frontal lobe formation.
The Paleo diet encourages a high intake of Omega 3 fats such as coconut oil, animals fats, avocados and eggs which reduce inflammation and promote healthy brain development.
5. The Paleo Diet Eliminates Dairy
Conventional dairy products contain added synthetic hormones and traces of antibiotics. Synthetic hormones given to cows are still present in the dairy that you eat. This can throw off your own delicate hormone imbalance.
Antibiotic exposure depletes gut flora and increases the likelihood of developing leaky gut syndrome and other gastrointestinal issues.
6. The Paleo Diet is Nutrient Dense
In addition to eliminating problematic foods, the Paleo diet also focuses on including high quantities of nutritional foods; fruits such as blueberries are high in antioxidants, vegetables such as kale are rich in vitamins and minerals, and high quality animal products such as pasture-raised eggs deliver complete protein and nutrients different from those found in plants like choline, vitamin A, vitamin D, and vitamin K2. A nutrient-rich diet is critical for reducing inflammation, balancing hormones and having optimal reproductive health.
Final Thoughts
The Paleo diet is a great place to start if you want to significantly improve your health. You don't need to get caught up in all the silly rules of Paleo. You can customize this diet to fit your needs. Some people can tolerate some grains and some people can tolerate some forms of dairy.
My advice is to start with the Paleo diet and all it's restrictions for at least 30 days. After 30 days you can try adding some dairy or some grains back into your diet and see how it goes.
Watch below to see me talk about this article in a video!