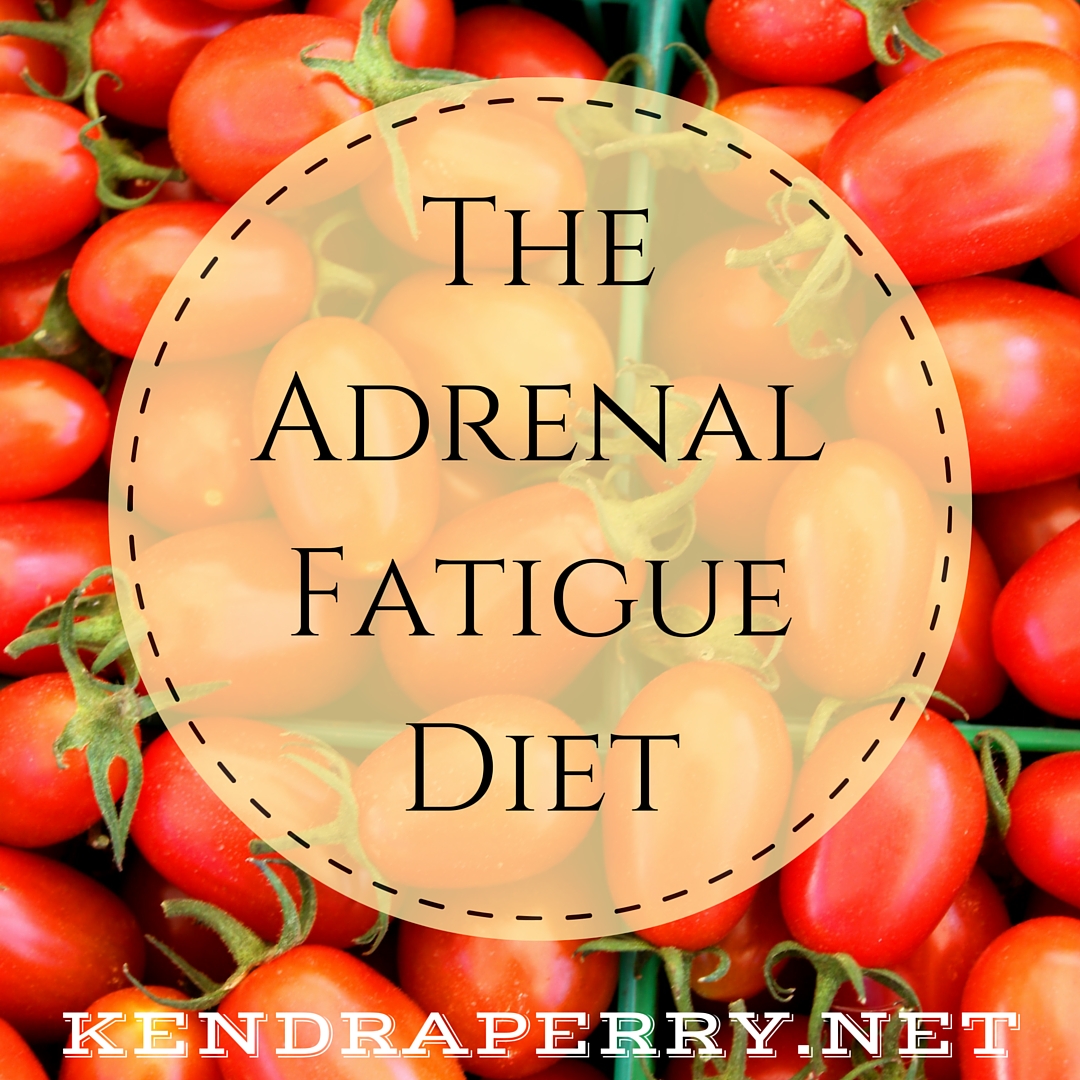 The Adrenal Fatigue Diet – Foods to Avoid & Include to Heal Your Adrenals
The theme of the past few weeks has been adrenal fatigue. I also wrote about cortisol and it's impact on your health when it is dyregulated. You can learn more about the important of balanced cortisol and how to manage your levels here. Finally, I talked about ten very important strategies you can start doing now to help heal your Adrenal Fatigue. To learn more about those ten strategies, click here.
To answer a few of your questions, I made a quick Q&A video and this is available on my Facebook Page. Head over there to check that out.
Today I want talk specifically about the foods to avoid and the foods to include in your diet if you want to shake Adrenal Fatigue and get back to feeling like a normal human being.
Foods to Avoid Include:

Caffeine: Don't hate me for saying this. I mentioned this last week in the post I wrote about healing from adrenal fatigue but it's worth mentioning again.
If you are fatigued and exhausted, caffeine is not your friend. While it may give you energy now to get through today, it will put you at a disadvantage for tomorrow. The more caffeine you use now, the more you will need later.
If your adrenals are producing cortisol all over the map, caffeine will push out even more cortisol and just add to the cortisol rollarcoaster.
Caffeine can also interfere with your sleep cycle which makes it hard for the adrenals to heal and restore themselves. If you absolutely must have caffeine, stick to one cup before 10:30am.
Sugar and Sweeteners: Anything that can profoundly impact your blood sugar levels can also profoundly affect your cortisol levels. Messing with your cortisol directly messes with your adrenal function.
You should avoid all refined sugar including high fructose corn syrup and artificial sweeteners.
You should also be wary of eating too much fruit. While fruit is not necessarily bad in itself, you do need to beware of the quantity that you eat. It's not hard to overdo it. Try to stick to 1-2 servings of fruit a day. Emphasize fruit that contains less sugar like berries, apples, pears and peaches. Grapes and tropical fruits are all very high in sugar and should probably be avoided on a regular basis.
Processed Foods: This is a no brainer but I have to say it. Processed foods not only contain added sugar but also contains added sodium and other nasty food additives. These will not support your adrenal function. Get rid of them and eat real food. Your adrenals will thank you.
Inflammatory Oils: Polyunsaturated oils, when eaten in excess, can cause inflammation in the body. These include canola oil, safflower oil, corn oil, sunflower oil, soybean oil, grapeseed oil and vegetable oil.
In order to extract oil from foods that are no naturally high in fat, industrial processing is needed. Since foods that contain primarily polyunsaturated fats (like those listed above) are highly susceptible to heat and light, many of these oils are rancid and toxic before you even open them.
Stick to the healthy fats like extra virgin olive oil, butter, coconut oil, avocado oil, ghee, lard and tallow.
Commerical Meat and Dairy Products: Commercially produced meat and dairy products have a lot of issues. For one, the animals are generally fed a significant amount of hormones to fatten and increase their growth. And two, they are also fed antibiotics to keep them from getting sick in unsanitary conditions.
High amounts of hormones and antibiotics have been found in these products that sit on your grocery store shelves. One of the most important things you can do for your adrenals is to avoid factory farmed meat and buy organic and local whenever possible.
This is getting easier these days. I do a lot of road trips in Canada and the US and I have never had an issue finding some meat in the grocery store that was at least antibiotic and hormone free.
Alcohol: Alcohol in moderation may be fine for some people but in large qualities it can negatively affect your adrenals. Alcohol stresses the liver which is a problem for hormones. The liver's job is to clear excess hormones from the blood. If the liver is unable to do this, it will interfere with your body's ability to metabolize cortisol and your other sex hormones.
Poor liver function can lead to Estrogen Dominance, Poly Cystic Ovarian Syndrome and Thyroid Problems.
Once you start to eliminate foods from your diet that can hurt your adrenal health, you should consider adding in nutrient dense super foods that support healthy adrenals.
These adrenal superfoods include:
Coconut
Avocado
Cruciferous Vegetables (ie. broccoli, kale, cauliflower, etc.)
Fatty Fish
Celtic or Himalayan sea salt
Chicken and Turkey
Olives
Seeds (ie. pumpkin seeds, chia and flax)
Kelp and seaweed
I feel like a broken record but one of the best ways to reset your adrenal glands is to effectively manage your blood sugar levels. This mean eating enough high quality protein and fat and determining your unique carbohydrate tolerance. You don't want to eat too many carbs but you also do not want to eat too many. This is going to be different for each person.
The best way to determine this is with a glucometer. Taking your blood sugar readings throughout the day can be incredibly helpful for not only managing your blood sugar but for assessing your unique carbohydrate tolerance.
You can take a reading on an empty stomach prior to eating each meal. Ideally, your reading should be between 80 and 90mg/dL. If you are lower than this, it means that you waited too long to eat that meal. Make sure to have a snack in between this meal next time or shorten the time between meals.
You can also take a reading 2 hours after a meal. This is called a post-prandial measurement. Two hours after eating your blood sugar should be below 120mg/dL (ideally it should be below 100mg/dL). If it is above 120, it means you ate too many carbohydrates or sugar at the previous meal. Reduce carbohydrates and increase protein and healthy fat.
Final Thoughts

If you are struggling with Adrenal Fatigue, you need to get your diet dialed in. Eating a healthy diet is the basis for any healing protocol. If you diet isn't healthy, then no amount of supplements is going to help you heal.
Start with diet and see how it makes you feel. You should hopefully notice a huge difference in your energy levels once you remove all the crap. Once you feel confident that you have found a healthy diet you can stick with, start to consider some of the other factors like sleep, stress reduction and supplementation.