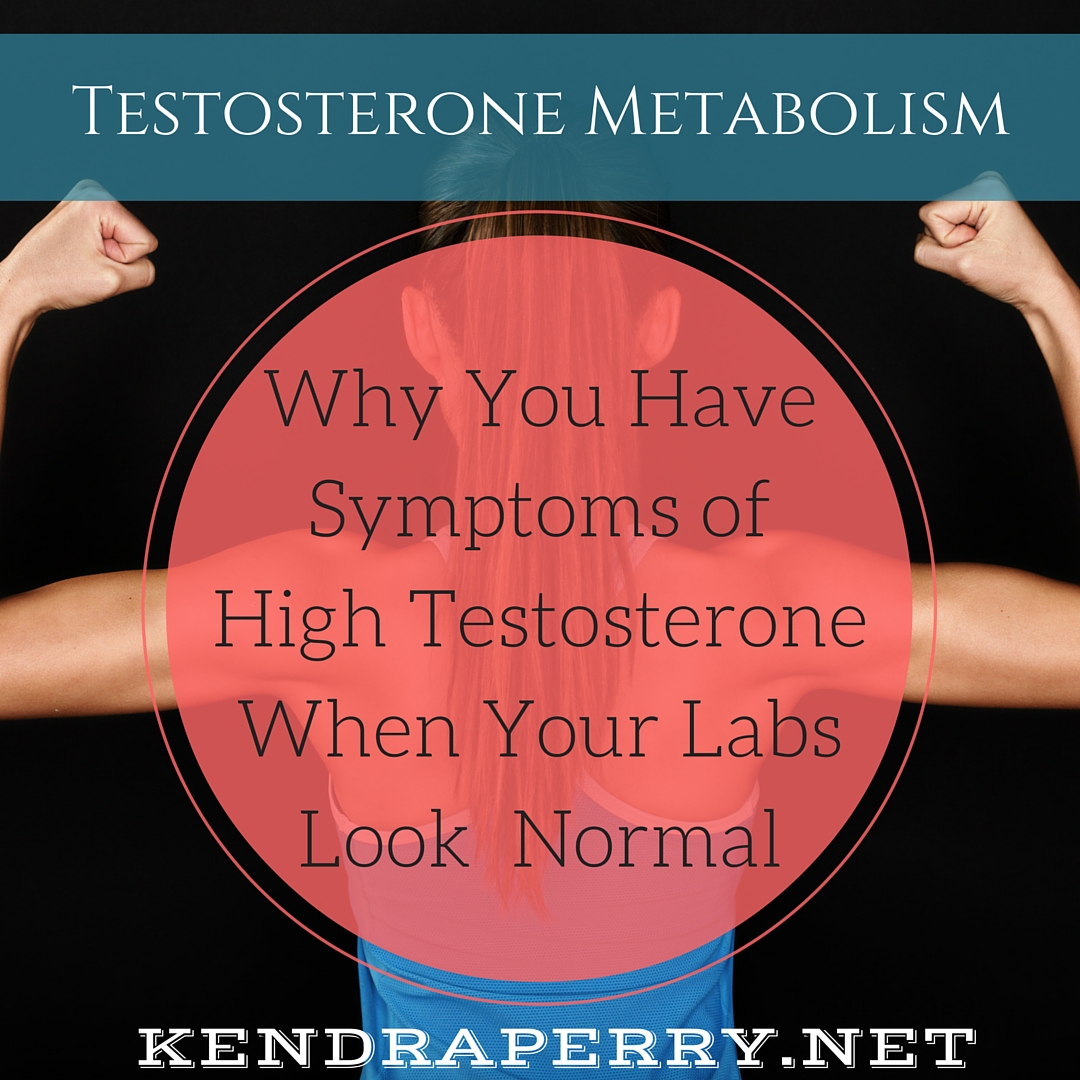 Testosterone Metabolism – Why You Have Symptoms of High Testosterone When Your Lab Tests Are Normal
The past few weeks on the blog, I have been writing about Polycystic Ovarian Syndrome, a condition that causes weight gain, infertility, facial hair growth, acne and irregular menstrual cycles.
If you want to learn more about this condition and its risk factors, you can read the full article here. I also recently wrote about the PCOS diet, lifestyle and supplement protocol that can help you reverse this condition and boost your fertility. You can read that article here.
PCOS is generally characterized by elevated testosterone, irregular or absent cycles and cystic ovaries. But there are many women out there who have regular cycles and no ovarian cysts but are struggling with symptoms of high testosterone.
If you know your testosterone is elevated but you don't have a PCOS diagnosis, you can still benefit from following the PCOS protocol. But what if your testosterone is "normal" and you are still struggling with the typical symptoms of testosterone dominance? These include;
Irregular or absent periods
Loss of scalp hair
Excessive facial & body hair growth
Acne
Inability to lose weight
Irritability
Anger
Deepening voice
This is an interesting thing. It is possible to have normal or even lower testosterone but also have a testosterone dominance.

How is this possible?

Today I want to talk about testosterone metabolism. If your testosterone appears normal on a saliva or blood test but you still have these typical symptoms of too much testosterone than your metabolism may be to blame.
Let's start at the top. Pregnenolone is your master hormone. It is the building block for all your other steroid sex hormones including progesterone, cortisol, estrogen, DHEA and testosterone.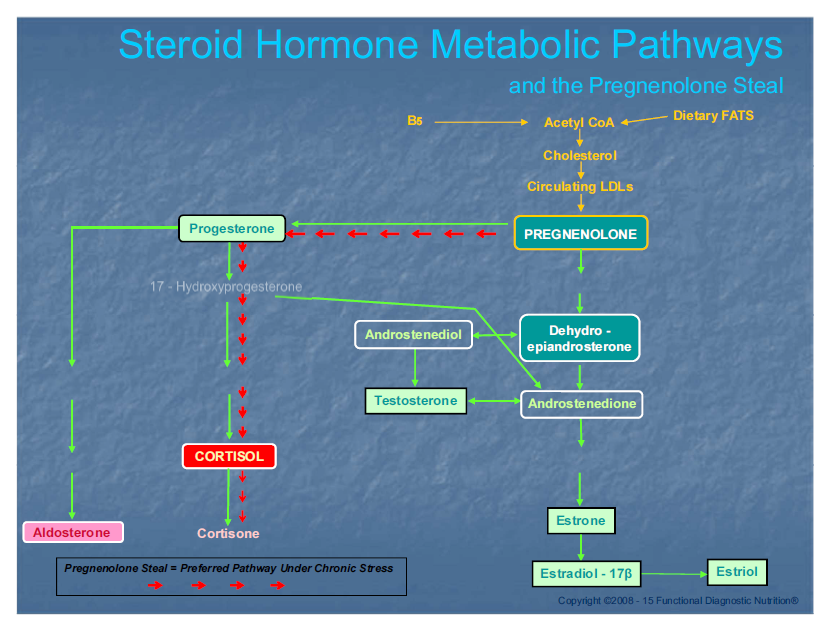 Pregnenolone is derived primarily from cholesterol. Yep, remember cholesterol? The big bad cholesterol that clogs your arteries and gives you heart disease?
What the government and general public are finally starting to learn is that cholesterol is crucial, not only for hormone production but also for the health of your brain.
Without cholesterol you cannot make sex hormones. And without sex hormones you are in trouble. 75% of your body's cholesterol is produced in your liver but 25% comes from your diet. Therefore, getting enough cholesterol in your diet is crucial to your hormones. Cholesterol comes from animal products.
Pregnenolone can be converted into progesterone which can then be broken down to produce cortisol, your body's main stress hormone. Pregnenolone is also a precursor for Dehyroepiandrosterone (DHEA). DHEA can then be broken down into either testosterone or estrone. Estrone can then be converted to estradiol (your body's most potent estrogen) which can be converted to estriol.
But hormone metabolism doesn't stop there. Both testosterone and estrogen are broken down further into metabolites. Today we will focus on the main metabolites of testosterone and what this means for you and your hormone health.
After testosterone is formed, it can be broken down via two different pathways; the alpha pathway and the beta pathway. The beta pathway, also called the Etiocholanolone metabolite, is a less androgenic pathway. This means that when you metabolize your testosterone down this pathway, it reduces the effects of testosterone.
In this case, you could have high blood or saliva testosterone but if you push primarily down the beta pathway than you may not exhibit any symptoms of high testosterone.
The alpha pathway, also know as the dehyrotestosterone (DHT) pathway, is a significantly more androgenic pathway. This means that if you tend to metabolize more of your testosterone down the DHT pathway then actions of testosterone become increasingly stronger in your system.
This is because DHT metabolites bind about 3 times more strongly to androgen receptors than Etiocholanolone metabolites. 5 alpha reductase is the enzyme that pushes the conversion of testosterone into DHT. Everyone will push some testosterone down the DHT pathway but some people push significantly more of their testosterone in this direction meaning that their testosterone becomes extra potent.
What this means for you is that you may have "normal" or even lower testosterone that becomes increasingly potent as it is being metabolized. This is why your testosterone may look normal but your symptoms tell you otherwise.

What Would Someone Prefer the DHT Pathway?

There is usually an insulin issue at play. Insulin, the hormone needed to regulate blood sugar and fat storage, enhances the actions of the DHT pathway. The more insulin you have, the more 5-alpha reductase you have (the enzyme that pushes DHT production). Women with acne, PCOS and obesity have significantly more 5-alpha reductase than women without these issues.
Managing your blood sugar and reducing excess insulin are key to reducing DHT activity. Again, you can learn more about insulin resistance and what to do about it in this article and this article.
Progesterone, on the other hand, reduces 5 alpha reductase activity, at least in vitro, according to this study. Often times when I see elevated DHT metabolites in a client, I also see depleted progesterone levels.
Being aware of the DHT pathway is especially important for those struggling with infertility (elevated testosterone is a huge cause of infertility in the Western world), acne and obesity.

Testing for DHT

If this article resonates with you and some of your recent experience, I recommend getting your testosterone metabolism evaluated. You can do this by getting a urine hormone panel. The best hormone panel that I currently run is the Precision Analytical Dried Urine Test for Comprehensive Hormones (DUTCH). This test will not only evaluate your testosterone metabolism but also the metabolism of your other steroid hormones including; progesterone, estrogen and cortisol.
If you are interested in getting a full hormone evaluation to get to the bottom of your ongoing infertility, painful acne breakouts, explainable scalp hair loss or your complete inability to lose weight, please schedule a FREE 30 minute consultation with me. You can do that here and choose the service labeled, "FREE Discovery Session."

How to Decrease 5-alpha Reductase Activity

Blood Sugar Management. I feel like a broken record here but having healthy blood sugar levels throughout the day is not only important for your testosterone metabolism but is crucial for your health in every other way.
The Paleo Diet is a fantastic way to manage blood sugar. You should also consider buying a glucometer and actively checking your blood sugar throughout the day.
Before meals, your glucometer should ready 80-90 mg/dl. If it is lower than this, you waited to long to eat that meal or didn't eat enough at your previous meal. Add more whole foods or include an extra snack.
The post-prandial measurement is a fantastic way to assess your carbohydrate sensitivity. If you are carb sensitive, the more carbs you eat, the more you increase your insulin and make it more likely have a testosterone metabolism issue. 2 hours after a meal, your blood sugar should be under 120 mg/dl (but ideally under 100 mg/dl). If you are above this, you ate way too many carbohydrates or sugar at that previous meal and you need to reduce accordingly.
EPA & DHA. These are fatty acids that come from Omega 3 and 6 fatty acids. These come from cold water fatty fish and shellfish. I recommend supplementing with a high quality fish oil supplement derived from mackerel, sardines and/or anchovies. EPA and DHA have a positive effect on insulin and also reduce inflammation which can push up blood sugar levels.
Saw Palmetto. This herb can have potent effects on the DHT pathway. It effectively shifts metabolism from the alpha to beta pathway. Be wary that higher doses of saw palmetto can reduce DHT too much and throw of your testosterone levels. If you are using saw palmetto, you should be monitoring your levels regularly.
Exercise. Exercise is known to increase sensitivity to insulin. When your cells are insulin sensitive, you need less insulin. Less insulin has a positive effect on DHT.
Nettle. Stinging nettle tea increases Sex Hormone Binding Globulin in your blood. This can bind to excess testosterone and decrease the levels of testosterone that need to be metabolized, and thus reducing the effects of DHT.
Zinc. According to this study which was performed on human skin in vitro, zinc can have a reducing effect on 5-alpha reductase when used in combination with Vitamin B6. This is promising but there has been some conflicting research. Clinically, I see Zinc boost testosterone production and improve metabolism.

Final Thoughts

Looking at single hormone markers can be helpful but never gives you the full picture of what is happening. Just because your testosterone is "normal," does not mean you are in the clear from the potent side effects of too much testosterone. If you are suffering from the symptoms elevated above but your doctor says your levels are "normal," consider your metabolism. Click here to schedule a free meeting with me to see if comprehensive hormone testing is a fit for you.
Are you struggling with testosterone dominance or any of the symptoms mentioned above? Please feel free to comment with your experience below.