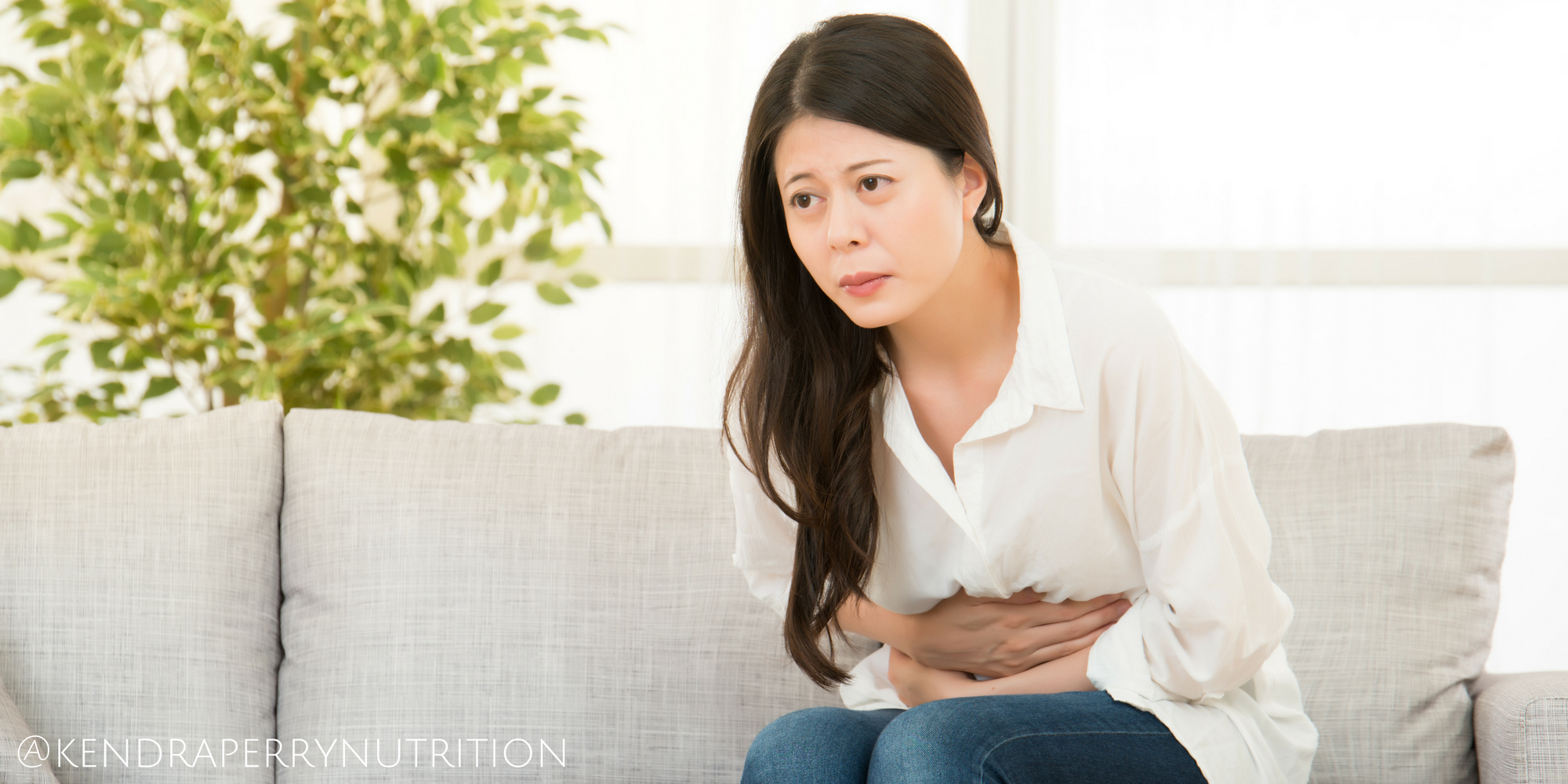 GI-MAP Case Study – How I Used Gut Testing to Help Lacey Reverse Chronic Constipation, Fatigue, Migraines & Bloating
Want to learn about you too can be a healthy gut success story? Apply to be a private client.
Read the Transcript
Hey there, hey everyone!
I'm Kendra Perry, I am a functional diagnostic nutritionist and i specialize in female hormones, GI health and heavy metal detox so if this is your first time joining me it's very very nice to meet you, and I'm pretty excited about today's video because I'm actually gonna be going over the case study of a GI map which is a very very important GI panel that i use with pretty much all my clients and i honestly get so much in so many questions about the gi map.
So a lot of people with chronic GI issues they're doing a ton of research and ultimately they'll end up coming to the gi map which is a very effective panel for identifying infections, leaky gut, inflammation, immune function and stuff like that. So I actually want to go over a case study of one of my clients Lacey we'll call her Lacey.
So you can see what her test initially looked like when she came to me, the symptoms that she was initially experiencing and how we worked through the different protocols to actually a hundred percent resolve her chronic GI symptoms. This is an amazing test and if you want to copy up the case study that I'm going to go through today you just have to type amazing in the comments below, and I'll just send it to you through facebook messenger, I have all the entire protocol that I used in this document plus copies of the lab tests so you can get an idea of what it would look like.
Okay, so I am actually going to share my screen so here we go and I'm going to take you through this. So Lacey was a client who came to me just over a year ago, she was a 36-year-old female she was an IT consultant and she was having a really rough time, she was currently eating a standard American diet so unfortunately, she was eating a lot of processed food she thought she was eating healthy but she was eating a lot of things that came from a box that came from a package and because of that her sugar consumption was much higher than desirable she was eating lots of unhealthy fats she wasn't getting enough protein, which is pretty common with many of the woman who I work with they don't like eating a lot of meat so they're just not getting the protein that they need.
She wasn't getting enough sleep either she was staying up really late she was doing a lot of her work late at night and then she was getting up pretty early in the morning and she was pretty stressed out, overall she didn't like her job she was you know really stressed out with work she had a bit of a relationship stress and she kind of dealt with that by doing a ton of different exercise so she would she would go to CrossFit she would go to spin classes and she would do this five to six days a week and she would actually get up early and deprive herself from even more sleep just so she could do this really intense exercise.
She was trying you know she was doing her best she was taking some supplements but yeah, magnesium citrate really low, form of magnesium because her main complaints were bloating and gas. She was doing ghee, membrane, peppermint. She was also taking a multivitamin and some vitamin D and she was taking quite a few over-the-counter pain meds just because she was having so much pain with her month of migraine so her, main complaints are right here she had chronic fatigue she had horrible constipation where she just couldn't eliminate at all.
She would only go once or twice a week sometimes which is pretty bad. So you know reabsorbing a lot of the toxins she was being exposed to, she was also severely bloated pretty much everything she ate was just bloating her she said, even water would bloat her.
And then she was having you know migraines a few times a week so she was having a really really hard time. So we ran some tests with her but I do want to show you her first GI Map, so this is a gut panel that I use it is amazing it's very sensitive it uses a more cutting-edge type of technology than a traditional stool analysis and so because that is very sensitive it's very good at picking up different infections, parasites, bacteria, yeast, viruses, worms which is a cool new addition to the test plus it will look at inflammation, digestion, detoxification and a few other things a, well so, this was the first page of her tests so right off the bat down here these are some major issues like really really major so these parasitic pathogens here I like to call these the big bad three because these are the most damaging parasites that you can get.
Cryptosporidium, Entamoeba histolytica and giardia and she does have two of them, I've actually had all three of these but that's me so this one right here the entamoeba histolytica this is the most dangerous parasite that you can get. Most doctors know about this it causes a lot of disease basically, it is a parasite that doesn't stay in the GI tract it travels into the brain into the lungs and into the liver and in the liver it has the opportunity or possibility of creating a liver abscess and that's what can actually kill people, so this is a potentially fatal infection so it's no wonder she was having so much fatigue while she was having so much of gi Issues because this is a really really serious infection and this is actually a good lesson for why it's so important to test because you know I come across so many people who are just you know they think they have a gi infection so they're just taking like some anti microbials they're taking different herbs that they've heard of that will help,
Well in the case of this one in the case of entamoeba histolytica, It does not respond to her mo protocols this is probably the only infection where I will send someone to their doctor to get a prescription for antibiotics a very specific antibiotic a lot of antibiotics don't touch this but there is a couple specific antibiotics that will get rid of this and it will generally get rid of it within two to three weeks of treatment so if you know and that's why I'm such a proponent of testing I think you should always test not guess and yeah this is because with this one you know if you didn't test you would never know that you have this and this can actually exist in you for years and just cause so much sickness, okay so pretty, big deal right there.
Giardia is another parasite for some people also can cause fever but you get it from drinking contaminated water or swimming in like a contaminated lake or pond, you know it's nasty it causes a lot of toxins to be released in the body it will cause a lot of dysbiosis so you know right here she has two of the three big bad parasites right so no wonder that she feeling the way that she's feeling, okay on top of that sheso has h pylori so helio factor k pylori is a little spiral shaped bacteria, It likes to burrow into the lining of the stomach and typically the stomach is very acidic and that's what allows you to break down and denature protein but h pylori actually changes the ph to alkaline so when the ph is alkaline you actually can't break down protein so you have a lot of protein malabsorption and then you have these large chunks of protein traveling through the gi tract and getting fed on by other types of bacteria it will cause a lot of purification a lot of gas production hence bloating right, so this is a really nasty infection and unfortunately she does have this Vac A Virulence factor, which just, means that she has a strain of hp laura that is more likely to lead to something like stomach ulcers and stomach cancer so this infection is actually a primary cause of stomach cancer.
So yeah right off the bat we're seeing, some major infections, it's not going to be a quick fix but we can definitely help her okay, and then as I scroll down here we can see her this is her normal flora which some of it is looking a little bit low. So, I did put her on a probiotic and then we're also seeing some of these potential autoimmune triggers so these are bacteria that have been shown in some research to potentially trigger certain types of autoimmunity. This one is specific to rheumatoid arthritis and this one is just specific to autoimmune conditions in general so yeah, some pretty nasty opportunistic bacteria this is gonna crowd out her friendly flora so definitely an issue definitely something we want to address.
And then she also has one of these parasites not as nasty as the two other parasites she has but you know, not favourable we don't want to see parasites in people so we're gonna address this parasite as well and then finally she does have Candida. She doesn't have candida albicans this is the strain of candida most people are familiar with she has a different strain of candida it's in moderate amounts and she also has micro spur idiom which is considered a parasitic fungus really, really nasty fungus causes a lot of pathology causes a lot of symptoms a lot of fatigue so you know we're seeing a lot of infections in Lacey and its really validating how she feels right.
Okay, and then if we go down we can see secretory iga, which is a marker for immune system you can see how depressed it is so the range is five to ten and considering how many infections she has you would actually expect to see this really elevated that would show you that the immune system is on high alert and actually responding to those infections that she has but it's so low so these infections are really wearing on her immune system and it's possible that these infections have actually been going on for a really long time and that's why her immune system just simply isn't mounting a response anymore.
Okay, so anti-gliadin, IgA is the section of the immune system that reacts that responds to gliadin which is a component of gluten that people react to and this is really high so I don't often see ones this high, anything over 300 can show that your body is mounting an inflammatory response to gluten but this is so high I actually was like this could be a sign for something like celiac disease I don't diagnoseI'mm not a doctor so i sent her to a doctor to get tested for celiac to see if that was something she had but regardless even if she doesn't have celiac we still need to follow a very certain free diet because her body is having a pretty negative nasty response to that protein.
Elastase-1 this is a marker for pancreatic enzyme function and you can see it's quite low 200 or above is the range I like to see 400 or higher from a functional standpoint, so she's at 110 so pancreas is a bit sluggish she's not getting good enzyme production so she's not breaking down her food very well and then calprotectin is a marker for inflammation in the gut and this is really high and considering how low her immune function is this is very high because it's like she's barely being able to respond, her immune system is not responding. And then she has this in high inflammation so this is actually a lot higher than it looks because of that so I know this isn't some another situation where  I sent her to a gastroenterologist just to get her checked out for something more serious of course those infections that she does have they can definitely cause a lot of inflammation but I always like to be safe I want to make sureI'mm within my scope of practice so I did send her to a doctor to get that checked out as well.
Okay, so what did we do to help her?
So we'll go up here and so we actually we had to do a lot of work with Lacey, just because you know she wasn't eating a super healthy diet, she wasn't living a super healthy lifestyle so, we put her on 100% gluten-free diet Paleo I had her eliminating, grains, dairy, legumes, beans, sugar a lot of those things can be hard to digest and we could just tell that she clearly wasn't digesting so i really had to clean up her diet.
We got her eating  four to seven tablespoons of added fat daily of healthy fats these are the ones I usually recommend and I really upped her protein content so we had her starting to eat a little bit more meat we also added in a really high-quality protein powder to just get her some of some more of that protein, we started introducing some really healthy carbs like roux feds root vegetables and some low sugar fruit and I also significantly upped her cooked veggie intake I'm a big fan of cooked veggies because they do increase mineral content and when your body is having trouble digesting raw veggies just aren't your friend because they are hard to digest.
Okay, so when I work with clients I like to use DRESS-D protocol so dress stands for Diet Rest Exercise Stress reduction Supplements and then I also added another D for Detoxification. that's really important so it really is a holistic approach when i work with clients it's very important we can't just give people supplements, we can't just give people, you know, tell them to sleep we can't just clean up their diet really, we need to address all those things, okay?
So, we also got her resting warm we got her going to bed early in bed by 10:30 every night, started getting her to prioritize that seven to nine hours of sleep and then avoiding screens and bright lights before bed just so that she wasn't affecting her melatonin. Which is her sleep hormone which can be affected by bright light so we had her sleeping better which is really helpful, i did have to tell her to slow down on her exercise because she was exercising way too hard for her energy level she was exhausting herself and as you go through a healing program especially when you're killing off infections they do dump their toxins so it is pretty hard on the body so you really do need to rest so we had her doing more restorative workouts, walking, pilates, yoga stretching and avoiding all that intensive cardio for the duration of the program.
So she was a little resistant to that but once she started resting more and taking more time for herself she did see how much it helped. So, we had her implement some stress reduction techniques Daily, gratitude journal meditation practice more restorative yoga and journaling I referred her to a couple's counsellor for relationship issues which I know she did find helpful and you know she just wasn't doing enough things that were fun for her so you know. I really encouraged her to get outside to do things with friends just to spend more time doing things that made her happy.
I got her on on some foundational supplements and so this was for the duration of all the protocols that she ended up having to go on Ashwagandha to mitigate the stress response I got her on some high dose magnesium glycinate so I'm a big fan of magnesium for everyone, GI Revive is a really great gut rebuilder. So I gave her some of that megaspore biotic is a really potent probiotic,
So to just support that sort of friendly flora and microbiome I had are taking some interphase and Biocidin this helps address the biofilm this is actually really really important for any Infection elimination because the biofilm is like this sticky
Polysaccharide matrix that bacteria produce between them and they can actually physically kind of hide under it as a barrier but they also use it to kind of communicate among each other so that's how they kind of resist and adapt to some of the treatment you might giving it so a big part of getting rid of infections is disrupting the biofilm so these are biofilm disruptors we also gave her some colostrum which will help improve her immune response,
Someday just some bitters to help her produce more enzymes and some Boswelia as an anti-inflammatory and for this protocol I actually Had to put her on five Separate protocols just because she had so many infections this was definitely a bit of a worst-case scenario I mean not all of the ones I see her this bad but it's not uncommon so first I wanted to address the entamoeba histolytica. If you'll remember that's that really dangerous Potentially fatal infection. That a lot of people that just won't respond to hurled protocols so I referred her out for an antibiotic and fortunately the antibiotic that kills the entamoeba histolytica will also kill giardia so this Was kind of like a two birds with one stone, we had her on three weeks of those antibiotics prescribed By her physician and after those three weeks.
We started the second protocol so the whole time she's taking all these foundational stuff foundational supplements. So the second protocol was 60 days and the next thing i prioritized was the h pylori, because that is the reason she's not digesting any of her food so these are the products I use pylori it's mostly mastic gum, mastic gum seems to be the thing that kills off h pylori. DGL synergy Which I deglyzerized  licorice roots of licorice root without the effects that they can have on hormone so very good for the stomach and then mutula tea which is a really really healing tea it's a combination of different flowers and herbs that are picked at very specific times of the year but it's pretty awesome at getting rid of h pylori, if i have h pylori with a client and there aren't those of ireland's factors or those factors pointing to having the type of h pylori that leads you to stomach ulcers and cancer i may not add in mutulu tea but because she had that more serious strain of hp laurie i did add in maturity
So then, we knew that third Sixty-day protocol for that last parasite that penta chromis hominis and so amazon ap, this is a great product that's rain, forest botanicals so really effective herbs are getting rid of parasites i really really love, these products We did that for days. And then we did the fourth protocol for sixty Days to address the bacterial infection so I put her on another product with rain forest botanicals but More specific to the bacteria and then alison is just really high dose concentrated garlic
So, that's really really effective for addressing, bacterial infections and then the fifth protocol. The final protocol is for the yeast for the candida and the micro spur idiom so i did another product with rainforest botanicals for fungus and then candid x which will help address that candida, that she had for detox we had daily coffee enema coffee enemas I know those are probably sound scary but they're very effective for detox. We had her during regular castor oil packs in sauna therapy and then of course i did send her to her Physician for celiac testing to see if that was something that she had because of that really Elevated immune response to the anti-gliadin, iga, okay?
We did that this took about six months is I think it took longer than six months this was a long protocol, we had five different protocol. So, that's probably, about eight months So at eight months we checked in and she actually had experienced a lot of improvement so her fatigue had Improved she was still having migraines but they were becoming less intense and less frequent. She was experiencing less, bloating she was starting to have more regular bowel movements but they were so hard to pass is still a bit of constipation there she did notice that she was sleeping better.
And she was adhering to the recommendations and you know. No one's perfect! She wasn't perfect but she was doing a really good job. She did manage to cut down on some stress she cut down on work hours she was pursuing a new job opportunity Which she thought was feeling very excited about. She took up a new hobby and she cut down on her exercise which even though she was resistant she did find that that really helped and it turns out the celiac test was negative so she did not have celiac disease according to her doctor but because of the elevated response to it
Strict gluten free diet okay, so let's look at what her second test looked at looked like okay so this is kind of interesting and this is actually a situation that i see a lot. Sometimes the retest you get rid of one round of infections and a whole bunch of new infections show up very common that's just because you know the gut is a deep dark place.
There's a lot of things that are in there and such small amounts and once you get rid of one thing you kind of make room, for these other things they kind of come out of hiding and show their face it's not a bad thing it shows that the particle is working so it's not uncommon to have to go through another round of treatment after the first. One or sometimes you just don't get rid of those initial infections they need a longer treatment everyone's different so this isn't straightforward, there's no cookie cutter approach.
What I do for you is very different for what i do for her or him. Okay, so the good news is we got rid of those big bad infections so we got rid of the entamoeba histolytica We got rid of the giardia and this is awesome we got rid of the h pylori the first round of treatment Which doesn't always happen so that was awesome. But what we did see is this clostridium difficile or c-Diff so this is a very nasty Bacterial infection it's very resistant to antibiotics and typically people get it from taking too many antibiotics and Lacey did have a history of antibiotic use plus it's rampant in hospitals so if you spend any time in hospitals if you are a hospital worker a nurse a doctor there's a good chance that you might have this and if you spent any time you know visiting relatives or friends in the hospital and she did have a sick mother so she was spending a lot of time in a hospital we never really know why people get these or when they pick them up or how long they had them for but those are definitely some risk factors.
C-diff if is nasty causes a lot of toxin production this one can be fatal as well although mostly in people who are immunocompromised or really elderly people but definitely not something that you want in your stomach okay. So this is a new protocol that we're gonna have to put her through if we scroll down. We're actually seeing some improvements in her bacterial flora which is good so that probiotic is helping and just the fact that we're getting rid of these major infections is actually really increasing the rate at which your friendly flora can grow so we got rid of the citrobacter.
We got rid of the proteus so this is all awesome but we did have another parasite pop up and this is actually really common so the h pylori, that she originally had tends to travel with blastocystis hominis the two teams seem to come together. Although i rarely see them come up with the same task so usually I'll see one on the first test and on the retest the next one comes up that's pretty common although i did just have a client yesterday, where we saw both on the same test so it does happen so we're gonna have to do another parasite protocol for Lacey. And then we did do a pretty good dent in the candida and microsporum fungus they were moderate before so now they're low so yeah we just need she needs a bit of a longer protocol for this but what we're doing is working.
We just need to do it for a little bit longer and then for these additional tests, we can see this is her immune system marker it's coming back. I believe it was at 135 before and it's at 526 so her immune system is starting to bounce back this is awesome. This is the immune system that is reacting to gluten. Excuse me and it's gone down it was at 500 before but it's still high so after we saw this she was eating a really strict glutenfree diet she's doing really good with that so i had her go through all her personal care products and beauty products and check for
Gluten in the ingredients because a lot of these products do have gluten and that for people who are really sensitive. Okay, so we're back on i think i just bounced off for a second as always i have super crappy internet. So enzyme production is back it's it's better it's above the range now it's still low from my perspective but we're starting to see better pancreatic enzyme response, calprotectin, which is that inflammation marker has gone down a little bit too so we're seeing a lot of really good things with this test
Which is awesome and then it's showing it how she feels it's showing in her symptoms. Okay, so what did we do so for the second test? We had to put her through another protocol so We had her continue with everything she was doing because her energy levels were up i let her Add a bit of resistance training, some interval training as her energy allowed we continued with all those foundational supplements but we did have to put her on a few more 60-day protocols so seed if that's the nasty one. This one actually responds really poorly the antibiotics really poorly the herb it does really well with saccharomyces boulardii.
Which is a probiotic and i do a taper off protocol, which means we start with a high dose and we slowly decrease. Ok, we're back on so i added in the ap, some gi microbe acts have been some more things and then we also added in i just a yeast protocol, we continued with what we were doing because it was working and then i added in some grapefruit seed extract, Some caprylic switch is from coconut oil to just really try to speed that protocol along and then we continued with everything, of course, we did have her assess her personal care and beauty products to look for those gluten-containing ingredients ok. So after this protocol she again experienced some significant changes she said she hadn't had a migraine in a couple months which is awesome she was reporting better energy and more consistent energy throughout the day she didn't feel bloated anymore her bowel movements were regular and only occasionally difficult to pass, her sleep was really good and she said she was following the guidelines but 90% so she was doing a really good job.
And well this is what, we saw on her third test. Okay so this, is test number three, we can see the c-diff is gone sorry guys having internet connections but i'm gonna keep going here all her bacteria was up which is awesome and this was all looking really clean the yeast was gone that parasite was gone. And then where we're seeing so this these are actually there, was so in between the I'm just gonna, keep pushing, through, these tech issues guys and so this is where we're seeing so many good things so alas says one, enzymes are way up there above 400 this is awesome pancreas is keeping up again we're seeing that her immune response has really bounced back so it was 500 on the last one now we're up to 1300 we're,back in that range and she's no longer mounting an inflammatory response to gluten that's because she has completely removed it she's got it out of her diet she had got it out of her personal care products she's been really good with that so that is no longer an issue for her and then calprotectin this is the inflammation marker and that is way down so this is a really great success story and this is typically what happen when i work with clients it's not always done after the first round like one test usually isn't enough, we have to work through a couple.  This probably took a full year to complete or just a little bit over a year.
Maybe about a year and a half but But it's not a long time because these Issues were going on for years she had this going on for 15 years so 15 years a year and a half to heal i actually think that's pretty good that's why i love testing. You want a copy of this case study with everything that i did to help or you can just type amazing into the comments box and i'll send it to your facebook messenger we're just pushing through these tech issues hopefully i won't have another i'll be able to finish this before i drop off again but if you're interested you can book a free appointment with me if you just want to chat with me, pick my brain and see if what you're going through will be a good fit for my program and of course if you do want this case study you want to take a look at these tests and the protocol that i recommended for Lacey just type "amazing" in the comments box and ill send it to your FB Messenger.
You can learn more about me at kendraperry.net Have a good day, Bye!