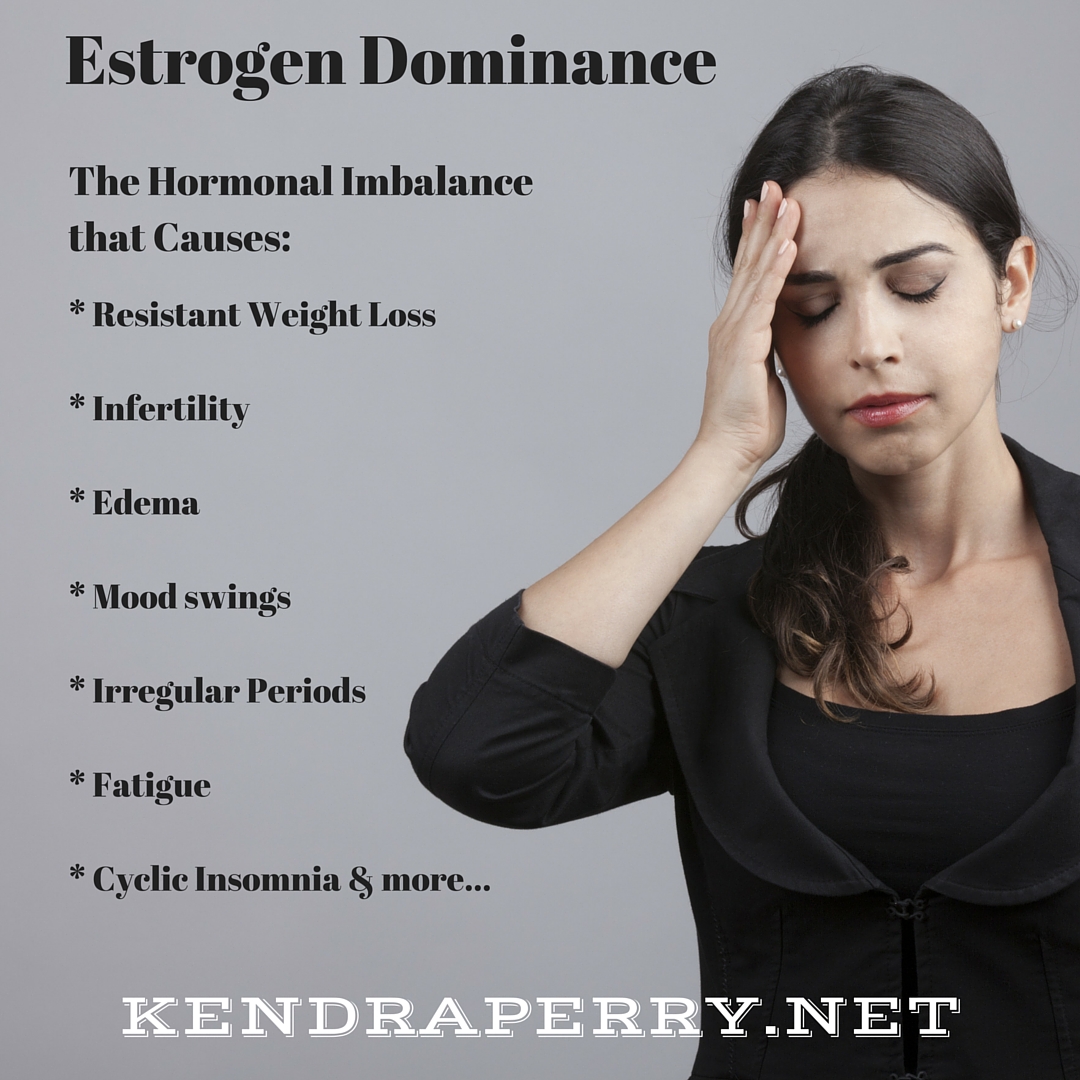 Estrogen Dominance – The Hormonal Condition that Causes Weight Gain, Infertility, Insomnia & More
Do these Symptoms Sound Familiar to You?
– Weight gain (that won't come off not matter what you eat)
– Fatigue
– Infertility (you have been trying for year with no luck)
– Varicose veins
– Mood swings before or during your period
– Swollen or painful breasts
– Variations or skipped cycles
– Vaginal dryness or itchiness (it just doesn't make you feel very sexy)
– Excessive or scanty blood flow during periods
– Cyclic insomnia & hot flashes
What is Estrogen Dominance and What Causes it?
Estrogen is a potent hormone. For this reason it should be cleared from the blood immediately after it completes its job. This is one of your livers jobs. If you liver is sluggish or congested with excess toxins, estrogen is allowed to build up in the blood. Too much estrogen can be a nightmare for many women, causing all the symptoms listed above plus greatly increasing your susceptibility to breast cancers.
Excess Estrogen from a Sluggish Liver, which reduces estrogen clearence: In order to detoxify appropriately the liver needs all the necessary co-factors including an abundance of proteins and vitamins. Your liver may be struggling due to a lack of co-factors or because it simply has too many other toxins to remove from the body. If estrogen can't be removed, it recirculates in the body causing dysfunction. This makes protein especially important for the liver. B-vitamins, selenium, Vitamin E, Vitamin C and Vitamin A are also necessary for proper detoxification.
Environmental Estrogens. Unfortunately many estrogens come into the body from external sources. Personal care and beauty products are a huge culprit. As women, we rub numerous products on our bodies such as moisturizers, creams, body washes, make-up etc. Sometimes one of the quickest ways to lower your estrogen is to switch to a natural skincare regime. Estrogen can also come into the body from BPA plastic so make sure you drink you water out of stainless steel or glass.
Excess Phytoestrogen Consumption. Foods like soy, flax and sweet potatoes contain isoflavones which are considered phytoestrogens (plant-based estrogen). While these may not be an issue in small amounts, some people overdo it. This is common in women eating a vegan/vegetarian diet. If you eat a plant-based diet, be careful not to eat these things in excess (especially soy products).
Low Progesterone. Estrogen and progesterone need to be in proper balance. While estrogen is a potent, feisty hormone, progesterone is the mellow, soothing hormone that balances estrogen out. Chronic stress and poor diet can deplete progesterone causing estrogen to be dominant over progesterone. Your estrogen may not necessarily be high but if it is too high compared to progesterone, then estrogen can take over. This balance is important. Progesterone needs cholesterol to be made effectively (yep, I said cholesterol) as well as Vitamin A and T3 (a thyroid hormone).
Chronic stress. The adrenal glands, which make a significant amount of your sex hormones, also make the stress hormone, Cortisol. If you are chronically stressed (this is not only mental/emotional stress but also hidden internal stress) then your body makes Cortisol at the expense of your sex hormone. Progesterone is commonly depleted this way.
Birth Control Pills. The addition of synthetic estrogen to your body will boost estrogen. This is a common reason why women gain weight when starting on the pill.
Aging. Estrogen levels generally decline with age, especially during menopause.
How to Tell if You Have Estrogen Dominance?
I always recommend testing to confirm this. In my experience, testing hundreds of women, something I have learned is that generally what you think is going on with your hormones, isn't. Even if you have many of the symptoms listed above, this does not guarantee that you have estrogen dominance.We are all unique and not everyone follows the typical pattern.
Never confirm estrogen dominance with a blood test. Blood can only tell you about total estrogen. You cannot differentiate from estrogen which is free and usable and that which is bound up in proteins (and not usable). The best way to check for estrogen dominance is a saliva or urine hormone panel. My favorite test for looking at sex hormones at the moment is the Precision Analytical Dried Urine Test for Comprehensive Hormones.
Luckily if you suspect you may have estrogen dominance but can't afford testing, there is still a lot you can do to improve your situation.
How To Reverse Estrogen Dominance
Nurture Your Metabolism
Stop the low-fat dieting and calorie counting. One of the crucial building blocks for hormones is dietary fat. If you eat a low fat diet than you are doing yourself a huge disservice. Often times introducing healthy fat back into the diet is enough to jump start a missing menstrual cycle and boost progesterone production.
Making sure you are eating enough is also necessary for healthy hormone production. Starvation can act as a huge stress on the body, causing your body to pump out cortisol instead of creating those sweet sex hormones. You can determine if you are eating enough food by taking your waking body temperature. Take your temperature under your arm and ideally you should fall between 97.8-98.2 F. If you are less than that, eat more food!
Keep in mind that a consistently low body temperature can also indicate low thyroid. To rule this out, have you doctor do a comprehensive thyroid panel that includes T3, T4, TSH, rT3, TPO antibodies and TBG.
Keep Your Blood Sugar Stable
Low blood sugar can also act as a stressor and deplete your hormones. You can keep your blood sugar stable by eating meals high in protein and healthy fat. Don't overdo it on the carbohydrates. If you feel "hangry," irritable, dizzy or shaky in between meals than you will need u your snacks or eat more frequently.
Love Your Liver
Make sure you are eating enough protein. Ideally you should be eating 0.4-0.7 grams of protein per pound of body weight. If you live a sedentary lifestyle, go for 0.4 grams and if you are a high performing athlete, go for the 0.7 grams. Note that 100 grams of chicken does not contain 100 grams of protein. Read labels to determine this.
Make sure to include eggs, dairy (if tolerated), fish, gelatin and shellfish to balance muscle meats (chicken, lamb, beef, turkey, etc). Eating the whole animal is important. Don't shy away from fat, skin and bone broth (my favorite!).
Reduce your exposure to chemical skincare/beauty products and household cleaning products. Check out the toxicity of your favorite products here.
Emphasize liver friendly foods like turmeric, dandelion, lemon, asparagus, grapefruit, watercress and radicchio.
If you are going to take a liver support supplement, make sure to take one that supports both Phase 1 & Phase 2. Many liver support products only include components that support phase 1 liver detox. Make sure you also see Phase 2 supports like sulfur, cysteine, methionine and milk thistle.
Reduce Stress
Stress can be caused by mental/emotional distress, lack of sleep, over exercise, poor diet or burning the candle at both ends. Take a good look at your life and see what you can improve. Sometimes small changes make the biggest difference.
Do things that you love. While meditation and deep breathing are fantastic, I believe one of the greatest ways to reduce stress is to have fun and laugh. So many of us don't take enough time for ourselves. So stop being so serious. Get out there and have as much fun as you can. Do it now!
Do you struggle with estrogen dominance? Please share in the comments!