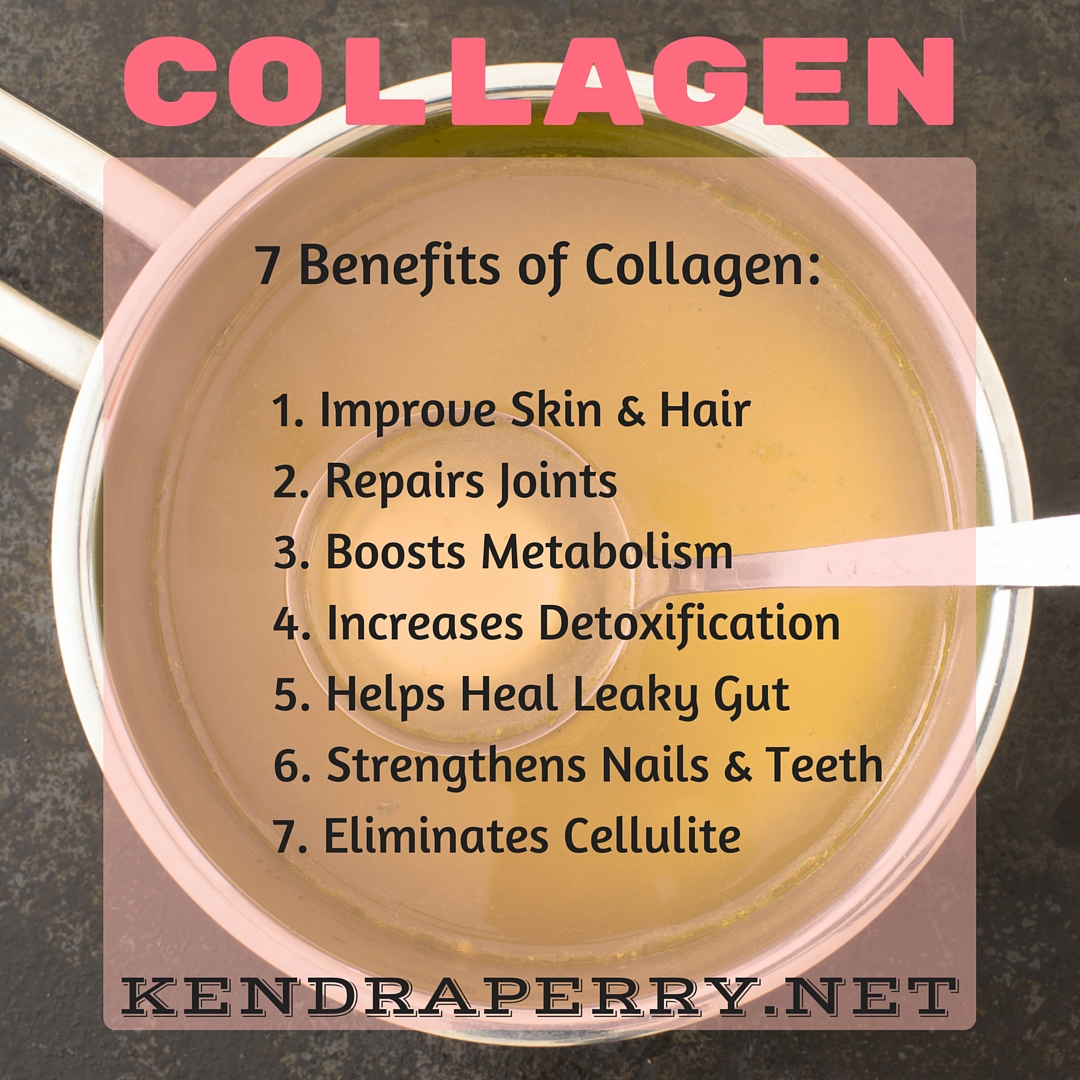 Collagen – 7 Benefits That You Must Know About
Collagen is my new favorite thing. I'm totally stoked on it. Wanna know why?!
Collagen is the most abundant protein in the human body. It can be found in bones, muscles, skin and tendons. You can think of it like the "glue" that holds everything together. It gives skin it's elasticity and repairs damaged tissues.
When collagen production starts to decline, you notice wrinkles, saggy skin and weak cartilage. Aging is a process that contributes to collagen breakdown but other things like sugar consumption, excessive sun exposure and smoking cigarettes can also cause collagen to break down at a faster rate. This is why it's not only important to consider adding collagen into your body but also to consider the lifestyle factors which may be reducing your collagen levels.

Is Collagen The Same As Gelatin?

Collagen and gelatin are often used interchangeably. Gelatin is actually derived from collagen. When collagen breaks down it becomes gelatin. You might know about my intense love for bone broth. I just love the stuff. I may be a bit of a broth pusher. Bones contain loads of collagen and when you cook broth, that collagen turns to gelatin. You know that jiggly stuff that look like jello? That's gelatin. You may think it's gross but I think it's beautiful.

Why Should You Care About Collagen?

Collagen is packed full of amino acids like arginine, glutamine, glycine and proline. These are "nonessential" amino acids which means your body makes them on its own but when you are sick, stressed or unhealthy, your body becomes less efficient at producing these important amino acids.
These "nonessential" amino acids are critical to having a healthy body. Without them things don't run smoothly. For example, proline helps release fat build up in the blood stream. This is crucial for keeping arteries clean maintaining heart health.
Glutamine plays a decisive role in keeping the acid-alkaline balance in the body. It is also needed for muscle recovery and keeping the skin firm.
Glycine makes sure the cells function properly and builds healthy DNA strands. It also helps create creatinine which boosts muscle production and sustains healthy energy levels
Collagen is important stuff. Without it you would be a saggy, floppy, weak, exhausted sorry excuse for a human being. And that's not sexy!

Top 7 Collagen Benefits
1. Healthy Skin & Nails

I don't mean to alarm you but as you read this your collagen production is slowly declining! That means you are slowly getting looser skin and more wrinkles. Ark! Taking collagen can help slow this process and keep your skin looking smoother, tighter and more radiant. It can also keep your hair strong and healthy. Extra collagen can enhance cell renewal and repair which means quicker wound and scar healing.

2. Joint Repair

If you have noticed your body getting stiffer as you age, collagen deficiency may be your problem. Too little collagen can also lead to swollen joints that prevent you from doing all those awesome activities that you love.
Ingesting extra collagen can reduce your risk of joint deterioration, bring down joint pain and help your joints glide more easily. There is research that shows that collagen can also help with osteoarthritis.

3. Healing Leaky Gut

Leaky gut is a condition where the gut is broken down and inflamed. Food, toxins and pathogens can easily move into the bloodstream. The result is ongoing immune reactions that can lead to chronic inflammation, allergies and so many other symptoms.
If you suffer from this syndrome, collagen can be super helpful. It is fantastic at repairing and generating gut cells which can heal the damaged lining of the gut and prevent particles from leaking into the blood.
Collagen also helps your gut absorb more water which can keep things moving and help you produce that perfect morning poop (you know, the one that is so fabulous that you want to take a picture of it and show it to your friends!

4. Boosting Metabolism & Energy Levels

You can boost your metabolism by adding extra collagen into your diet. Glycine, a component of collagen, can help move sugar out of the cells to increases energy levels. Glycine also plays a role in muscle development. More collagens equals more muscles! Da beach is dat way!

5. Strengthens Nails & Teeth

Do you have weak nails that split and peel easily? You may be lacking collagen. Do you have unhealthy teeth that are dull and susceptible to cavities? Again, it could be collagen! Supplementing with collagen can keep your teeth healthy and keep your nails strong.

6. Detoxification

Detoxification is a process that your body is continually doing. Sometimes the liver absorbs foreign substances that can be damaging. The glycine component of collagen can help minimize damage to your liver. If you're looking to detox, collagen is extremely helpful. That's because glycine helps minimize damage to your liver. Since we are constantly being exposed to toxins, no matter where we live in the world, having a well functioning liver is important for overall health and avoiding chronic disease.

7. Reduced Cellulite

When skin loses its elasticity as a result of decreased collagen, it can make cellulite more visible. When you lack collagen, your skin becomes thinner and cellulite is more obvious. Taking collagen may be the most important thing for reducing cellulite. Of course, this also needs to be combined with a healthy diet and lifestyle. Collagen is no magic pill but it can be extremely helpful in ridding yourself of this annoying problem.

How To Take Collagen

Collagen was a huge component of ancestral diets. Since primitive people ate the whole animal including skin, tendon, ligaments and bones, they were constantly exposed to collagen. These days we stick to boneless muscle meats which means we don't get nearly as much collagen as our ancestors did.
My favorite way to get more collagen is by consuming bone broth. I have an intimate relationship with bone broth. Click here to see my super awesome bone broth recipe. You can use bone broth for cooking or just drink it hot and salted in your favorite mug.
Anytime you cook a turkey or a chicken, keep the carcass and turn it into broth. You can also get bones inexpensively from your local butcher.
If you want to keep things simple, you can take collagen supplements. It's important that you get collagen powder from grass-fed, naturally raised cows. Make sure they are free of antibiotics and hormones. Collagen powder is easy to take. It mixes into any liquid (hot or cold) and has no noticeable flavor. I drink collagen every morning in my tea or sometimes in a smoothie.