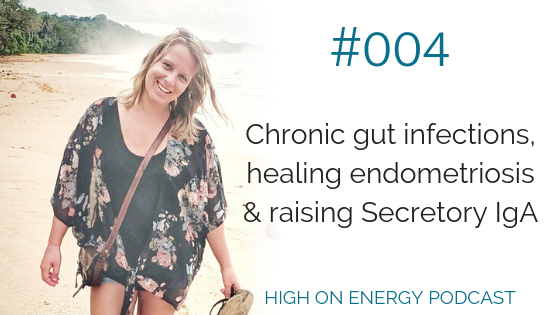 Chronic gut infections, healing endometriosis & raising Secretory IgA
HIGH on Energy TV Episode #4: This is Your Monthly LIVE Q&A
On today's agenda:
How do I raise SigA?
How can I treat Endometriosis and IBS with diet?
Why won't my infections go away?
Grab the FREE Endless Energy Checklist to get my top 5 
non-negotiable strategies for eliminating fatigue: https://go.kendraperry.net/energy-checklist
Join the HIGH on Energy Membership to work with me: https://bit.ly/2OZ4kxQ
Learn more about me: https://kendraperry.net/about-me
Say hi on Facebook: http://facebook.com/kperrynutrition
Transcript:
Hello. Hello. Hey everyone. Kendra here. Welcome to your live monthly q and a. I absolutely love doing these. I love answering your questions. I know that every week we go through so many different things. We discuss a lot of content, a lot of things that you probably haven't heard about before. So I really love doing these monthly Q&A's. Just so I make sure that, I'm getting your questions answered and I'm helping make things clear that maybe weren't so clear, when I discussed them in my videos, so super stoked to be here. And, I have about five questions that were submitted. So we're going to be going through those. And then if you're on with me live, you can of course ask me any questions in the comments box. Hopefully I can see the comments this time because I know the last couple times I've actually been having a little bit of trouble seeing your comments.
Hey Rebecca, I can see Rebecca's comments. So that is a good sign. Yeah, you guys, if you want to ask me questions in the comments box, definitely go for it. I am happy to answer them, and I'm happy to bring you the most cutting edge advice I can give you when it comes to functional testing, hormones, energy, and gut health, because those are my three jams. The three things I love the most.
So, let's jump into it. Let's jump into your questions. So first question is, 'Can you suggest, how to increase Secretory IgA?' Okay. So for those of you who have no idea what Secretary IgA is, I also want to refer to this as Sig-A, that's sort of the short form for this, but Sig-A is basically your body's primary immunoglobulin. So this is your big first line of defense in your immune system, in the gut. So Sig-A is what responds and built anybody's towards things that, you don't want in your gut. Okay. So a lot of people, through testing actually discover that they have low SIg-A or low Secretary IgA, very common. And how you raise it, you know, isn't just as simple as take this to raise it. You really have to ask the question, well, why is it low to begin with? Because that's not normal. If it's low, you have to ask the question, well, what's making it low? Typically what I see really depress the immune system and depress Secretary IgA, is gut infections. Okay, that's one of the pieces. So in order to raise it, what I've seen have the best effect on raising, say Sig-A is actually eliminating the infections that are present. And of course in order to address infections you have to run a really good test to determine which infections are actually there. And you've probably heard me talk about this before, but a lot of tests, a lot of stool tests on the marker, on the market, are not great for identifying GI infections or they're just really notorious for missing infections. So a traditional stool test, this is called a comprehensive stool analysis. A Microscopic test. Typically you'd go to your doctor and ask for gut test or a parasite test. Typically it's going to be this type of test that they give you, so microscopy, or a comprehensive stool analysis, basically refers to the type of technology that is used to identify various infections.
So what you're going to have is you have a lab techs do you have a human, they are looking at the stool in a petri dish and looking through a microscope and looking well what grows after 24 hours. So it's called a stool culture. So they're trying to culture it and try to make it grow and they're single. What actually grows after 24 hours? So if there is a positive, if they find something that grows, it is 100 percent positive. There is no false positive. If it grows and they see it, it's there. But there can be a lot of false negatives because this type of technology actually requires, organisms to be alive because they need to grow. So they need to be alive and they need to be present in large enough amounts that they're able to reproduce and grow. Okay? So this is problematic. If you have infections that are anaerobic, so they don't actually do well in oxygen, they like environments that are free of oxygen which exist in the large intestine, but once they leave the body and they get exposed to oxygen, a lot of times they actually break down to integrate and die, so those are not going to be found in a culture or a comprehensive stool analysis because they don't have the ability to grow because they're dead, or that thing is just, you know, it's there, but maybe it's an such tiny amounts that there's not enough of it to actually reproduce. So that's sort of the disadvantage of that type of test is yes. If it finds something, it's 100 percent there, but there's a good chance that it's actually going to miss things all together. Okay.
So you know, if you've done that type of testing and you're like, well, nothing came up. It's not really 100 percent that it's that your gut is completely clean. Okay. So the tests that I recommend, I love the GI-MAP from Diagnostic Solutions Lab. Basically, this is a PCR DNA test, so it takes out the human component. There's no Labtech, there's no one looking through a microscope. All there is, is a machine that is identifying the microspots, microscopic DNA of these various organisms. So that doesn't, that means that these things don't need to be alive. They can be dead and they could still be found, they can be present in a single DNA strand and they will be found. So it's a much more sensitive test. But of course that being said, there is no perfect test. We have to remember that the body's very complex and we're basically getting a snapshot of a moving target. So if you're looking at a stool sample, your body needs to be excluding it to find it. And there can be things that just don't get shed regularly in the stool. Maybe because they're there in smaller amounts, they're hiding or you know, they're just not getting shed on that particular day that you're taking the test. So, you know, there's downfalls, there's drawbacks to every test, but the first thing you're going to do to raise your immune system or your Secretary IgA, you're Sig-A is to address the infections and you do that with a good tests like the GI-MAP and trying to find the infections that actually might be present. Okay.
So that's really important. The other thing you need to do is you need to address toxicity. So heavy metals, chemical exposure, this, these things will depress the immune system. They will inhibit the immune system. In a lot of cases they can actually promote a friendly environment for, for organisms to grow. So sometimes why you have organisms is because you know, you have too much or too little of a mineral that makes more of a favorable, a favorable environment for these sorts of infections. And then the other thing is that sometimes your body actually allows infections to grow because you have metals because there's a protective mechanism. So there's been a lot of research on this in fish populations were fish have these parasites and these parasites actually concentrate metals and toxins into their cell walls so that their toxicity within that parasite cell is significantly higher than what's actually in the fish or the host.
So, there's a lot of people who believe there is a protective mechanism going on. I believe this to be true because I see so many chronic infections were like you just can't get rid of them until you get rid of the metals. And actually the last episode of High on Energy TV, I actually talked about this connection between metals and chronic infection. So you need to adjust the metals, you need to address the chemicals you need to identify the infections. Once you address these things, I do tend to see Sig-A go up. Some things that you can do to support your immune system. Maybe you can't afford testing or, you know, you can't find a practitioner to work with, although you could always work with me. You can take something like colostrum. I find colostrum has a really nice support, nourishing effect for the immune system. The other thing is Saccharomyces Boulardii, which is a beneficial strain of yeast, which actually has a great supportive effect for SIg-A and the immune system. So I would recommend those two supplements to start and then I would recommend doing some testing with me, look into gut testing, metal testing, hair mineral analysis to address those deeper root cause of the low Sig-A because if it's low, it either means you don't have the building blocks to support a healthy immune system because your mineral deficient, or you have metals that are interfering with a healthy immune system or you have bacteria, parasites, yeast, viruses, worms, things that are overwhelming, the immune system. Okay. So I hope that answers your question.
For those of you who are joining me live. Welcome. I'm so glad you're here. Let me know that you're here. Say Hi in the comments and if you have questions for me, you can literally ask me anything in relation to health or anything. I will answer them while we're on live right now. And so we do these live Q&A's at the last Tuesday of every month. So for those of you on YouTube, for those of you on the Podcast, you can join me on my Facebook page, K Perry Nutrition every Tuesday at 4:30 PM if you want to join me live. And then the last Tuesday of every month at 4:30 PM Pacific. That is when we do this live monthly Q&A. Okay.
So next question. So regarding the GI-MAP, 'Can I ask what prescription drugs were used for the nasty parasites? I've done Paromomycin, Doxycyclin. Another one I can't produce for Blasto, but I also have Crypto and some other bugs.' So. Okay. So I'm, first thing, this is my disclaimer. I'm not a medical professional. I'm unlicensed. I'm not a doctor, legally, I can't give you advice about prescription drugs or antibiotics. What I can tell you is with the exception of one parasite, I never use antibiotics or prescriptions. Okay? The reason for this, again, this is just my own experience. This is not me giving you advice or telling you what to do, but if you take antibiotics for an infection, you may get rid of the infection, but you fuck up the landscape, the landscape of the gut, okay? Because antibiotics are going to mess with that delicate balance. So getting rid of the infection may not have much benefit if the result or the consequence is that you decimate your bacteria, you totally mess with your immune system by killing off those beneficial flora that antibiotics will kill, because antibiotics are non discriminant, right? They're not just going for the parasite, they're going for everything. So they taking the antibiotics might help you get rid of the Blasto, but it actually makes you more likely to get Blasto back or a whole host of other infections in the feature.
Blasto It was a really hard infection to get rid of. It is the nastiest of the parasite. I call it the parasite lottery because it's a pain in the butt to get rid of, and it goes systemic. It doesn't say, 'Hey Michelle,' it doesn't hang out in the GI tract. So it has the potential to cause a whole host of issues. Cryptosporidium not a huge infection, not a hard infection to get rid of, typically will respond to one round of treatment, but I like herbals because they are much easier on the digestive system and they don't have the consequence of totally wrecking your healthy microflora. Okay. And I talked a lot about this in the previous High on Energy episode. So definitely if you're on Facebook you can go into my videos and see that episode or if you're listening on the podcast, it's just the previous episode. 'Hey, Karla.' Karla is my good friend and I'm glad she's here. And because you have to address the reason why you have the infection to begin with. And like a lot of things, I do believe that infections are just another symptom. I believe there is symptom of mineral imbalances and toxicity, especially metals. We're getting exposed to so much crap these days. So many toxins, metals, chemicals, glyphosate, and there's certain cases. And again, I talked about this in the last episode, where your body is actually has sort of a symbiotic relationship going on with the parasite because the parasite is protecting you from the metals because it has the ability to concentrate toxins and metals in the cell wall. So instead of you becoming totally auto toxic and getting really sick or even dying from all this metal exposure, your body actually is allowing that parasite or yeast to grow or bacteria because it has a protective mechanism going on.
So I don't think, again, I'm not a doctor, I'm not telling you what to do. You should listen to your doctor. I don't like the antibiotic prescription approach for infections because you just create a whole host of new infections. Okay? So I never recommend those. There's only one infection on the entire GI-MAP that is the Entamoeba Histolytica doesn't tend to respond to herbals, is a very dangerous parasite. That is the only one where I would refer someone out to a doctor. It's a very rare infection. I've only seen it twice. One of those times was myself because I've had a lot of nasty parasites. Okay.
Okay. So second half of this question is, 'Do you use anything stronger than interface plus for Biofilm? Because it doesn't seem to work for me anymore. I'm retesting in January and tempted to book in with you next year. I'm still having issues but I don't do well on herbals. They tend to make the bugs grow. Haven't tried the Amazon herbs is yet though.' So it depends. There's a bunch of different things that you can do to address Biofilm. So for those of you who are wondering, well, what the fuck is Biofilm? Basically you can think of it like Saran wrap, like clear plastic wrap. It's like this polysaccharide which is carbohydrate. It's like this thin blue, like sticky film. All organisms create it. Plaque on your teeth is a biofilm a, but all organisms create it. There's good and bad biofilms, but you know, in terms of the pathogenic material, they actually use it as a physical barrier. So they hide behind it. And there is a stat that I read that, bacteria that are hiding under a biofilm can resist antibiotics after 2000 times versus bacteria that aren't hiding behind biofilm. So if that blows your mind, let me know in the comments, say, 'Whoa,' let me know. Because that's crazy. It's honestly crazy and I think this is a big reason why antibiotics don't work, or why people continue to have chronic infections because they have a lot of this biofilm. And if that's not creepy enough, biofilm can also act as a communication network among these pathogens. So they use it to communicate with each other, help them adapt. It's all very creepy, but when you disrupt the biofilms, so certain things will do this, but when you disrupt it, not only are you releasing these infections, these organisms, but you also releasing a lot of other crap that can be tied up in biofilm like metals, chemicals, glyphosate, toxins, all kinds of shit can be in there. So taking, a biofilm disruptor. Yeah, Karla says, 'Sneaky little bacteria.' They are sneaky. They're super creepy too. And so that's the, I think a lot of people have issues with the biofilm. So are the Biofilm disruptors, 'Klaire labs interfase phase plus' is typically what I use. I don't use it longterm, does have EDTA in it which can bind to some of your minerals. So that one I usually use more short term. Biocidin is a herbal concoction that will disrupt bios, biofilm. So will Acetylcysteine, or NAC. You can do that in 600 milligrams, three times a day on an empty stomach. That is a really great biofilm disruptor. I also use from integrative therapeutics, I use Biozyme, which are just proteolytic enzymes. So you, again, you want to take those on an empty stomach. So a lot of biofilm disruptors are just carbohydrates specific enzymes because of that biofilm is actually made up of carbohydrates.
So any pathogen protocol, if you're doing any parasite, yeast, bacteria protocol, you need to have a biofilm disruptor, because if you don't, it may not work. Okay. And this is also a big reason why we see a lot of new infections on retest is because it can take a shitload of time to actually break down the biofilm. That can be a really long process so it can take time to kind of, immobilize these infections, and have them start to come out in the stool on something like the GI-MAP. Okay. So I would try those, those recommendations, those products that I recommended. I do recommend that you book in with me. I don't take many one on one clients anymore, but I do have a membership program where you can join for a really low price point and you can actually purchase the protocol for you GI-MAP test and I'll actually go over it and design a customized protocol either be or one of my highly trained practitioners for you, because I just find that the GI-MAP, and perspectives on gut testing and pathogen removal, to be kind of messed up. I see a lot of practitioners doing it wrong. I see a lot of people suffering. And if you're not addressing the minerals and the metals, you're gonna end up with chronic infections because a lot of, like I mentioned, again, the previous episode has a lot more information on this. Sometimes your body is allowing these things to grow for a reason and so will, you trying to kill them and that's all you're doing. You might just be addressing a symptom and you actually might be making yourself sicker because you may be eliminating the very protective mechanism that your body has put in place to protect you from toxicity. Okay. So really good question. I kind of went off on a tangent as always, but I hope that helps.
So there's nine of you guys on with me live today. That's makes me very excited. If you guys have questions. Oh, 11 now. if you guys have questions, hop on, ask me in the comments or just say, 'Hey,' let me know you're here. Give me a heart. Give me a like, because otherwise you're just a number next to an eyeball. That's all I can see. I can't see who's here. So let me know you're here. Okay.
Okay. So next question, and I really liked this question. So, 'I've had previous symptoms that look like endometriosis and I've had quite severe irritable bowel syndrome earlier this year. I'm on Progestin only pills and I've been increasing my probiotic intake in natural foods, Kombucha, Kiefer, lots of fresh fruit and vegetables. My IBS symptoms are almost gone. That's awesome. And I'm pretty sure my pelvic pain symptoms are gone to. I'm just hoping they'll stay gone. If I come off my pills, I'm hoping to come off the pills eventually. Do you know of any tips for managing endometriosis and irritable bowel symptoms through diet and natural health? I, I'd prefer to try and manage naturally rather than be on the pills forever. Do you know someone who's done this and how they've managed so.' Okay. If you actually want to legitimately reverse and get rid of endometriosis and irritable bowel syndrome, you got to get off the pill. Again, I'm not a doctor, I'm not telling you to do this. I'm just saying what I've seen in my experience. This is what I would do. So this is the issue with the pill, even though it's Progestin only, it is going to cause mineral deficiency. It will make you vitamin C, magnesium, selenium, zinc deficient, it will mess with your gut flora. It will cause things like IBS symptoms, and it suppresses your natural hormone production. You're basically taking steroids, which is kinda crazy because if I said, 'Hey, do you want to take some fucking steroids and get jacked?' You'd think I was crazy. But that's basically what the pill is. You're taking steroids. Okay, so you can't balance your hormones or get rid of something like endometriosis or IBS while you're on the pill. It's a really, really nasty drug. So if you want to actually see success with that, I do. I'm not going to say I recommend getting off, but if it was me I would be getting off of that. Okay.
So in terms of, you know, you're doing a lot of the right things, you know, you're using diet, you're using fresh, whole foods to manage this and it sounds like it's improved a lot. So, you know, I want to congratulate you. This is a huge win. That's awesome. Not a lot of people are willing to do that. I think diet wise, I mean, I always recommend a Paleo template, Paleo, removes grains. It removes dairy, it removes sugars, it removes beans and legumes. A lot of things that can be irritating to the gut. I don't think you necessarily need to be on this diet longterm, but it's great to use as a template, at least as elimination diet. Maybe you can use it for three to six months and then start to reintroduce some of these foods. In terms of endometriosis. What this means is that your body doesn't metabolize your estrogen very well, or you have synthetic synthetic estrogens coming into the body which are raising your estrogen. So plastics, plastics are huge sources of synthetic estrogens, cookware, teflon, like, look at your cookware. You should only be using high quality stainless steel or titanium, clay, glass, really high quality ceramic. I'm really look at what you're cooking with. Ditch your slow cooker because there can be a lot of synthetic estrogens in the ceiling, ceiling, the varnish, I don't know that like plastic material that's over your ceramic pot. I actually have a clay. I have a clay, a slow cooker, or you can do something like an instant pot, which is, is stainless steel. Okay. Look at personal care products. There's synthetic estrogens in a lot of, chemical, personal care, beauty care products, cleaning products, checkout the EWG.org. This is the environmental working group. They have a top 10 list for all of these products. Use something safe and nontoxic. This is a really good place to start. The other connection is the gut. So there is a connection between your IBS and endometriosis. Typically, endometriosis means you have bad gut bacteria, so you need to address the gut. But what I found to be the biggest thing that relates to endometriosis is iodine. So there's probably an iodine deficiency. Iodine actually makes it impossible for you to metabolize your estrogen properly. So if you have endometriosis or on a Dutch test, you have high 16 OH metabolites. I know you need iodine. So I would recommend an iodine protocol, but you want to be doing this with an iodine literate practitioner. I can help you with this if you joined my High on Energy membership where I help support you and bring you the most cutting edge functional medicine recommendations that I can give you, that will be in the show notes, but you need to get on iodine. So, in the meantime, while you're, you know, if you're not working with me, you can do something like Kelp capsules. I like Nature's Way. Those are the only ones I personally tested and I know to be free from chemicals and toxins. You can do Kelp really great way to address iodine, seaweed, that sort of thing. Just make sure it's organic or from a good source. But I would recommend high dose iodine therapy, but please don't do this on your own. You can make your situation much worse if you don't do this properly. So please let me be your mentor or find someone who is an iodine literate practitioner who can be your mentor and who can help you with this. Okay. But again, people who want to eliminate endometriosis or any hormonal issue can't be on the pill. Okay. Because it fucks with your hormones and you can't fight against that. Okay. I hope that helps.
Okay. So Danielle. 'Hey, Danielle.' Danielle is on a lot of my live videos and she has a question and she says, 'Ah, my question.' So I think that was her question. That's great. 'Thank you.' She says, 'I found herbals wiped out a lot of my bacteria.' Yeah. 'Especially when done for months. Yes, I love NAC. What Diet did you use when addressing infections?' So, yeah, so I just go with a typical Paleo Diet. I don't believe in a low carb diet. It will not help you with yeast. Infections are very opportunistic. They are very adaptive and if you deprive them of one macronutrients, they will just turn around and eat the other. There's a lot of research that shows that Candida or other forms of yeast can thrive on Ketones, which is an extreme which you will produce if you're on an extreme low carb diet. I don't really think diet has a huge effect. I think it just needs to be a natural, whole foods, healthy diets that is free of crap. Okay, so that's why I like Paleo. I think you can introduce some grains, some dairy, beans and legumes in the future. But if your gut is really unhealthy, we want to go with a diet that really lowers phytic, act, phytic, phytic, access, acid and lectins. So these actually bind with minerals and move them out of the body and the body can't stay healthy if it doesn't have good mineral balance. So we want to be eliminating the foods that can actually make you more mineral deficient, which is why I love Paleo is a template. In my High on Energy membership. I call this the High on Energy diet. It's just basically a modified Paleo diet that gives a little bit more room for some of those foods that are typically not allowed, but that you might be able to tolerate because I believe in inclusive diets and not exclusive once. Okay.
Okay. 'So which lab do you use for mineral testing? How much does it cost for the test? I may book in.' So, so I use Trace Elements. I only recommend for mineral testing, Analytical Research Lab or Trace Elements because they don't wash their hair sample and most labs like Doctor's Data, a lot of the other ones I've seen on the market, they actually wash their hair sample which is going to mess with sodium, potassium, and zinc levels. So I only trust those two labs. I don't currently do kind of À la Carte lab testing with clients. You can book in with me and what am I comprehensive programs where we do run that test with other tests. You do have to apply. I only take on a very limited amount of one on one clients, but in my membership program in the High on Energy membership, which is a very low monthly cost, you can get that test for $200. On top of your monthly membership and then within that membership you get a group support for me. You get a facebook forum. So you can get all the support, but basically when you order the test, either myself or one of my personally trained practitioners, we create the protocol for you which we give to you in a document for you to follow. And then if you have questions you can ask me in the facebook group or in one of the group coaching calls that we do monthly and we do at least three sometimes we do four. So pretty high value. I do recommend doing that. Because right now I'm not taking on many one on one clients anymore and I don't anticipate taking on many more in the future. And there's probably going to be a time pretty soon where I'm not taking on any anymore. And I'm only working with people in the group program. Okay. Hope that answers your question, Danielle. I'm really happy to see you here. You're always tuning in and I really appreciate that. Okay.
Okay. So last question. And again, if you guys are on with me live, there's still a few of you on. Thank you for sticking with me. Definitely ask me in the comments. I'm happy to answer. So, 'Hi there. I just got my GI-MAP results back and I have a smidge of staphylococcus species point four, it should be and is less than one and staphylococcus Orris, which is point five, which it should be less than five. I know these are insignificant on the chart, but what do they mean?' Okay, so these fall into the additional overgrowth bacteria. So these bacterial infections are not common for your body to have, but they should be below detectable level, which on the GI-MAP you see that with the little, kind of sideways triangle like larger than or smaller than, and then the dl, which just means below detectable level.
So yes, the lab has ranges for all these infections, but from a functional standpoint, we want to see everything below detectable level like, because just because the lab isn't flagged as high doesn't mean it couldn't become high in the future and doesn't mean that if you were to test tomorrow that it wouldn't be high, right? Snapshot of a moving target. Remember that. So these are overgrowth bacteria, typically what these mean, like these will overgrow when they can, when they have the opportunity opportunity to. That's why they're called additional overgrowth, opportunistic bacteria, right? And so typically what it means is that you have either a deficiency in some of your friendly Microflora. You may or may not see that on the GI-MAP and it may mean that you have other infections. I address anything that pops up even if it's not getting flagged as high. So those all fall into the anti bacterial a section or kind of categories you'd want to do an anti bacteria. I'm a big fan of high dose garlic, something like lmx pro or [inaudible]. those are my favorite things for bacteria protocols. They tend to work really well. Okay. So, I hope that answers your question. Again, I address everything, even if it's not getting flagged as high because you just don't want to give it the opportunity to become high. Okay.
So that's all the questions that I had submitted. If you guys who are on with me right now live, if you have any last minute questions, I am happy to answer them. If you liked this video, make sure to give you a like, give me a heart, share it, if you're into that. That sort of thing makes a big difference on Facebook, and helps me get in front of more people, which means I can help more people, which is really important to me, and hopefully is important to you to, if you're on the Podcast, definitely subscribe to this podcast or what you can do is you can actually take a screenshot of you listening to my podcast, share it to your instagram stories and tag me @KPerryNutrition and I will share it to my stories. If you guys want to work with me again, my High on Energy membership, group membership program, is the best way to do this. I bring you cutting edge functional health strategies to help you get well, to help you reverse chronic fatigue, to help you get out of burnout, feel better overall and get your life back. And we do this with lots of group coaching calls and access to functional testing, like the hair mineral analysis, like the GI-MAP, which you can purchase in the membership as an upgrade. Currently, this is one of the only ways to work with me unless you go through my more comprehensive a coaching programs, but I take very limited clients. You have to apply. Right now I'm not taking anyone until February and usually I only take on one a month or one every two months.
Okay guys, thanks so much for listening to me, and joining me today. Again, every week we do this on Facebook live, a 4:30 PM on Tuesdays. Today it's on a Thursday because Tuesday was Christmas, so I postponed it. Next week, Tuesday is the 1st. So I will not be doing the call that day, but I will be postponing it to Wednesday, I believe at 4:30. I will definitely be letting you know in the Facebook feed and if you're listening to the Podcast, we post this as a podcast every Thursday. So thank you so much. I love you guys. I hope this was helpful and I'll see you guys in the next High on Energy TV episode. Bye.