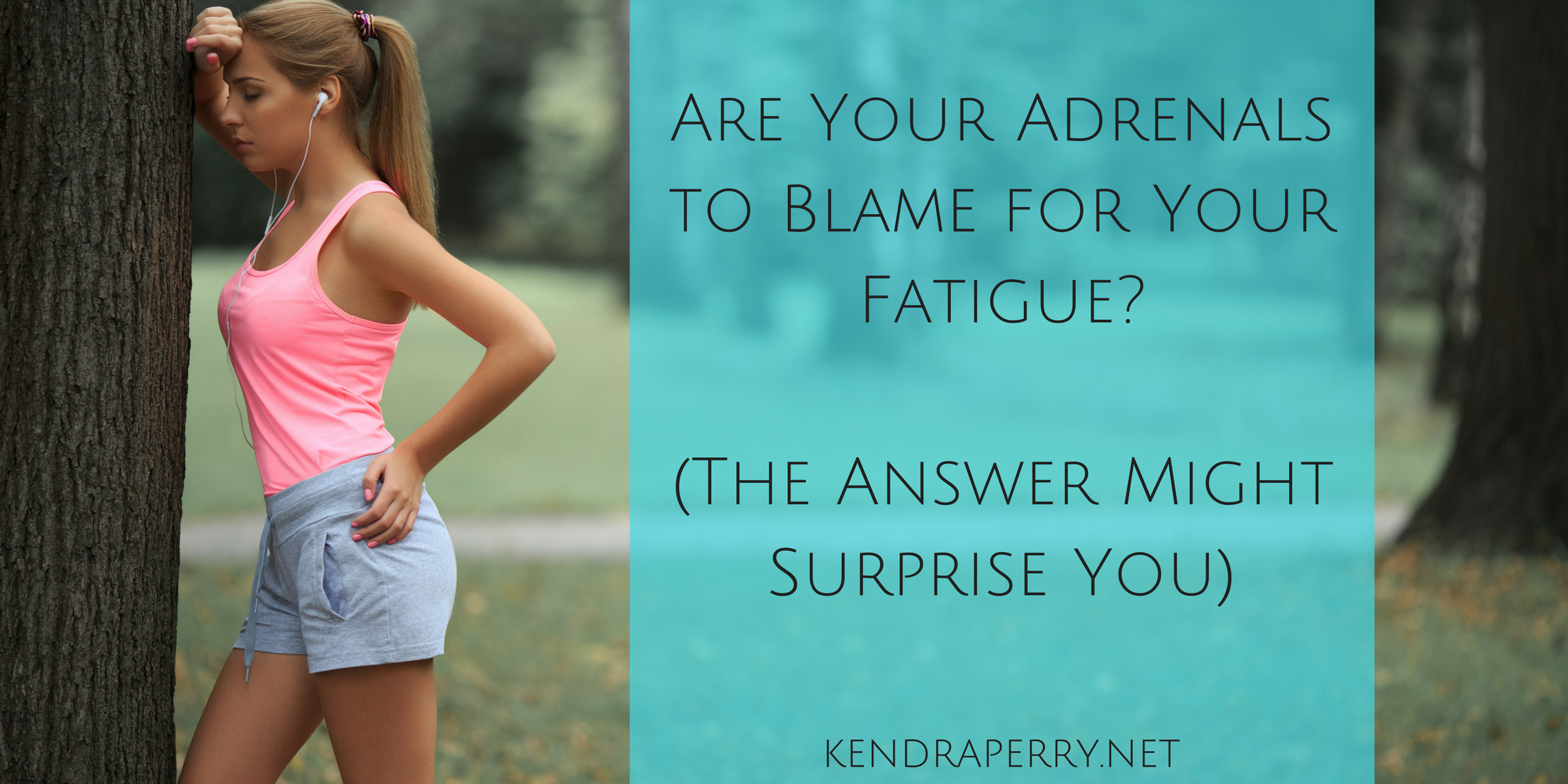 Is Adrenal Fatigue to Blame for Fatigue, PMS and Hormone Imbalance? (The Answer Might Surprise You)
Most people know that stress is a huge contributor to fatigue. It makes sense. Stress is something we experience daily and so many of us are also struggling with stubborn fatigue and unpredictable hormones.
Adrenal fatigue has gotten a lot of attention these days. On a weekly basis, I encounter women who either believe they have Adrenal Fatigue (as it is often self-diagnosed from the internet) or have been told they have it by a health practitioner.
Many of them are at a total loss of what to do. They are taking adaptogens, bio-identical hormones and Vitamin C. They are meditating. They are doing yoga. They are doing the best they can to nourish their adrenals and get back to feeling more in control of their life.
Unfortunately, many of their efforts fall short. They continue to feel fatigued, burnt out, overwhelmed, crazy, stressed and out of shape.
If you feel that you are struggling with Adrenal Fatigue, you are likely experiencing some of the following symptoms:
Fatigue
Exhaustion
Poor sleep
Weight gain
Overwhelm
Sugar cravings
Blood sugar problems
Digestive issues
Brain fog
PMS
Hormonal Imbalance
If I ask you how stress leads to fatigue, you might tell me a story about your adrenal glands. You might tell me that the adrenal glands produce cortisol. And when you are continually stressed, these hard-working glands are forced to produce excessive amounts of cortisol. Overtime, as stress continues, these glands wear out and eventually burn out. Enter Adrenal Fatigue.
In Adrenal Fatigue, all hormones are depleted, including estrogen, progesterone, DHEA and testosterone since the adrenals play a huge role in the production of these steroid hormones.
What I just described is basically the three stage theory of Adrenal Fatigue. Stage 1 or Acute describes the initial stress. Cortisol is high. As stress continues, and the adrenal glands start to wear out, you enter Stage 2; the Compensatory phase where cortisol levels decline and so do energy levels. Eventually the adrenal glands are overwhelmed, cortisol levels plummet and enter into Stage 3; exhaustion. In the exhaustion phase, the adrenals are burned out and sex hormones are depleted. Enter hormone imbalance, weight gain, fatigue, insomnia, sugar cravings and PMS.
But what if I told you that the symptoms you are experiencing have little to do with your adrenal glands or even cortisol levels for that matter?
I have been questioning the cortisol model of fatigue for some time now. In the past four years I have run hundreds of saliva and urine hormones panels on both men and women. I have yet to see a strong connection between cortisol levels, PMS and fatigue.
If the 3 stage model of Adrenal Fatigue is true then my clients in the Acute phase should feel energetic and my clients in the Exhaustion phase should feel fatigued and burnt out. But I have often seen the opposite and everything else in between.
Ari Whitten, researcher and nutrition expert, compiled all the research he could find on fatigue, burnout and exhaustion (about 130 studies) and found that about 25% of the studies linked these symptoms with high cortisol levels. He found that another 25% linked these symptoms with low cortisol levels while, 50% of more of the studies found no abnormality between cortisol levels and stress, burnout, exhaustion and fatigue.
Based on this data, and according to Ari, cortisol is not a great measure of exhaustion and fatigue. I tend to agree. This is something I have seen over and over and it has left me with more questions than answers.
As It turns out that there are over a dozen physiological pathways in the body that can link stress to health problems, and most of them have nothing to with "fatigued" adrenal glands.
It's very likely that stress is causing your fatigue (and all sorts of other hormonal symptoms) without anything being wrong with your adrenal glands or your cortisol levels.
The truth is the theory of Adrenal Fatigue is flawed and according to research does not actually exist. While the medical community tends to brush those aside who struggle with Adrenal Fatigue type symptoms, these people ARE struggling and should not be treated as hypochondriacs.
What many educated health practitioners are now calling this condition is HPA-axis Dysfunction which stands for Hypothalamus-Pituitary Adrenal Axis Dysfunction. This system is responsible for mitigating the stress response.
Let's say you are out for a walk in the woods. You encounter a bear. Now that's stressful! You initially get that instant adrenalin rush. Adrenalin is instant but it is not long lasting. The adrenalin travels to your hypothalamus (located in your brain) which signals that stress is present. The hypothalamus sends corticotropin-releasing hormone (CRH) to the pituitary gland (located at the base of the skull), which then sends adrenocorticotropic releasing hormones (ACTH) to the adrenal glands. The adrenal glands receive the message and produce cortisol accordingly.
Many now believe that it is dysregulation in the HPA axis that leads to many of the symptoms that are associated with Adrenal Fatigue. Over time the system starts to become resistant to the negative feedback loop telling it to calm down (similar to insulin resistance), which leads to abnormal function of the axis. When the HPA Axis dysfunctions, many symptoms can arise.
HPA axis dysfunction has been associated with everything from Multiple Schlerosis, Chronic Fatigue Syndrome, Fibromyalgia and Irritable Bowel Syndrome to anxiety, depression and burnout.
For the most part when people say they have Adrenal Fatigue, they more likely have HPA-axis Dysfunction. It's clear that if we focus our protocols on the adrenal glands, we are missing the mark. Are you following me? It's not an adrenal issue to begin with.
What is Stress Really?
When most people talk about stress, they are referring to the mental and emotional stress that we experience daily. This might refer to relationship stress, professional stress, financial stress or even the stress of driving in traffic.
Stress is much more than this.
Stress refers to anything that causes the body to lose homeostasis (that happy balance when everything is working as it should).
These types of stress aren't always obvious to the average person. They might include;
Exposure to environmental toxins
Liver congestion
Food intolerances
Inflammation
Gut infections
Heavy metal accumulation
Leaky Gut
Physical Injury
Bio-mechanical issues (like poor posture for example)
As you can see stress can be many things. The above can result in activation of the HPA axis and eventually lead to it's dysfunction, especially if these stressors become chronic (rather than quick and easily resolved)
Let's discuss some of the other factors that link the stress system to a change in your energy and hormone levels.
Thyroid Hormone Down Regulation
Your thyroid is a butterfly shaped gland located in the center of your throat. This gland is the regulator of your metabolism. Its job is to produce T4, an inactive thyroid hormone, which then gets converted to T3, the active thyroid hormone. T3 regulates the rate of your metabolism.
There are receptors for thyroid hormone in every single cell in the body. If your metabolism is sluggish then you will not produce energy at a rate that keeps you energized. Therefore people who struggle with hypothyroid (an underactive thyroid) usually have low energy and struggle to lose weight. They are also more susceptible to imbalanced sex hormones because low thyroid slows down the rate at which hormones and made and broken down in the body.
When your thyroid hormone production is low everything from your brain cells to your heart cells struggle to produce energy.
Stress is known to reduce both T4 and T3. Additionally, stress may lower Thyroid Stimulating Hormone (TSH) which is the main signalling hormone that the pituitary sends the thyroid to tell it to produce thyroid hormone.
This is a common way that hypothyroid gets misdiagnosed. Some thyroid issues are primary, meaning that the thyroid is not functioning as it should and the result is decreasing thyroid hormone.
Other thyroid issues are secondary, meaning the thyroid is functioning as it should but is listening to the instructions it receives from stress, causing it to reduce hormone production.
Secondary hypothyroidism is often missed and while hormone replacement therapy may offer a short term boost, it does little to address the reason why the thyroid is under producing hormones in the first place (ie. Stress!)
Immune System Suppression
Most people believe that getting sick is a result of "catching" a bug or virus. This may be true in some cases but the truth is we are always full of harmful bacteria. They are already in us!
They lurk in the deepest corners of our digestive system and cells. When we are healthy, well-fed, and the immune system is strong, these bugs are not an issue. They are kept in check and do not make us sick.
But when we are stressed, certain arms of the immune system are depressed. This means we are less likely to be able to keep those nasty bugs in check, they are able to outnumber the beneficial bacteria and make us sick.
Therefore you easily get sick when you are more stressed out and run down. An example is shingles. Shingles is an illness caused by the same virus that leads to chicken pox. The virus, called varicella zoster, lies dormant in nerve cells near the spinal cord after one has been exposed to chicken pox. It should remain there, dormant, not causing any issues, unless the host gets weakened and it is able to emerge. The result is shingles.
Neurotransmitter Dysregulation
Neurotransmitters are the compounds which the brain uses to communicate. Many people have heard of serotonin and dopamine before. Other neurotransmitters also include histamine, GABA, norepinephrine and epinephrine.
Healthy levels of neurotransmitters lead to a healthy and stable mood. They also contribute to your energy levels. Symptoms caused by both low dopamine and serotonin include fatigue.
Several studies have shown that chronic stress can induce deficiencies in numerous neurotransmitters.
Chronic stress can lead to GABA resistance, meaning that your brain resists GABA. GABA is your main inhibitory neurotransmitter which inhibits excitatory neurotransmitters and helps you relax. If you lack GABA sensitivity you are more likely to feel wired, have racing thoughts and struggle to calm down at night.
Serotonin and dopamine are also impacted by chronic stress, which not only affects your mood but means your energy levels are less than optimal.
Leaky Gut
Stress is thought to be the number one cause of Leaky Gut. To learn more about Leaky Gut, click here.
We are all familiar with the gut-brain connection. Remember how your stomach felt the last time you had to give a public speech? That feeling of "butterflies" is evidence that what's going on in your head has the ability to affect what's going on in your gut.
When we are having a stress response, your energy moves away from rest and digest processes and is funneled into the muscular and skeletal system. Your body is preparing you to run or fight for your life. That means that if your stressed, digestion is slowed or even halted.
If there is food in your gut then it doesn't get digested. It just sits there and is fermented by bacteria which produce toxins that can contributed to leaky gut.
Additionally, exposure to food sensitivities, toxins and pathogens can also increase intestinal permeability and lead to leaky gut. When your gut is leaky, you struggle to breakdown, absorb and assimilate nutrients and minerals.
Lack of mineral and nutrients can affect every system in your body. Clearly if you do not have nutrients to function properly, you might struggle with energy levels.
Gut inflammation can also affect neurotransmitter production (much of your neurotransmitters are produced in your gut), lead to more food sensitivities and also cause IBS, autoimmune conditions and small intestine bacterial overgrowth.
Circadian Rhythm Issues
Many people who are chronically stressed also have trouble sleeping at night. Many of these people describe feeling fatigued upon waking, despite sleeping eight hours or more. They also tend to feel wired at night and are often unable to sleep. They might describe a "second wind" that comes about in the evening even after feeling exhausted and drained throughout the day.
It is also no secret that having a stressful day can lead to loss of sleep. Many people are unable to stop thinking about the stress that plagues them as they fall asleep.
This can lead to issues falling asleep or the inability to stay asleep during the night. Stress also reduces our ability to get into the deep sleep needed for repair and regeneration. If our endocrine system is unable to repair itself, our hormones might go a little wacky.
Lack of sleep is incredibly hard on the body and can lead to many health problems. The impact that stress has on sleep patterns is probably one of the most common ways that stress can impact your energy and hormones levels. Click here to improve your sleep.
If low energy is your main issue, start by looking at your sleep patterns. If you can find a way to sleep better than there is a good chance you can cultivate more energy for yourself.
Mineral Deficiency
Stress increases the rate at which you burn minerals. Minerals are the spark plugs of the body and are needed as co-factors in every single chemical reaction in the body.
Stress means you use minerals like magnesium and potassium at a higher rate. Lacking in these critical nutrients mean that your cell doesn't have what it needs to function optimally or give you the energy you need to feel your best. Minerals are needed to produce all hormones, including sex hormones, in proper amounts. Mineral deficiency not only leads to fatigue but it leads to hormone imbalance and symptoms of PMS.
Deficient minerals also make it more likely that your body will hold onto toxic metals. Why? Because metals, although toxic, can perform similar tasks that minerals can. If you don't have a certain mineral your body may use a metal instead. Your body then holds onto this metal instead of detoxing it through the liver.
A deficiency in potassium, for example, means you are more likely to hold onto Thallium. Thallium is an extremely toxic meal, 10 times more toxic then mercury. Thallium was added to gasoline after lead was removed from it years ago. It is in our air, soil and water. Having good mineral status is key to avoiding heavy metal toxicity which can greatly interfere with cellular function and lead to numerous health issues.
Mitochondrial Dysfunction
Your mitochondria are the powerhouses of your cells. They are organisms whose main job is to produce Adenosine Triphosphate, the main source of energy for your cells.
Your cells are the building block of every organ, gland and system in your body. It's simple. If your mitochondria is unable to produce cellular energy, you won't be feeling very energetic either. You mitochondria in the cells in your adrenal glands are also needed to churn out sex hormone. Unhealthy mitochondria means hormonal imbalance and stubborn fatigue.
It is the opinion of some health practitioners that the main component of fatigue is mitochondrial dysfunction. The more and more I read and understand, the more I am starting to switch from a cortisol model of fatigue to a mitochondria model of fatigue.
Robert Naviaux et al. did a study involving 84 subjects. 45 of these subjects were diagnosed with Chronic Fatigue Syndrome, while the other 39 individuals were normal controls. In the subjects with CFS, 80% had an abnormal blood markers, which was suggestive of a low metabolic state. They concluded that CFS is a state in which the metabolism has slowed in response to environmental stress.
This is really interesting. These researchers also discovered that the mitochondria has more functions than just producing energy. They are also responsible for cellular defense, or protecting the cell from threats.
What types of things can threaten the cells? Viruses, parasites, bacteria, heavy metals, environmental toxins and psychological traumas. All these things can turn on the cellular defense system. The problem is the mitochondria can only do one of these jobs at a time. Either they make energy or they defend the cell.
If any of these factors or present, your mitochondria will be busy protecting you and will not be allocating resources for energy production. This is the number one reason why sickness makes you tired. All your mitochondria have shifted away from energy production to protecting you from whatever virus, bacteria or parasite is attacking your system.
I find this so interesting. In the past year I have really started to understand the role of heavy metal and environmental toxin accumulation in health.
After eliminating a ton of gut infections (including parasites and candida), getting rid of SIBO and doing significant gut healing, I saw little improvement in my energy. Upon running a hair mineral analysis and two heavy metal panels, I found that I was toxic in metals.
It wasn't until I started addressing these metals that I finally saw a shift in my energy. I now do the same with all my clients and not only can we resolve their fatigue but we can re-balance hormones which means no PMS, no mood swings, easier weight loss and more restful sleep.
I recently did a webinar with Wendy Myers, heavy metal detox expert, who said that heavy metal toxicity underlies every single case of chronic fatigue. If you are eating a healthy diet, living a healthy lifestyle and you still feel exhausted and struggle with hormone imbalance, you are likely toxic with metals. I am in complete agreement with Wendy.
Since shifting my thinking, I have began addressing heavy metals in all my clients and the results have been profound.
5 Solutions to Enhance Energy & Hormone Balance Right Now
1. Get Light Exposure First Thing in the Morning
We discuss the importance of having a healthy and normal circadian rhythm. It is cues from the rising and setting sun that signals our body to do certain tasks at certain times. For example, darkness tells your body it's bed time and stimulates the production of melatonin, your sleep hormone.
The rising sun has a similar effect. It tells your body, "Hey, it's morning time. Get out there." Many of us live inside, have curtains on our windows and do not get direct light exposure when we first get out of bed. My advise is to turn on every single artificial light in your house and open every single window.
Even better, wake up, grab a tea and go for a walk or sip your tea in your back yard. Even if it's only for 5 or 10 minutes, this can greatly increase your energy, jump start your circadian rhythm and reduce that dreaded morning fatigue.
Ditch the Gluten
Gluten, by far, is the most important factor when it comes to boosting the energy levels of my client. Gluten is a funny thing. You may have heard a lot of competing views on the gluten-free trend. It depends on who you are talking to.
In my clinical experience it is the one thing I can take out of a clients diet that always, without fail, leads to increased energy and better hormone balance. Gluten seems to have a negative effect on your thyroid. Gluten closely resembles that of the thyroid gland. When gluten gets into the bloodstream, the immune system tags it for destruction. These antibodies to gluten also cause the body to attack thyroid tissue. Thyroid tissue and gluten are structurally similar. It is a case of mistaken identity and your immune system can attack your thyroid.
If you have followed this article so far, you know that healthy thyroid function is critical to healthy energy levels. Time and time again I have seen gluten-free diets leads to more energy. Give it a try!
Heal Your Gut
Easier said then done but there is no question that improving your digestion will also boost energy and promote healthy hormone production. Many people don't know this, but every single hormone is metabolized in the gut. So you if you struggle with PMS, you have gut problems. Period.
The best way to start healing your gut is to eat fresh, organic whole foods. You can also supplement your diet with homemade bone broth and fermented foods like kimchi, sauerkraut, kombucha and kefir.
Other great tools to help you heal your gut are l-glutamine, aloe vera juice, collagen and my very favorite product, GI Revive from Designs for Health. If you want access to these high quality supplements, you can sign up free for my online dispensary.
Take a Multi-Mineral Complex
As we discussed, mineral status is crucial to healthy energy levels and hormone production. Unfortunately, many mineral supplements are low quality and do not contain a healthy combination of minerals. If you want to talk a multi-mineral make sure you take a good one. The only one I currently recommend to my clients is Ocean's Alive Marine PhytoPlankton. To get access to this and other high quality supplements, you can sign up free for my online dispensary.
If you struggle with nasty symptoms in the week before your period like fatigue, cramps, swollen breasts, migraines, water retention and moodiness, doubling up on your multi-mineral can help alleviate these symptoms. If you are taking Ocean's Alive, you can take 2-4 full droppers every day in the week before your period.
Sit in an Infrared Sauna
If you are chronically fatigued or you are dealing with stubborn hormone imbalance that won't shift no matter what you do, you are likely toxic to some degree with metals and environmental toxins. Did you know infrared sauna sessions are one of the most effective ways to detox metals and toxins? It's true.
If you have access to sauna, I recommend using it as often as possible. I like to sit in a sauna 3-4 times per week. It not only helps you detox but it also improves your skin, boosts your immune system (another way to enhance energy) and reduces inflammation and chronic pain.
Final Thoughts
The cause of fatigue, PMS and hormone imbalance is complicated and multi factorial. Your symptoms are likely being cause by a combination of the above and not just one. Whether you think you have Adrenal Fatigue, have hormone imbalance or you are just sick of being tired, getting well involves changing diet and lifestyle and addressing detoxification and toxicity. Start with my 5 solutions to get quick results.
If you want to learn more about hormone balance and how you can start balancing your hormones and eliminating PMS right now, grab my 3-Part Mini-Course.
References:
http://www.sciencedirect.com/science/article/pii/S0022399902004294
https://www.hindawi.com/journals/isrn/2013/784520/
http://journal.frontiersin.org/article/10.3389/fnbeh.2013.00061/full
https://www.ncbi.nlm.nih.gov/pubmed/28641771
https://www.ncbi.nlm.nih.gov/pubmed/16020927
https://www.ncbi.nlm.nih.gov/pmc/articles/PMC3079864/
https://www.ncbi.nlm.nih.gov/pubmed/16020927
https://www.ncbi.nlm.nih.gov/pubmed/7938514/
https://www.ncbi.nlm.nih.gov/pubmed/12199158/
https://www.ncbi.nlm.nih.gov/pubmed/14993070
http://bjp.rcpsych.org/content/180/2/99