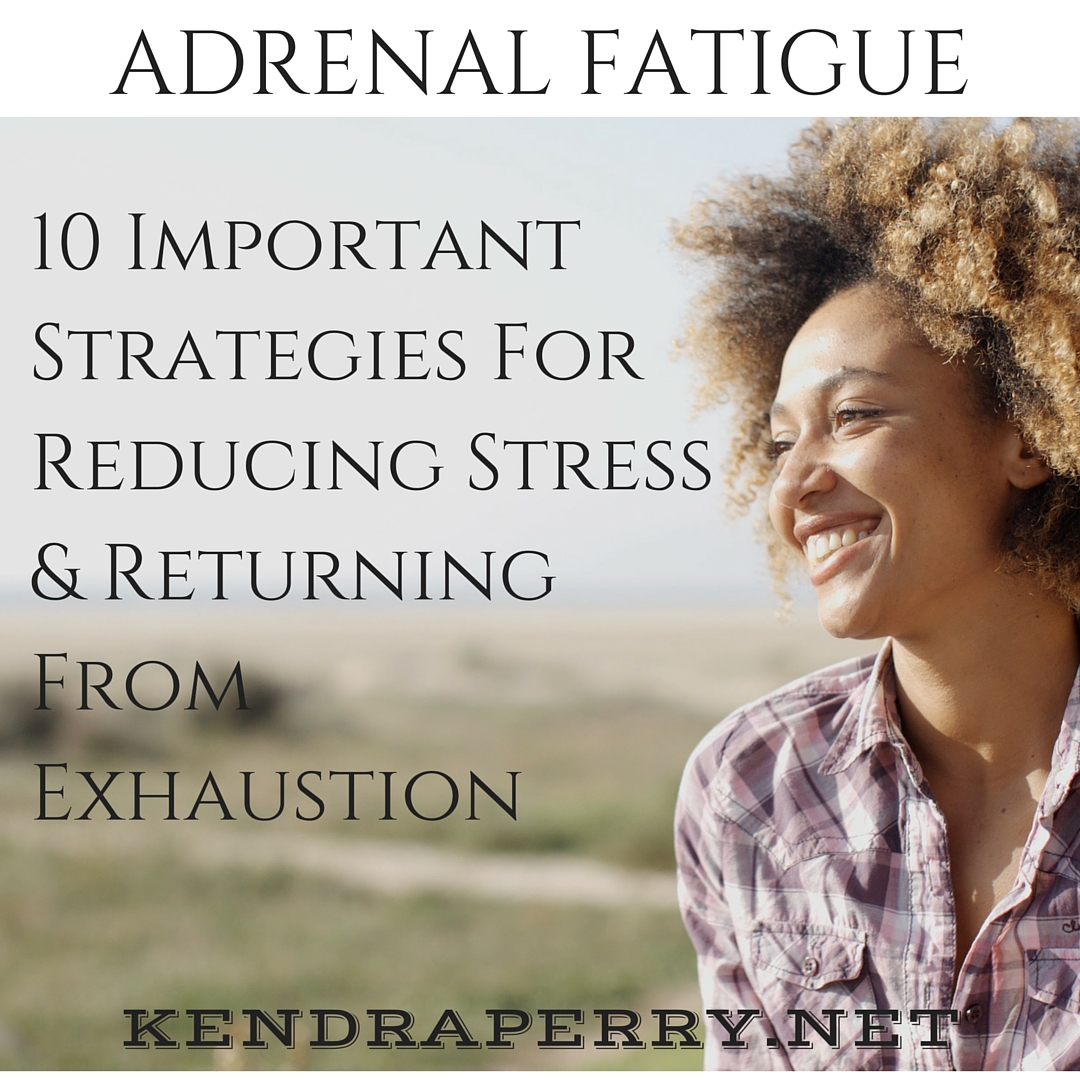 Adrenal Fatigue – 10 Strategies For Reducing Stress & Returning From Exhaustion
Of all the health concerns that my clients come to me with, fatigue is by far the most common complaint. Many of my clients describe feeling "burnt out," "run down" and "worn out."
These are feelings that most people can identify with. Take for example, the story of Mary. Mary is a 37 year old working single mom with two kids. She started her own physiotherapy clinic and she pretty much does everything herself. Between her kids' extracurricular sports and activities, she rarely has time to relax. She struggles to say no and often over schedules her life. When she takes vacations, they are more like sightseeing missions than an actual time to rest.
Initially, as life got busier, Mary felt like she could hand it. The stress in her life was significant but she felt motivated and energized. But as time went by, the feeling of being able to handle things started to diminished.
Getting to sleep at night became more difficult as she often felt wired. She began waking up early in the morning, around 3-4am, and found herself unable to fall back asleep. Mornings became challenging as she often woke feeling unrested, even when she did sleep 8 or 9 hours.
She started to experience intense blood sugar crashes. She found that she needed to eat more frequently and often craved salt and sweets. She also noticed she was starting to gain weight around her abdomen even though she hadn't done anything to change her diet. Exercise, which once helped her feel good, now made her feel exhausted.
As things started to deteriorate, life was no longer easy to manage. Work now easily overwhelmed her and she has little energy left to play with her kids.
Can you relate to Mary?
This is a common experience. What Mary has going on is Adrenal Fatigue. Recently, I have been talking about how we need to re-think this whole concept of adrenal fatigue and what is actually going on in the body. To learn more about what I mean, click here. What we are actually talking about is HPA axis dysfunction. But that's a total mouthful! Let's call it Adrenal Fatigue to keep things simple.
Adrenal Fatigue is a condition where the system in the body that deals with stress, or the HPA axis, becomes dysfunctional after constantly being bombarded with stressors. Our stress system is made to deal with stress that is short, intermittent and easily resolved. Chronic stress overworks this system which leads to symptoms of exhaustion, fatigue, insomnia and weight gain.
There is a lot of poor information out there when it comes to healing this serious condition. It's easy to get lost in the rabbit hole. I my experience there are some key things that you should have in place if you want to heal.
Here are 10 important strategies to take when healing your Adrenal Fatigue
1. Get Enough Sleep
The HPA axis, or the Hypothalamus-Pituitary-Adrenal axis, is what regulates the stress response. It is dysfunction in this axis that causes the symptoms of adrenal fatigue.
The HPA axis thrives when it works on a normal circadian rhythm. This means you have to sleep and wake with the sun. If you live in the Northern Hemisphere, this may not always be realistic, but do the best you can.
Ideally, you should be in best before 10:30pm and out of bed before 8:00am. Going to bed late and not getting at least 7-9 hours of sleep a night is the quickest way to adrenal burnout.
It seems simple but adopting a natural sleep-wake cycle may be the quickest way to pulling you out of burnout and increasing your energy levels.
For tips on how to get a better night's sleep, click here.
2. Balance Blood Sugar
When your body is under stress, the brain acts by telling the adrenal glands to produce cortisol. Cortisol is the important stress hormones that allows you to react in life or death situations.
While cortisol is a stress hormone, it is also a blood sugar hormone. One of its primary jobs is to immobilize blood sugar. When blood sugar gets too low, cortisol increases to bring it back up. This isn't much of an issue if it only happens occasionally. But let's be honest, many of us have ongoing blood sugar dips throughout that day.
Eating a diet that is high in sugar and/or carbohydrates isn't effective at stabilizing blood sugar. You get a temporary burst of energy but as sugar and carbs are quickly metabolized, your energy crashes and so does your blood sugar. Cortisol quickly rises to deal with this.
Like skipping sleep, spending your day on a blood sugar roller is one of the quickest ways to adrenal burnout.
Eat a diet that is high in quality protein, healthy fat and lower in carbohydrates. I am not advocating a low-carb diet but many of us eat too many carbohydrates. Cutting out high sugar foods, refined carbohydrates and not relying too heavily on grain products will be important.
Next week I'll talk more about the specific adrenal diet that is optimal for supporting adrenal fatigue.
3. Exercise – But Not Too Much!
We all know that exercise is important but many of us exercise way too much. The important thing to understand is that exercise is a stressor. It can be a good stressor if you are healthy and manage your stress well. But for people like Mary, who are burning the candle at both ends, exercise just adds gasoline to the stress fire.
Endurance exercise is hard on the adrenals. That long duration exercise elevates cortisol and keeps you in that fight-or-flight response. When I run adrenal panels on women who run marathons or do crossfit, I often see severely dysregulated cortisol and depleted sex hormones.
If you already know you have adrenal fatigue, you need to be mindful. Exercise should make you feel energized, not depleted and exhausted. Keep your workouts short duration (ie. High Intensity Interval Training, Tabata workouts or shorter runs/bikes/hikes) or focus more on restorative movement like yoga, pilates and walking.
4. Ditch the Caffeine
Caffeine effects the body by forcing your adrenals to pump out cortisol. This is why caffeine gives you energy and makes you feel good. Unfortunately, if your cortisol production is low then pumping it out now won't give you much for later on in the day.
Caffeine consumption not only messes with your cortisol rhythm but it also affects your sleep cycle. If you absolutely must have caffeine, stick to one cup in the morning before 10:30am.
5. Consume Sea Salt
Unlike table salt, sea salt contains a full spectrum of salts in their natural form. In particular, sea salt contains potassium and sodium. The ratio between these two minerals are crucial for your adrenal function. Potassium is found primarily inside the cells, while sodium is found outside the cells.
When there is excessive sodium and deficient potassium, excess adrenal activity will take place. The opposite happens when potassium is in excess and sodium is deficient.
A great way to improve your adrenal health is to manage your electrolyte balance. Adding a pinch of sea salt to your water is a fantastic way to make sure you have enough electrolytes. Drinking too much water is a quick way to deplete your electrolyte balance and throw off your adrenal function.
How do you know you are drinking too much water?
Do the pee test! Your urine should be light yellow. If it's clear, you need to back off. If it's brown, you need to take a drink!
6. Learn To Say No
Don't over schedule your life. Most of us have busy lives and on top of that we feel the need to say "yes' to every offer or opportunity we get.
Being busy is not cool. You need to learn how to say no and take time for yourself. When I work with clients I always have them practice what I call the art of saying "no." Try it out this week. Say no 5 times and see how good it feels. While it can make you anxious to turn people down, what you may notice is that no one cares as much as you think they will when you tell them "no."
Don't be like Mary. Make yourself a priority and do things that make you smile.
7. Practice Deep Breathing
Mental and emotional stress has become so common that most of us don't even realize we are stressed. Ongoing stress is problematic since our HPA axis does not differentiate between road rage and being chased by a bear.
Being a busy, on the go person who never takes a moment to breathe means your body does not digest, detoxify or hold onto it's important nutrients.
The easiest way to mitigate a chronic stress response is to learn how to deep breathe. You can practice deep breathing to deal with a stressful situation or just a daily practice.
Breathe in deeply with your nose, into your diaphragm and breathe out slowly with your mouth. Let yourself feel calm and cherish the moment. Simple steps with a profound effect.
8. Take B Vitamins
Each of the eight B vitamins that make up a B-complex are important to the adrenals and the stress system in different ways. Three of the B vitamins are incredibly important for your adrenal glands:
B5 (pantothenic acid): B5 is needed to produce acetyl CoA, which is needed to convert glucose into energy. The adrenal glands need energy to function which makes B5 crucial for this. B5 is also essential in the production of pregnenolone, your master steroid hormone. Pregnenolone is a precursor for estrogen, testosterone, DHEA, progesterone and cortisol.
B3 |(niacin): B3 is a crucial co-enzyme to preform many of the reactions that the adrenals need for optimal function.
B6 (pyridoxine): B6 is another critical co-enzyme needed for adrenal chemical reactions. It also plays a large role in modulating the HPA axis and the stress response.
Although B3, B5 and B6 are extra important for adrenal function, all the B vitamins are necessary for optimal function. They all work together.
If you are going to supplement, try taking a B-Complex. Make sure the B12 comes from methylcobalamine and not cyanocobalamine. My current favorite B-Complex is Stress-B Complex from Thorne Research.
9. Take Adaptogenic Herbs
Adaptogenic herbs are fantastic. They are a group of plants that help your body adapt to physical, chemical and environmental stress. These herbs grow at high altitudes in Eastern Europe and areas of Asia.
Adaptogens are a unique class of healing plants. They do not have a specific action on any one area of the body, rather they help you respond to the stressors around you and balance your physiological functions.
Considering the amount of stress we are constantly being bombarded with, it seems that most of us can benefit from using adaptogenic herbs. Adaptogens include ashwaganda, astragalus, ginseng, licorice root, holy basil, some mushrooms and rhodiola.
While all of these are good options, I have some personal favorites:
Ashwagandha, is often referred to as Indian Ginseng. This is an Ayurvedic herb that regulates the immune system and can help reduce anxiety. I love adding 1-2 tbsp of Ashwagandha into my morning smoothie.
Another one of my personal favorites is Ginseng. I use this often in my clinical practice with clients who are struggling with energy during the day. Ginseng also has antioxidant properties and anti-depressant effects. It can also help naturally lower high blood pressure and high blood sugar.
Coming in at a close third is Rhodiola. Rhodiola was used traditionally among Siberian warriors to help them adapt to the harsh Northern environment. Studies have found that it helps normalize sleep and eating patterns after stress. Some newer research shows that it might be a great tool for weight loss.
While adaptogens are fantastic, they will have limited effect if they are the only thing you are doing for your adrenal fatigue. You need to incorporate the above suggestions to get the best results.
10. Consider Lab Testing
You know me, I am a huge fan of testing. If you have been doing all the things I mentioned here but are still feeling like a bag of crap, then you should consider testing. I recommend running the DUTCH test by Precision Analytical. This is a comprehensive urine test for hormones. Knowing your unique imbalances will help customize and guide your healing plan.
If you would like to know more about some of the lab testing I offer, please feel free to set up a free phone session with me.
You can click here to access my scheduling link and pick a time that works best for you.
Final Thoughts
Adrenal Fatigue sucks. If you are dealing with this condition then you are likely tired, sleep deprived and fighting off endless cravings. It's not fun. Before you give up or spend money on expensive programs or testing, make sure you have these things in place first. But if you are struggling to do it on your own, there is no shame in reaching out for help. You can book a free session with me HERE or you can visit this website to find a Functional Nutrition Practitioner in your area.
What has been the most important thing for you when healing your Adrenal Fatigue? Let me know in the comment section below!