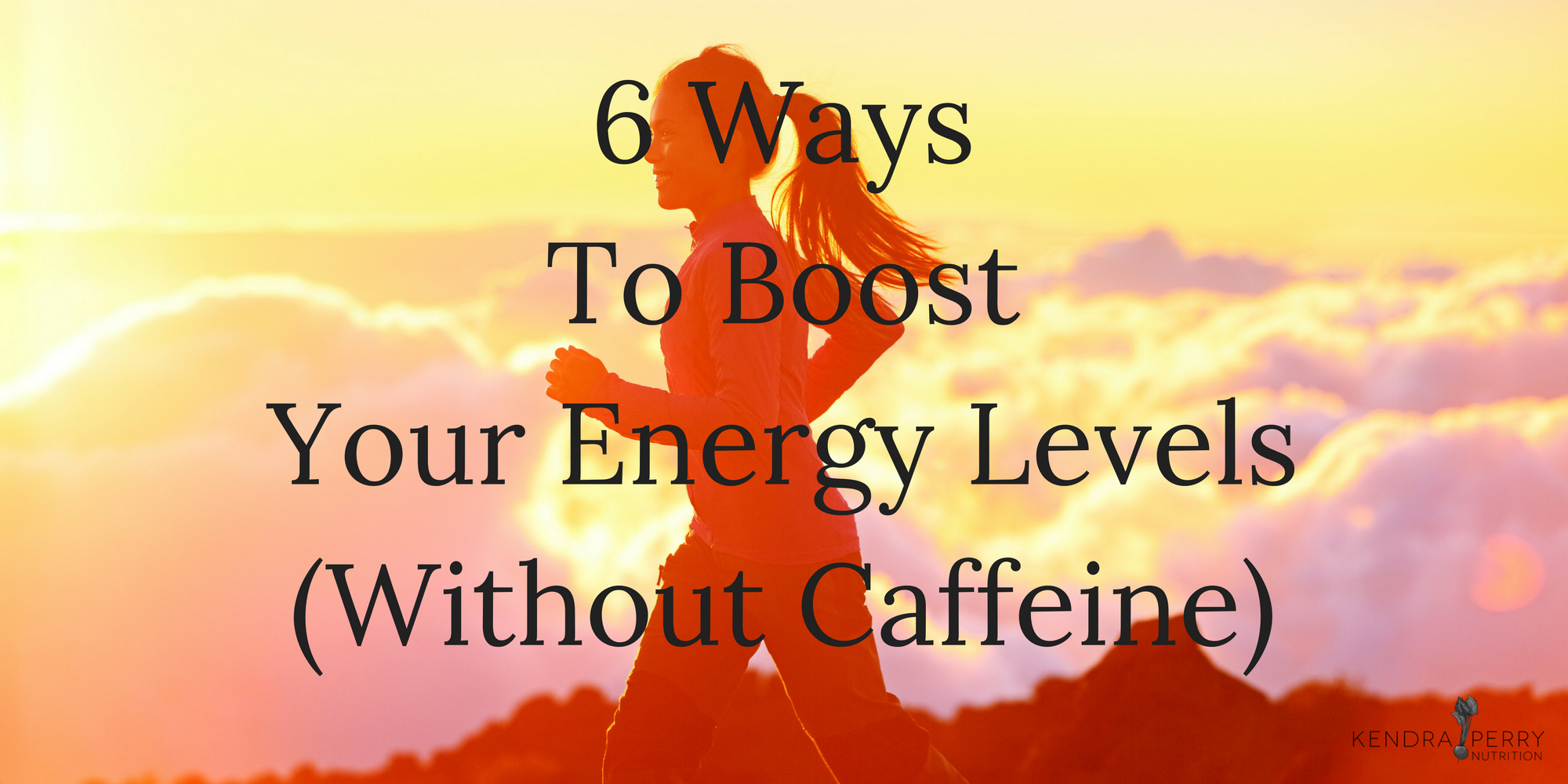 6 Ways to Boost Energy Levels (Without Caffeine)
Today is the 1st day of December and I couldn't be happier. Unlike a lot of people out there, I love winter. Skiing is one of my favorite sports and my winter is spent maneuvering my work schedule around my play schedule.
It has been an incredibly rainy fall. I can count every moment on one hand when I felt the sun on my face in the last couple of month. And all three of those times I was literally blinded by it's intensity.
As much as I love winter, I struggle, like many people, with the lack of day light. I am an early riser so waking up at 6am isn't easy when it's pitch black out and it feels like the middle of the night.
These days my energy levels have been pretty low. I always struggle to feel as energetic in winter as I do in the summer. Anyway, enough about me. Let's talk about you and your energy levels!
I feel that we could also use a little bit more energy. Low energy is one of the most common complaints I get from clients, and well, just about anyone else. With busy lives, questionable diets and poor sleep habits, most of us struggle to feel energized all day long.
That's why I put together this list of 6 ways to improve energy levels.
1. Eat a High Protein Breakfast
I doubt I am the first person to tell you that breakfast is the most important meal of the day. It's true. Breakfast sets the stage for your energy levels and blood sugar balance for the rest of the day.
Many people eat a breakfast that is too high in sugar or carbohydrates and too low in protein. Things like granola, cereal, toast and pastries do you no energy favors. Opt for a breakie higher in protein like eggs, non-starchy vegetables and meat.
Protein is fantastic for stabilizing your blood sugar and helps keep you energized all morning long. My favorite breakfast? Poached eggs on roasted yams with sauerkraut and avocado.
2. Take B Vitamins
B vitamins are incredibly important for your energy levels. They power important chemical reactions involved in cellular metabolism. They are water soluble and not easily stored in the body. They are also easily depleted by stress.
You can think of B vitamins as catalytic sparks plugs for the body. They function as co-enzymes to catalyze many reactions including ones that convert carbohydrates into glucose.
Make sure you eat a diet rich in B vitamins. Highest food sources are animals products, nutritional yeast and organ meats.
If you are under a lot of stress, it may also be useful to supplement with B vitamins. My favorite product is Stress B Complex from Thorne Research.
3. Get to bed for 11pm
If low energy is your issue, the first thing to consider is your sleep habits. If you don't get enough sleep, or go to bed too late, you will be tired the next day.
Shift your bed time to sometime before 11pm. Also make sure you are getting 7-9 hours of uninterrupted sleep.
If you struggle to get to sleep at night, examine your sleep hygiene. Make sure to avoid looking at screens an hour before bed time. Sleep in a dark, cool room and turn off your wifi.
If you need to more tips on how to get a better night's sleep, click here.
4. Stay Hydrated, but Not Too Hydrated
Who knew? Water is healthy! While many of us don't drink enough water, some of us drink way too much water. The media and beverage companies have led you to believe that you need to be drinking water and sports drinks all day long.
When was the last time you saw a deer walking around with a Nalgene bottle? Hopefully never.
How much water a person needs to drink depends on each person, their activity levels and their diet. If you exercise more, you need more water. If you eat lots of veggies, you need less water than your friend on the meat and cheese diet.
The best way to stay hydrated is to monitor your urine color. If it's clear, you are over hydrated, probably depleting your electrolytes and taxing your kidneys. If it's brown, you need to increase your fluid intake. You urine should be a pale yellow. Make pale yellow your goal.
Additionally, make sure to consume electrolytes with every glass of water. I am not talking about the electrolyte packets that are full of sugar and chemicals. Try sea salt. It's cheap and you only need a pinch.
5. Ditch the Gluten
I know, gluten-free is trendy. There are more and more people these days on a gluten-free diet. Hold the bread please!
I don't necessarily believe that everyone in the world needs to be gluten free. But what I can say is that removing gluten from the diet seems to be the single quickest way to giving a person more energy.
Give it a try. Cut gluten out for 30 days and see if your energy levels improve.
6. Get a Light Box
I went on a bit of an Amazon shopping spree last night. I feel my recent low energy levels have a lot to do with the lack of light in my life.
Normally, I get up and go for a walk or run first thing in the morning. The point is to expose myself to light and get my circadian rhythm firing for the day. Now that winter is nearing, my morning walk/run is in darkness. And when the sun finally does come up, it's generally cloudy and dark out.
So I bought myself a light box. Apparently using one of these light boxes (which mimics the wavelengths of a sunny day) for 20-30 minutes a day can improve energy levels, mood and sleep.
It was inexpensive and I am willing to give it a try. I will keep you posted.
Final Thoughts
If energy is a struggle the first thing to examine is your diet and lifestyle Get the basics in place before spending money on supplements. Make sure you eat a healthy, whole foods diet, get enough sleep and exercise and reduce stress. If you are doing all these things and you still feel exhausted, it may be hormonal or digestive. Consider lab testing.