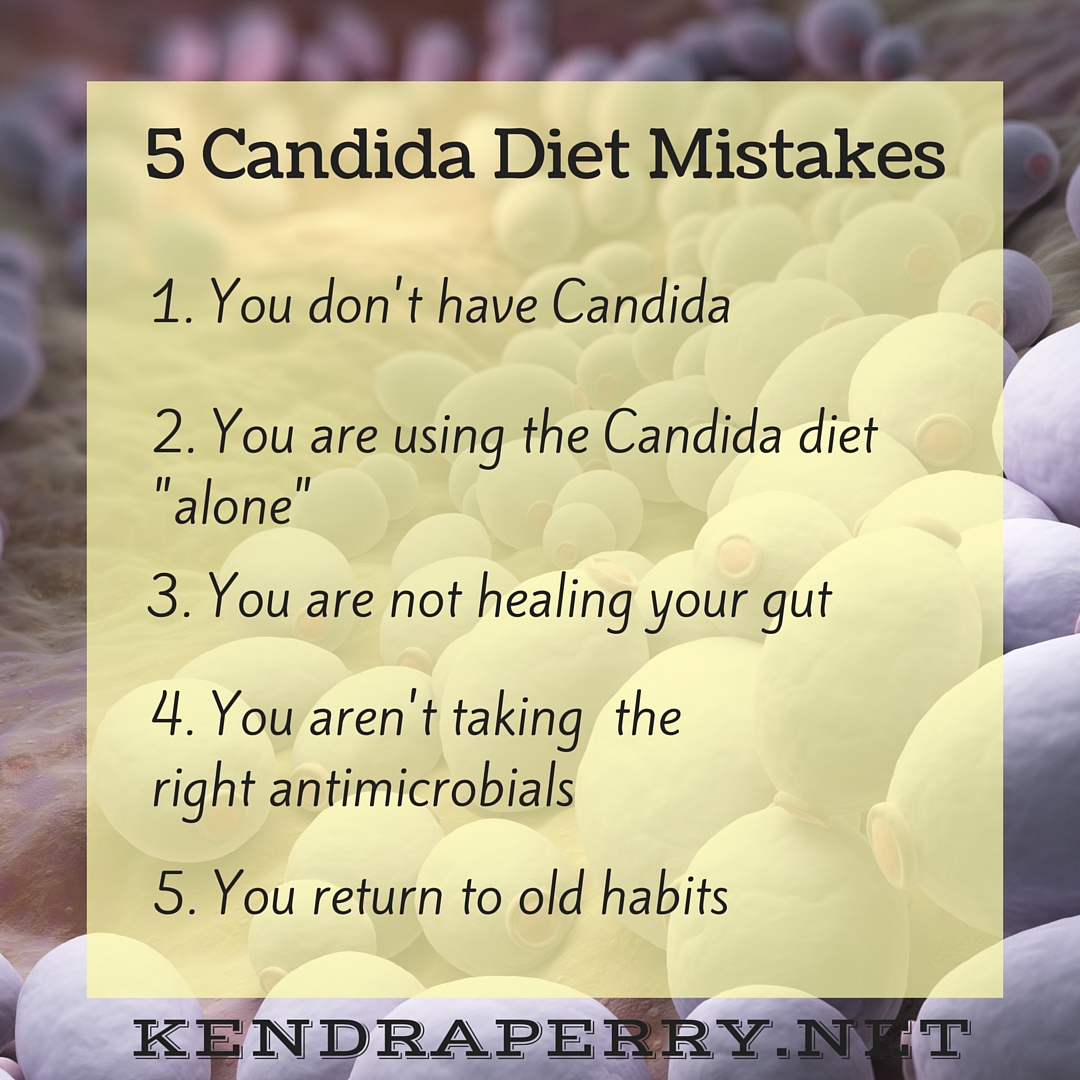 5 Mistakes People Make When Treating Candida
Candida diets are popular. It seems that everyone I know is on a mission to murder Candida in whatever way they can.
Firstly, I want to address the fact that Candida normally lives in the large intestine. When dealing with Candida, the idea is not to totally eradicate the yeast but to deal with the overgrowth and restore balance to the intestinal tract. I think a lot of people miss this point. Total eradication is not only impossible but can be detrimental as well. We need some amount of Candida, we just don't want it to take over.
When Candida is allowed to thrive, it can come with a plethora of nasty symptoms. Does this sound like you?
Powerful sugar cravings
Frequent bloating & gas
Nail fungus
Brain fog, difficulty concentrating
Frequent urinary tract infections
Recurrent yeast infections
Tired & irritable
Acne, skin issues, rashes
Poor immune health
Joint pain
If you are struggling with any of the above, you are probably desperate to find relief. Likely, you have done a lot of reading on the internet and have come to the conclusion that Candida is your issue. Before you go full force into the first Candida protocol you find, stop. Read this first.
Here are the top 5 mistakes people make when treating Candida overgrowth.
Mistake # 1: You Don't have Candida to Begin With
If you are currently doing a Candida protocol, ask yourself this question, "How do I know I have Candida?" Many people assume they have Candida overgrowth based on their symptoms. This is problematic because most symptoms for yeast overgrowth are vague and are also symptoms for a myriad of other health conditions. Diagnosing yourself based on symptoms is never a good idea.
Candida is a buzz word. Everyone is talking about it. Many people read an article or two and assume they have it. It could be Candida but it could also be a number of other fungal species. It may not even be yeast. It could be a parasitic infections, a bacterial infection, leaky gut, autoimmunity, a thyroid condition or a number of other disorders that virtually cause the same symptoms as Candida.
These conditions are not mutually exclusive. You could have Candida plus any of these other conditions at the same time. To assume you have Candida is to run the risk of treating the wrong condition and never getting to the bottom of your health complaints.
For example, I rarely see Candida overgrowth without other pathogenic infections. Yeast is generally a secondary infection, meaning that some other infection came first and paved the way for Candida to overgrow. If you do not address additional gut infections then the yeast will simply come back over and over and over again. And that's just frustrating!
How to Test for Yeast?
There are a number of different testing options that will identify yeast overgrowth. My favorite is the Great Plains Laboratory Organic Acids test. Genova Diagnostics also has a good organic acids test. Additionally, the Diagnostics Solution Lab GI-MAP that I have been using recently with clients also has markers for yeast.
Mistake # 2: You are using the Candida Diet "Alone"
Googling "candida diet" will give you a million different types of diets to kill Candida. Most diets recommend removing sugar, starch, alcohol and refined foods. Since sugar and starches are a primary food source for the yeast, in theory by cutting these things out the yeast will go away. Wrong.
By eating this way you may essentially be eating a "low-carb" diet. Eating low-carb increases the production of ketones, which are secondary food source for your body. Unfortunately, studies show that Candida can thrive off ketone bodies as well.
By limited fuel to Candida, you are pushing down the overgrowth. Candida can simply go dormant and come back to life once the food source is present again. By pushing down overgrowth, it may also be harder to kill off Candida with herbs.
Additionally, different diets work for different people. Some people may be able to simply cut out sugar to control yeast but other people may need a more comprehensive approach. Many people may fare better on a low FODMAPS diet or a Specific Carbohydrate Diet.
The bottom line is that no diet alone will kill Candida overgrowth. Sure, it will starve some of the bad guys and you may notice a reduction in your symptoms but to truly eliminate overgrowth you need to take anti-fungals, replenish beneficial microflora and heal your gut. This brings us to the next most common mistake
Mistake # 3: Failure to "Heal Your Gut"
The main reason why people fail to eradicate yeast overgrowth is because they do not address the reason(s) which allowed the yeast to overgrow in the first place.
Candida is a natural part of your make up. It lives in the large intestine but is largely kept in check by the other beneficial microflora that reside alongside it. When gut flora becomes depleted from food intolerance, inflammation, alcohol, leaky gut, poor diet, toxic overload or other pathogenic infections, the yeast can move beyond the large intestine and affect other areas of the body.
Yeast is opportunistic. If it has the opportunity to overgrow, it will. Many people diligently do their Candida diet, take their anti-fungal herbs but do nothing to address microflora imbalance or to repair the mucosal lining of the gut.
If you do not change the environment that allowed you to become infected in the first place then you will never get rid of the yeast. Period.
Healing Candida involves identifying food sensitivities, healing leaky gut, addressing inflammation, replenishing beneficial microflora, detoxing the liver and identifying other pathogenic infections.
Taking a close look at your lifestyle habits is important as well. Are you getting enough sleep at night? Are you going to bed at a decent time? Are you managing your stress? Do you exercise regularly?
All these things are important in maintaining total body balance and ensuring that yeast is kept in check.
To learn more about how to heal your gut. Click here.
Mistake # 4: You Aren't Using the Right Anti-Fungals or You Aren't Taking them for Long Enough
In order to properly address Candida overgrowth you need to be taking the proper herbs. Candida can become easily resistant to herbs so it's important to take a variety of different ones. You may also need to rotate herbs to reduce resistance.
Most people don't take their herbs for long enough. Most Candida cleanses I see on the store shelf involve taking herbs and eating a Candida diet for 2-3 weeks. If you think you can knock out Candida overgrowth in 2-3 weeks, you are sadly mistaken. In my experience, Candida protocols need to be done for 6-8 weeks at a minimum.
Your herbal Candida formula should contain most of, if not all, of the following herbs; olive leaf extract, caprylic acid, pau d'arco, grapefruit seed extract, zinc, biotin, oregano oil and berberine. Currently my favorite product is