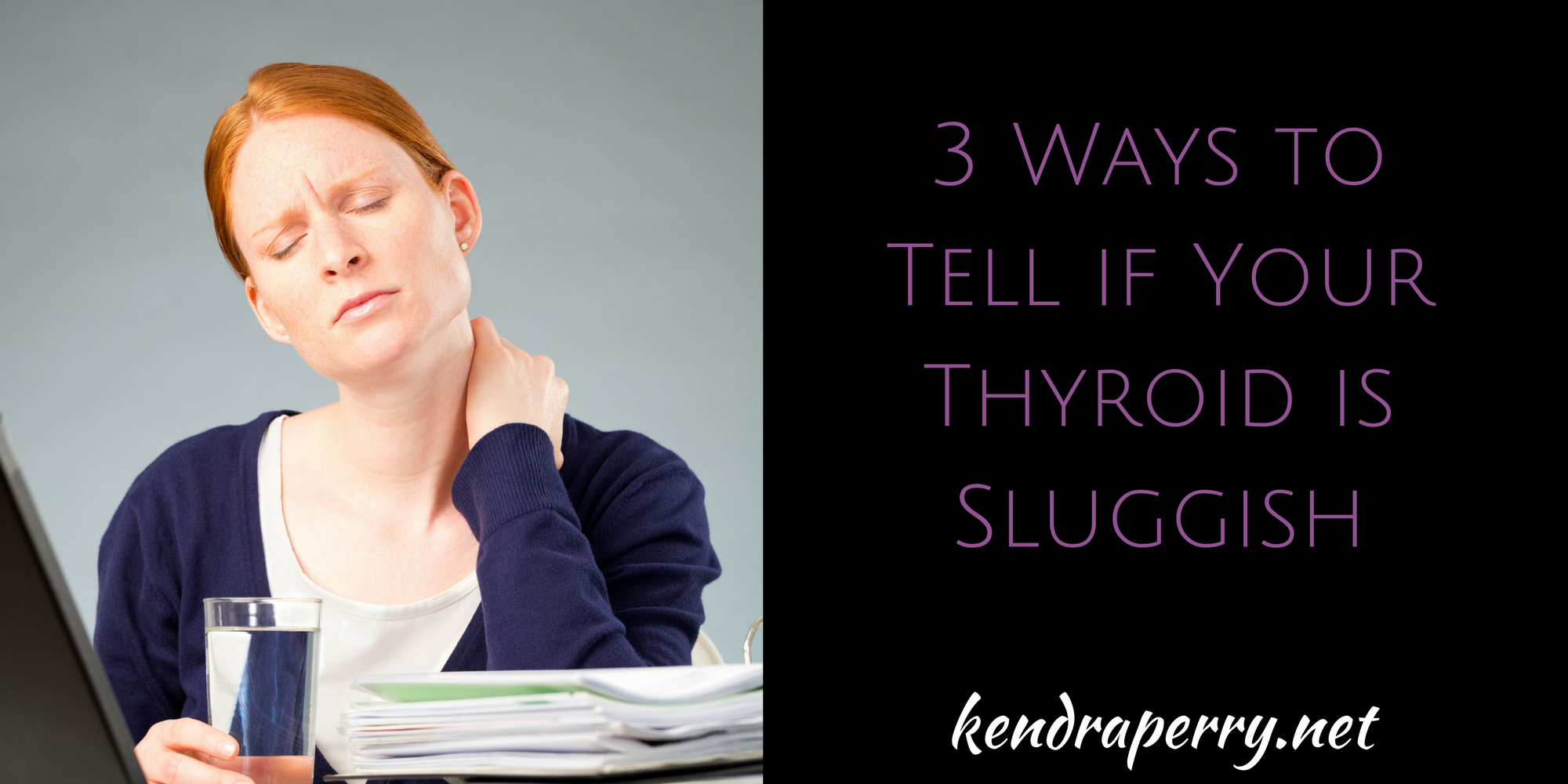 3 Ways to Tell if Your Thyroid is Sluggish
Thyroid dysfunction is on the rise. It affects women significantly more than it affects men. Many women have thyroid dysfunction but they have no idea! Why?
Lab ranges for thyroid markers have gotten wider and wider over the years. The most common thyroid marker, TSH, has a reference range of 0.5 – 5.0 but women with results over 2.0 generally have thyroid symptoms. As a result, many women are told that their lab tests look normal and their thyroid is fine. The result is they struggle with fatigue, weight gain and digestive issues. They may be told to reduce stress or be prescribed an anti-depressant instead.
Your thyroid plays a role in nearly every single metabolic process. The bottom line is if your thyroid is not functioning as it should, you won't feel well!
Shaped like a butterfly, it lies low on the front of the neck and below your Adam's apple and in front of the windpipe. When the thyroid is its normal size, you don't even notice it. It secretes several hormones, called thyroid hormones. The main hormone is thyroxine, also called T4, but there are others, including T3 and even lesser known T1 and T2.
The thyroid gland needs adequate selenium, iodine, zinc, B vitamins and antioxidants for optimal function. Unfortunately, many of these nutrients are deficient in the foods we eat. Additionally, the thyroid is incredibly sensitive to inflammatory foods and environmental toxins. Because of this thyroid disorders are on the rise
Hypothyroid, which involves low thyroid function, is incredibly common, affecting as many as 23% of Americans with 80% of those being women. But few of these people are actually getting treated for the condition due to the issues I mentioned above.
Wide lab ranges and lack of knowledge leads to this condition being severely under diagnosed. Your numbers have to get pretty bad before they are detected as "out of range" by conventional lab tests. At this point, a women might be given a prescription for synthetic thyroid hormones. But in many cases the drug doesn't actually fix the issue and women continue to struggle with thyroid dysfunction.
You might suspect you have a thyroid problem but your health practitioner has told you that everything looks fine. Let's discuss three different ways you can determine if you thyroid isn't working
1. Symptoms
An underactive thyroid tends to produce very specific symptoms. If your thyrois is sluggish, you are likely experiencing several of the symptoms below.
Keep in mind that these tips are not meant to diagnose your thyroid condition. Rather, they are meant to give you some insight into your thyroid health which can help you seek a licensed health practitioner who can legally diagnosed you.
Fatigue

Cold hands and feet

Constipation

Dry skin

Unexplained weight gain

Puffy face

Hoarseness

Muscle weakness

Muscle aches and pain

Pain, stiffness or swelling in your joints

Heavy or irregular menstrual periods

Thinning hair

Slower heart rate

Depressed mood

Impaired memory
It is usually the experience of these symptoms that leads a women to suspect her thyroid as the cause of her pain. But actually getting diagnosed with hypothyroid can be an ongoing struggle. The good news is there is a simple at home test that can give you some very valuable information into your thyroid function.
Make sure to grab my Cheat Sheet for this post. I've included all the important pieces of this post to help you determine if you might have a thyroid issue. You can grab that here!
2. Body Temperature Test
Since the thyroid regulates the metabolism, body temperature can be a good indication of whether the metabolism is fast or slow. Like a fast running engine, when metabolism is high, body temperature should be high as well. Conversely, when metabolism is slow, body temperature is lower then normal.
You can go out an purchase an inexpensive digital thermometer. As soon as you wake up in the morning, you can take your temperature under your arm pit. Make sure to do this before you get up or you might skew the results.
A normal waking body temperature is between 97.8 and 98.2 degrees farenheight. Anything less than this indicates a possible thyroid issue. If you are below 96 degrees then a thyroid problem is likely.
If you want a cheat sheet of this blog post with all the thyroid temperatures and functional reference ranges for thyroid function, download that here.
The only way to confirm hypothyroid is with blood testing. But you need more than a single TSH marker, you need to the entire panel.
3. Comprehensive Thyroid Panel
If you have an open minded doctor or work with a functional doctor then it should be no problem to ask for a full thyroid panel. You can come equipped with your list of symptoms and that super low waking body temperature that you have been tracking for the past week.
Most doctors will only run Thyroid Stimulating Hormone (TSH) but this maker alone gives little information about the thyroid. It is actually not a thyroid hormones but rather a pituitary hormone. You will also need to request free T3, free T4 and TPO antibodies at an absolute minimum. If you reside in Canada, this might be all you are able to get.
If you reside in the US, then you can also request additional markers like total T4, T3 uptake, TGB antibodies, TSI antibodies and reverse T3.
As I mentioned before, lab ranges are wide and your numbers have to get pretty bad before your result will get flagged out of the range. For this reason, it is important to work with functional lab ranges. These ranges are more narrow and more associated with healthy thyroid function.
For example the normal TSH range is 0.5-5.0 but the functional range is 0.5-2.0. If you are above 2.0 then you might have what's called subclinical hypothyroid. This means that it isn't bad enough to be recognized as a diagnosis but you still have the thyroid symptoms listed above. Subclinical hypothyroid still needs to be addressed in order for you to get well.
If you want to a list of the functional lab ranges for each of these markers, make sure to download my Sluggish Thyroid Cheat Sheet. You can do that here.
Final Thoughts
If you have all the typical thyroid symptoms and have a low waking body temperature, there is a good chance your thyroid is sluggish. It is important to obtain a comprehensive thyroid blood test in order to confirm your suspicions. If your results fall outside of the functional ranges, it is important to find a health practitioner who can help you treat your subclinical hypothyroid.
Letting a thyroid issue go untreated can lead to chronic, unrelenting fatigue, brain fog, digestive issues and obesity. Natural thyroid balancing has the opposite effect. It can boost your energy, clear your head, improve digestive health and help you lose that extra weight.
To discuss your personal thyroid health in more detail and to see if my hormone balancing program is a fit for you, please book a FREE 30 minute call with me.