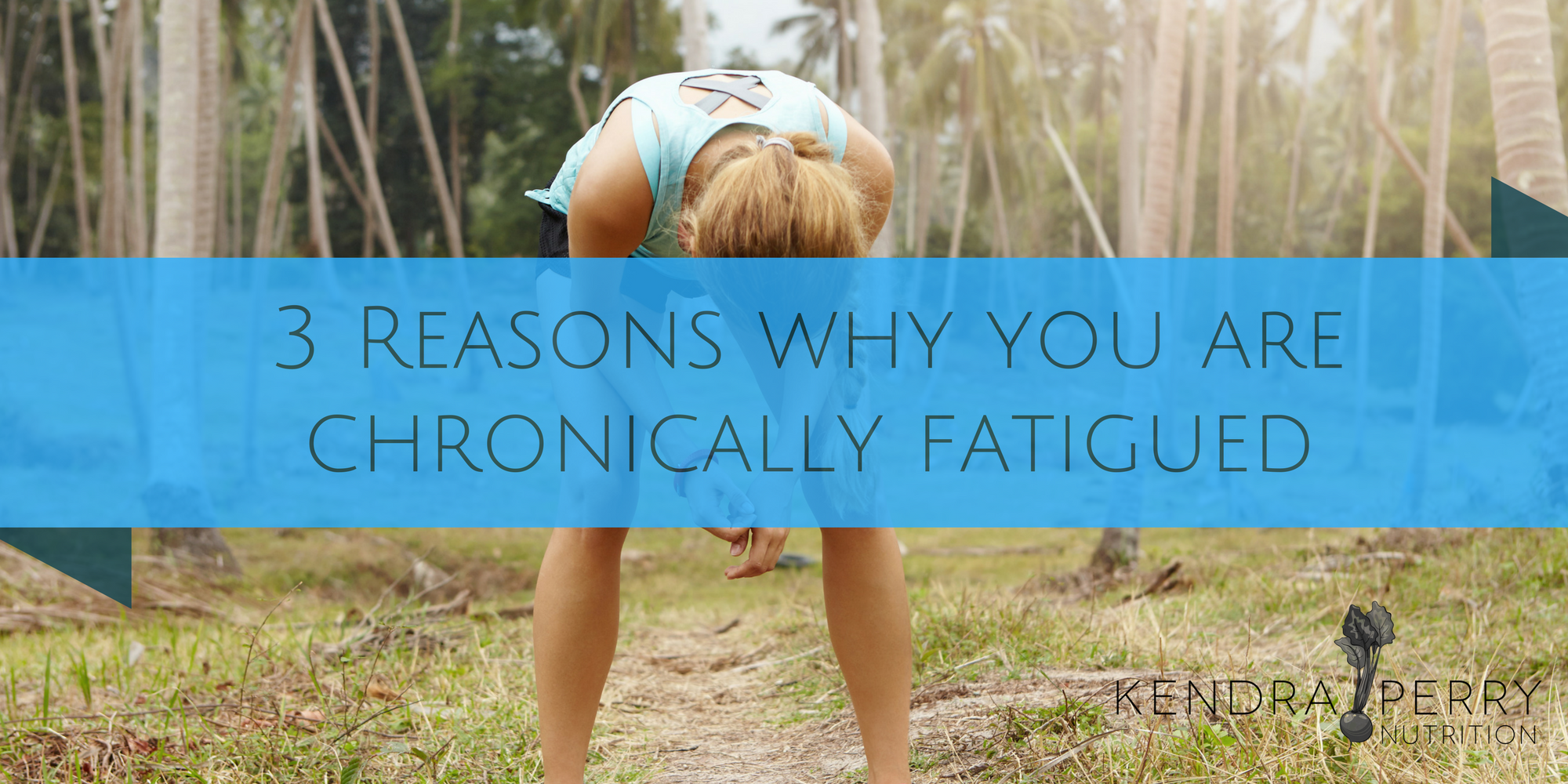 3 Reasons Why You are Chronically Fatigued
"I'm just so tired!"
"I am so sick of feeling tired"
"It doesn't matter how much sleep I get, I wake up feeling totally exhausted."
Sound familiar? Fatigue is the most common complaint I hear from my clients. In fact, it is rare that I work with a person who claims to have high energy levels and feels like they are totally rocking it.
There is a fatigue epidemic these days. Everyone seems to be lacking the energy they need to fully enjoy their lives.
So what's going in with this low energy epidemic?
In order to have proper energy levels, you need to have a well functioning body machine. Unfortunately, with a deficient food supply, increased exposure to environmental toxins and chronic stress, our machines are taking a serious beating.
If you are feeling exhausted, no doubt you are wondering why.
Here are three reasons why you are exhausted, fatigued and straight up drained.
1. Hormone Imbalance
Hormones play a massive role in energy production. Specifically, cortisol, is incredibly important when it comes to having high energy. Many of us know cortisol as a stress hormone but it is also needed in certain amounts every single day.
In fact, without cortisol you wouldn't even be able to get of bed in the morning.
It mainly operates to not only make us feel energized but to stabilize our blood sugar. We all know how low blood sugar makes us feel; hangry, dizzy, anxious and low energy. Stable blood sugar = stable energy levels.
Fluctuating cortisol throughout the days almost always go along with fluctuating energy levels. Imbalanced cortisol always lead to imbalanced energy.
When a run a hormone panel on a client I can use their cortisol rhythm to predict how their energy feels through the day. If you are finding yourself with dipping energy levels, consider your cortisol production.
Additionally estrogen dysregulation, low testosterone and low DHEA are often implicated in poor energy production.
2. Poor Digestion
There is a saying that goes, "You are what you eat," but really you are only what you digest, absorb and assimilate. How many of you out there are eating this amazing whole foods diet, rich in protein and healthy vegetables but you still wake up every single day feeling wiped out?
If this sounds like you, poor digestion might be your issue. Unfortunately, many of the things that we do in everyday life destroy our digestion. Some of the worst digestion destroyers are alcohol, gluten, stress and lack of sleep.
And how many of us do those things on a regular basis, right?!
Digestion is huge. So if you have tightened up your diet but you still feel fatigued, consider your digestion.
3. Exposure to Environmetal Toxins
It doesn't matter where you live. All of us are exposed to environmental toxins and heavy metals on a regular basis. This is an unfortunate reality of our increasingly toxic world. Thousands of chemicals are being added to our environment on a yearly basis with no regard for how they might be affecting human health.
Our detox organs are overwhelmed by toxins and are unable to process them effectively. The result is that toxins and metals are stored in our body; in our bone, brain, organs and cells.
These interfere with our cellular function, our mitochondria and the result is that we can't produce energy at the level that we need to. No wonder we are so damn tired
Poor energy levels almost always means you have some level of toxicity in your body. Detoxification is key!
If you want to know 3 simple things you can start doing right now to eliminate fatigue, get your FREE PDF below!