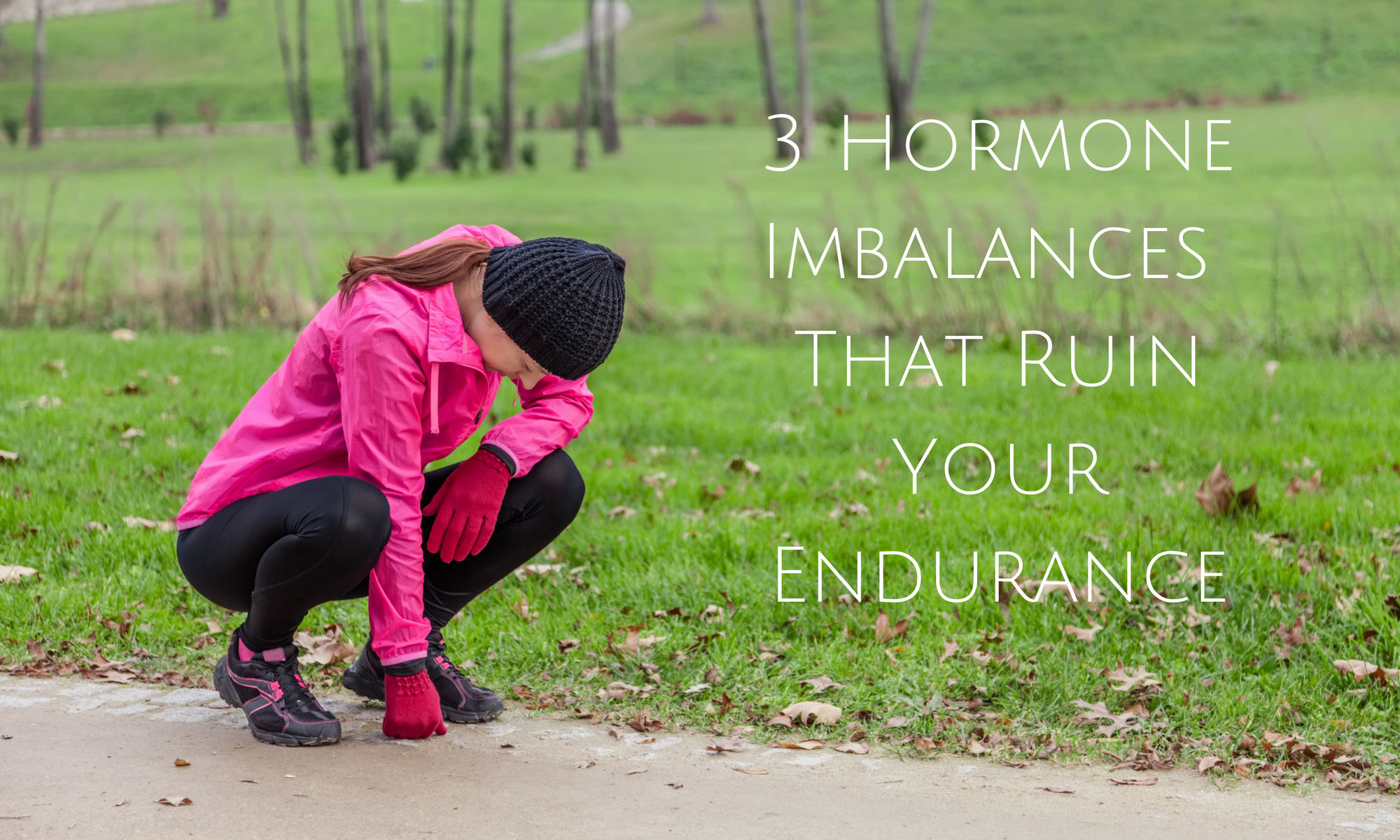 3 Hormone Imbalances That Ruin Your Endurance
You used to be so fit. You run, bike or climb anything. But these days exercise is a struggle. Instead of making you feel energized, exercise now makes you feel exhausted. You find yourself avoiding the activities you used to love because you just don't have the energy or the motivation.
I can relate to this. When my hormones crashed a few years ago I went from being super fit and athletic to tired, lazy and exhausted. I desperately wanted to keep doing sports with my friends but I had no juice left. I would often go skiing for a couple of hours and then come home and pass out. It was one of the hardest times in my life.
The good news is, you aren't lazy. Your body is likely deliberately trying to get you to slow down so that you can heal from whatever is going on inside of you. Having balanced hormones is crucial to healthy energy production and you having enough strength to exercise at the level you want to.
Unbalanced hormones suck. No matter how hard to you try to push through the fatigue, you never seem to feel like you did just a few years ago. Here are three hormone imbalances that can ruin your endurance and crush your stamina.
Low Testosterone
Testosterone is crucial to energy production and athletic performance. If your testosterone is low you may experience some of the following symptoms;
Low energy
Difficulty building muscle
Inability to lose weight
Difficulty gaining weight
Low sex drive
Testosterone is the reason why men gain muscle more easily than women and have more physical strength. When I raise testosterone production in women, they usually feel fantastic. They feel energized, confident and can easily maintain a healthy weight.
How Can You Boost Testosterone?
Shellfish
Pumpkin Seeds
Weight Training
Maca Root
High Estrogen
Elevated estrogen is a nasty hormone imbalance, especially when you don't have enough progesterone to balance it out. Elevated estrogen is often the culprit behind painful periods, endometriosis, uterine fibroids and pre-menstrual migraines.
Elevated estrogen can ruin your endurance because it can cause unexplained weight gain, especially in the hips and thighs. As you gain fat and lose muscle, your endurance often goes with it. If you have recently gained weight for no rhyme or reason, you should consider your estrogen levels. If your estrogen is too high it may actually be impossible for you to lose weight even when you are eating healthy and exercising regularly.
What To Do About High Estrogen?
The first thing is to consider environmental sources of estrogen. This includes personal care products, household cleaning products, BPA plastic, birth control pills, soy and even flax seed.
If you know you have high estrogen and you have made a solid effort to reduce external estrogen exposure you can try this next:
Diindolylmethane (DIM). This is a chemical derived from cruciferous vegetables. It is fantastic at low estrogen levels and improving estrogen metabolism. Note: Only take this under the guidance of a practitioner. DIM can work quickly and easily push your estrogen too low if you aren't careful.
Cruciferous vegetables. If you suspect your estrogen is low but haven't confirmed it, you can start with veggies like cabbage, cauliflower, broccoli, kale and Brussel sprouts before supplementing with DIM
To learn more about estrogen dominance, click here.
Low Free Cortisol
Most know cortisol as a stress hormone but what many don't know is that one of cortisol's main roles is to immobilize blood sugar. When you blood sugar is stable, you have good energy production and you feel strong.
Low cortisol often means a person feels fatigued, has difficulty sleeping and struggles with sugar cravings. They have a poor ability to keep their blood sugar stable, even when they eat multiple meals a day. The result is energy is low or fluctuates throughout the day.
When your cortisol is low, exercise is depleting. Since exercise actively pushes out cortisol, it leaves you little cortisol for energy later in the day. People with low cortisol often struggle with motivation to exercise as well.
How to manage low cortisol?
Reduce Stress. Go to a yoga class or learn to deep breathe. Managing stress is one of the quickest ways to restore healthy cortisol levels.
Quit caffeine. Drinking coffee or caffeinated tea throughout the day messes with your cortisol rhythm and leads to energy crashes. Ditch the caffeine and switch to water and herbal tea
Get to bed before 10:30pm. Staying up late messes with your natural circadian rhythm. Inevitably, this leads to cortisol production at the wrong times of day (at night, verses in the morning). Turn down the lights, turn off your screens and get yourself to sleep.
Licorice Root. This root blocks the enzyme which converts cortisol into cortisone (the inactive form of cortisol). Drinking licorice tea or taking a licorice root tincture will help cortisol last longer in your system and give you an energy boost. Note that you do not want to take licorice long term or if you have high blood pressure. If you take cortisol and it makes you feel awful, stop taking it. There may be a metabolic issue at play.
Final Thoughts
If you just don't have the juice for exercise that you used to, there is a probably a hormonal problem driving your fatigue. While the above suggestions can be extremely helpful, what is more helpful is determining what is driving your hormonal chaos. The main culprits are usually poor diet, poor sleep, an overscheduled life and toxicity.
If you are struggling with poor energy and the inability to participate in the activities that drive your passions, then please don't hesitate to contact me and schedule a free 30 minute call with me. We can discuss your challenges and determine if there is a way I can help you. You can book the appointment here.
Are you struggling with low endurance levels? Please share your exercise below in the comments section and I will do my best to help you!