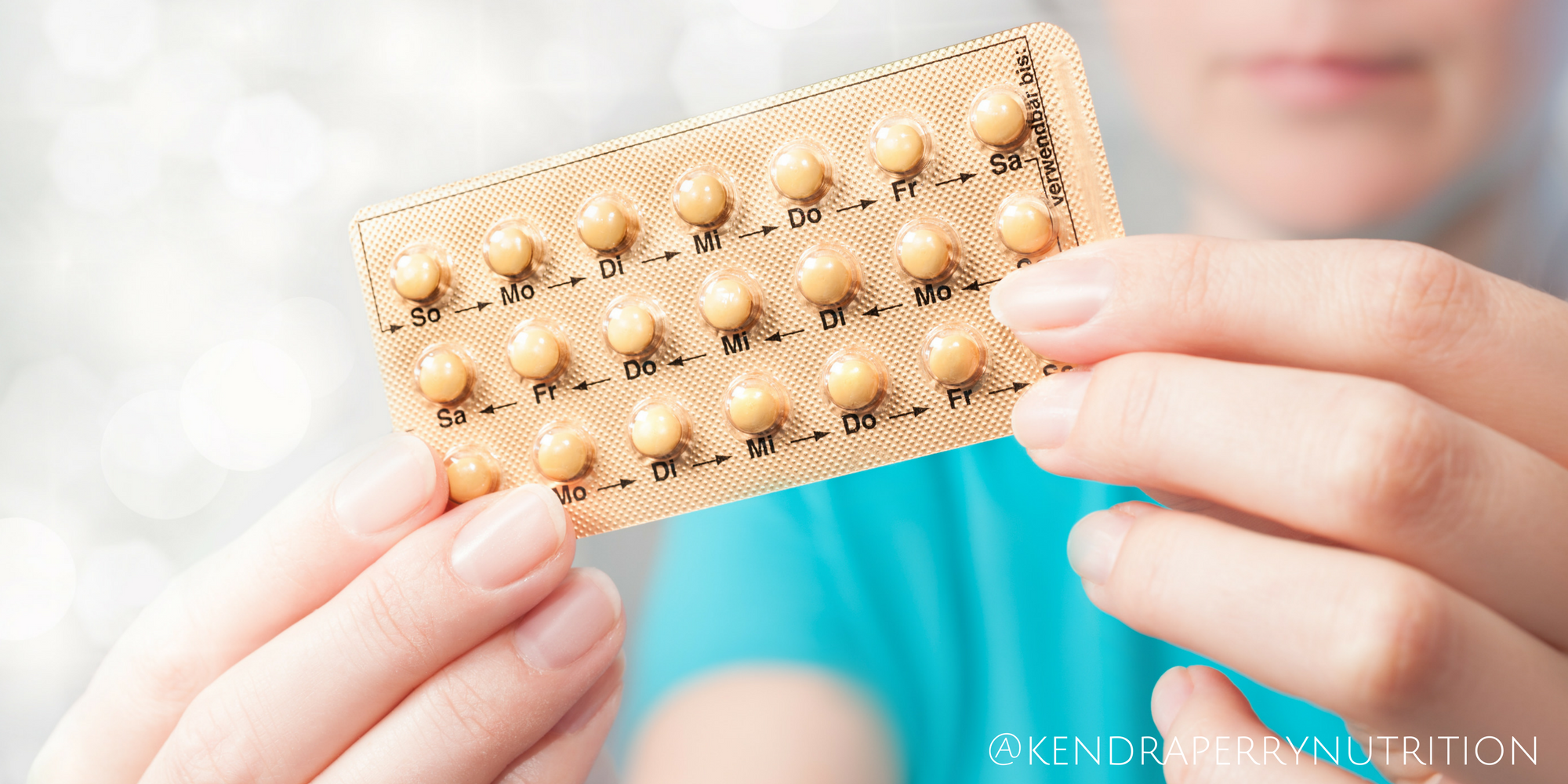 3 Completely Unknown Side Effects of Birth Control Pills
Read transcript
Hello, how's it going? I'm Kendra Perry from Kendra Kendra Perry Nutrition, and I'm coming to you from my very cold house.
It's getting into October now and I didn't feel like making a fire because I was lazy so I've got my toque on I got my … jacket on and I even got my booties on, those are my favorite little booties, but anyways, today we're going to be talking about a very very important topic and also maybe a bit of a controversial topic because I know a lot of you ladies out there take the birth control pill and you're getting a lot of benefits from it
You know you don't have to think much and you're not getting pregnant you don't have to worry about that which is awesome.
But of course that does come with some side effects, and that's what we're going to be talking about today; three unknown very very commonly unknown side effects that are very long-term and these side effects can affect you even if you were on the birth control years ago and you've been off it for years, so maybe it's something you took in your 20s and it's been five or ten years since you've been off of it.
Unfortunately, some of these side effects can still be affecting you and I'm going to get into that a little bit today. So if this is your first time joining in for one of my videos. Welcome, I'm Kendra Perry from Kendra Perry Nutrition like I mentioned before and I'm a functional diagnostic nutritionist and what I do is I help women generally in their 30s and 40s.
I help them balance their hormones so they can stop feeling fatigued, crazy overweight and super unsexy and they can start feeling awesome, so that's what I do and if you haven't already I have an awesome freebie right now if you are wondering what's up with your hormones? If maybe you suspect your hormones have to do some of the symptoms that you're experiencing lately,
I have a free self-test it's pinned to the top of this page and you can use that to get a good idea if you might be at risk for a specific hormone imbalance and which imbalance that might be, okay.
So let's get into it, but before we get started, I just want to ask you guys a question and please answer even if you're just watching this video if even if you're just watching the replay of this video.
I know there's a bunch of you guys with me live today but even if you're watching the replay I come back and look at these comments for weeks, so please answer so I just want to know and this is a bit of a personal question but sometimes
I like to get personal, let me know if you are currently taking the birth control pill and if so, what's the reason that you are taking it is it to avoid pregnancy, or is it some other reason?
Maybe you're taking it to regulate a hormone imbalance that your doctor said you have or maybe it's to regulate a very irregular cycle?
Just let me know drop it in the comments box below, and that would be great, okay? So let's first kind of talk about the birth control what's actually kind of happening in the body so of course this like starts with what the female cycle is really supposed to look like okay, so in a woman who's not taking any hormone, so no birth control typically what happens is estrogen is very dominant in the first half of the cycle so days 1 to 14.
Estrogen is what's considered, it's a growth hormone so it makes things grow and what it does is it grows the lining of the uterus it starts to grow that lining and basically, that's your body preparing for pregnancy because if you were to say get pregnant or if there was a sperm and it connected with that egg in your body which is terrifying, but anyway is that they connect that egg will go into your uterus and implant on the wall, and that's where it'll start to grow and eventually turn into a baby.
So that's what happens in day 1 to 14 is estrogen is pumping and then at some point around ovulation so that usually happens around day 14 middle of the cycle an egg is released from the ovaries and that ovary or that that egg basically is looking for a sperm to fertilize it and if it doesn't get fertilized it actually starts to break down and degrade because we don't need it anymore so your body gets rid of it.
And as that egg breaks down and degrades it actually releases a significant amount of progesterone, and that's why progesterone is very important in the second half of the menstrual cycle, so estrogen goes down progesterone goes up as that a starts to degrade and then when it comes up to your period that's actually when hormones drop super low so they're at their lowest and that's actually what triggers the menstrual cycle is a drop in both estrogen and progesterone, okay.
So what happens when you were on the pill? So basically the pill kind of hijacks your hormone control, so it dumps a bunch of synthetic estrogen and progesterone into the body in really high amounts which actually mimics pregnancy so when you're pregnant your hormones are just pumping right, these things help maintain the pregnancy and keep a fetus healthy so the hormones are just kind of going off the radar they're super high and that's what hormonal birth control does is it lets these hormones become super high with synthetic hormones.
And it actually tricks the body into thinking that you're pregnant so that's why if you end up with another sperm inside your body because you're still having sex there's not going to be any eggs released because the body thinks you're already pregnant.
So that's what happens when you take that pill every single day and the same is true for IUD's and also the patch or the ring I know there's a lot of different types of birth control methods out there right now, but basically, they are pumping hormones and hijacking control of your hormones.
And then what happens when you get the period so that's when you start taking those sugar pills, right? So what happens is you're not actually getting a real period you're actually getting what's called sort of breakthrough bleeding. So you're stopping those pills and that basically causes your hormones to drop and suddenly the body can't maintain that lining anymore, so it starts to shed it so you're kind of getting I guess what's more like an artificial period you're not actually getting a real period okay.
And this is a big reason why a lot of women take birth control pills even if it has nothing to do with preventing pregnancy so I know a lot of women take them because you know they have a very heavy period or maybe they have a very irregular cycle, maybe they have severe period cramps those are a lot of reasons people or women take birth control pills that really has nothing to do with actually not being, not getting pregnant, okay.
And the reason and so you know being on the pill is going to alleviate a lot of those symptoms because it does hijack hormone control and regulate things but it doesn't actually fix the root cause so what a lot of women find is they feel really good on the pill.
But at some point they're gonna want to go off it maybe because they want to get pregnant or they've just been on it. Too long and those hormone issues will come back and often with a vengeance because it's basically just masking hormonal issues, so I think you know and that that I find quite unnerving.
You know I was like you I was on birth control for a really long time I think from the time I was 16 she about 23, so I guess what's that 7 years? Maybe even longer than that and you know I got a ton of hormonal issues when I got off the pill and you know it's because it sort of masks these hormonal issues, and they continue to persist in your body but unknown to you because you feel great while you're on the pill, okay.
Anyways, I'm getting a bit off-track here But I want to get into those 3 reasons why? Or those 3 long-term side effects of birth control pills and again use can affect you even if you've been off the birth control pill for many years, even 10 or 15 years, and I'm gonna give you one bonus piece of info at the end.
So if you stay till the end, I'm gonna give you one complete and total shocker, it's gonna blow your fucking head off! Seriously. It's crazy when I learned about this I was completely shocked. Ok, so number one is it disrupts your gut flora, so the pill you know it doesn't only have synthetic hormones in there, but it also has a lot of other synthetic additives and you take the pill in your mouth orally, and it actually kills your gut flora ok
And if you are someone who knows about gut health and knows the importance of the microbiome we know, this is a big problem so the microbiome is basically a bacterial community that you have living in your gut andwe have billions and billions and billions of these species in our gut and they play a huge role in our digestion our mood and pretty much a lot of our internal gut physiology and beyond. So it's very very important to have healthy gut flora but you are taking a pill every single day that is killing the gut flora okay?
And this is probably one of the big reasons that women who are on birth control pills are significantly more likely to have issues with Candida.
Okay, so Candida is a yeast that naturally lives in the large intestine, and it's always naturally there but when the gut floor is healthy it's largely kept in check and it kind of just exists in those dark dark like deep corners of the large intestine but when that gut flora gets imbalance then the Candida can over grow and it can thrive and that can cause a lot of issues.
You know a lot of people are pretty familiar with the issues associated with Candida, but you know weight gain, fatigue, sugar cravings can be a really big one. It can cause a lot of issues because it causes a lot of inflammation it secretes a lot of toxins and it really does reduce your ability to digest and absorb nutrients.
So that's a really big one so the way that it damages your gut flora and when your gut flora is not a good place so you just don't have those healthy communities it puts you at risk for not only candida but also a lot of other gut infections so things like parasites and also other nasty bacteria because we are exposed to these things all the time, you know we don't have to go to a third world country to get exposed to something like a parasite.
But when your gut flora is healthy it's not a big deal because your immune system kind of deals with it it gets out you know overcrowded by the other healthy communities around it, so these things can tend to just get flushed out or at least kept …
There we go, sorry my timer, I need to put the turkey in the oven it's Thanksgiving here in Canada. And I had to set myself a timer so i got to get that turkey and we're having a big big dinner probably tonight and my boyfriend will kill me if I forget anyways, okay, so talking about yeah, so you just put risk for a lot of infections when your gut flora is disrupted and once your gut flora is disrupted you know a lot of things can happen and it can really set the stage for you know long-term chronic health problems specifically mood and digestive problems.
So a lot of women you know they were on birth control pills in their 20s and they find in their 30s; they have a ton of GI symptoms, and they don't really know what's going on and a big part of that is the fact that they've spent many years depleting their incredibly important and sensitive gut flora.
So that's the first way that birth control can really harm you for the long term.
Number two is relatively unknown, but this one is insane. Okay, so I see so I'm going to tell you about copper toxicity so birth controls really push up copper in your body, okay, and copper toxicity is something that I see in almost every woman is crazy and so when I work with women
I always want a hair mineral analysis. I'm really big into remineralizing the body right now. And so when I do this I tend to see in the results that their copper is completely imbalanced. It's through the roof and copper toxicity can cause a significant amount of issues.
I'm just going to read you off some of the symptoms here because you might be able to relate to this but hypothyroid, mind racing, mood swing, diet, dry skin, depression, feeling of loss of control, chocolate cravings, constipation, adverse reaction to vitamin and minerals b12 deficiency, iron deficiency,haemorrhoids, osteoporosis, fatigue, anemia, decrease in white blood cells, problems of concentration, memory, acne, paranoia, arthritis it goes on and on and on and these are all issues of copper imbalance.
And it is crazy how much birth control pills can dis regulate your copper, and there are people out there so one of the experts that trained under for hair mineral analysis his name's Rick Mulder it's his opinion, and I mean he's been doing this for 30 to 40 years, he's tested tens of thousands of people and it's his opinion that copper imbalance is the main cause of the majority of the health problems that we experienced because copper really needs to be tightly controlled in the body.
You don't want too much, but you don't want too little you have too much or too little you're going to have health problems and so it's really interesting, so sometimes so what happened so sorry I'm getting a little off track here, but I really want to tell you about this, it's really interesting, so the birth control pill can put a lot of stress on the adrenals on the thyroid and when the adrenals and the thyroid are sluggish this actually reduces your body's ability to make something called ceruloplasmin and ceruloplasmin is basically a compound in the body that allows you to use copper so you get into the situation where you know your thyroid and adrenal are sluggish from you know maybe they've always been a bit sluggish and now the birth control is making them more sluggish.
So and then on top of this the birth control pill is also pushing up copper so you end up in a situation where you're totally copper toxic!
Because the birth control is pushing up copper but you're also copper deficient because you have now a limited ability to produce ceruloplasmin and which means you have a limited ability to use copper and this is actually the most common situation i've seen and women who've been on birth control even if it was like 15 years ago is they have this severe copper imbalance where they're totally copper toxic the body is storing copper in the tissues in the organs especially the liver and the kidneys and then because they can't use it they're completely copper deficient, so they have symptoms of both.
And it takes years to detox copper from the body it can take a really long time so I've seen this in women who have only been on birth control for a year and now we're doing this test ten years later, but it's gonna be even more crazy in women who've been on birth control pills for multiple years because it pushes up your copper and then another really interesting thing about copper is copper pushes up estrogen levels so when your copper is high your estrogen will be high, so taking birth control pills pushes up copper which can then push up your estrogen which leads to estrogen dominance.
And I've talked a lot about estrogen dominance I've written about a lot of it on my website Kendraperry.net but this is one of the nastiest hormone imbalances that you can have and it's also one of the most common I see in women over 30 and even some women over 25 between like 25 and 30.
And so when your estrogen dominant it really does predispose you for estrogen dominant cancers things like cervical cancer, endometrial cancer, breast cancer, it also gives you crazy PMS, tender breast, bloating, acne, irritability, insomnia around your period, it just kind of makes you miserable.
And it's just really crazy how much birth control pill can really lead to a long-term copper issue and thus estrogen dominant issue and sometimes this estrogen dominance won't show up on a test and I've seen this again where we won't see it in the test, but because it's the copper that's pushing up estrogen during certain times of the month we actually will never find the estrogen so we just have to go with the copper toxicity and assume estrogen dominance.
And I think another way that birth control can really affect your copper level is the fact that actually depletes a zinc so zinc is a very important mineral for the immune system, so when zinc goes down you start to have more issues with infections you get sick all the time and of course that does put you a bigger risk for things like parasites and candida as well.
But zinc and copper are antagonists so as one goes up the other goes down. So as zinc goes down copper goes up. So not only is birth control pushing more copper into your system but it's also depleting zinc which naturally will make your copper levels more high and unless you address copper toxicity directly and you start to detox copper from the body. These issues and these symptoms and that list that I mentioned can affect you for the rest of your life
It's crazy, so that's a really big one, okay. So number three is magnesium deficiency so birth control pills deplete magnesium. It's well known it's been shown in a ton of research and magnesium and you might know that it's super important, so it's involved in over 300 different enzyme reactions in the entire body, you need it to relax the entire nervous system you need sleep you need it to feel calm and not totally crazy and stressed out and birth control pills actually deplete magnesium and so this is a really big issue as well.
Another thing that happens is because magnesium is an antagonist with cut with calcium so as magnesium goes down calcium goes up and if calcium gets too high in your system your body does start to store it in different parts of the body and it can lead to a lot of joint pain, and it can actually really change your personality and lead to a lot of mood disorders as well, so magnesium is huge. We're already deficient in it, and then if you're taking birth control pills. You're gonna be even more magnesium deficient okay, so that's number three is in the way that magnesium causes or sorry birth control causes magnesium deficiency.
So I just want to quickly recap and then I'm gonna give you the bonus side effect the one that's gonna just like blow your head off. It's crazy! I can't even believe this is a thing but anyways, So number one is birth control pills will deplete your gut flora so it does lead to long-term mood disorders and GI problems, does increase your likelihood for getting a parasite or candida.
Number two is that birth control will cause copper imbalance so it can make you deficient and toxic at the same time that leads to a ton of symptoms, very hard to get out of the body if your body can't use it, it can't move it out and then you are just copper toxic and dealing with so many health problems that you can't connect to anything for the rest of your life.
And number three is magnesium deficiency, so it does push down your magnesium, okay. And now for the bonus so the bonus so I heard this from dr.
Sarah Gottfried so she is an MD who does a lot of work with hormones, but more for women who are postmenopausal, But she said in a podcast that I was listening to that birth control pills reduce the size of clitores by twenty to thirty percent.
They shrink your clit. That's crazy. It's crazy, and I was pretty skeptical about this, so I looked it up, and I did find a research study on PubMed that did indicate that the birth control pill can actually shrink your clitoris.
Which is shocking, it's just shocking like that is horrible right? I mean the reason we have sex is for pleasure and enjoyment and being on the birth control pillcan actually shrink your clitoris, and you know I was on the birth control pill for probably seven or eight years
I wish I had measured. I have no idea if mine is smaller than it used to be but I think that's pretty significant and these are side effects that nobody is talking about and your you will never hear this from your doctor when you go on the pill they will tell you that maybe you have a higher risk for blood clots, but that you have a lower risk for certain types of cancer, and you know nobody's gonna tell you about deficient gut flora, no one's going to tell you about copper imbalance and nobody's gonna tell you about magnesium deficiency, and I know nobody is gonna tell you about clit shrinkage, okay, so you know you really need to take these things into consideration when making a decision to go on the pill.
You know I understand that there's times in your life where you absolutely do not want to get pregnant and I get that but you know 60 to 70 percent of women go on the pill for reasons that have nothing to do with avoiding pregnancy and they are not told about these side-effects.
They have no idea and you know as someone who works with women's health, I mean it is crazy how often I work with women who have come off the birth control pill, and they are a mess. You know, it's just it's crazy, and we're just not being given the proper information.
You know if you want to make the decision to go on birth control knowing those side effects that's good, because you're making an informed decision but most of us aren't even making informed decisions because we never get the information to begin with okay, so I hope you found this video helpful
I love bringing you these live videos. I love hanging out with you, so if you like this video give me the hearts give me the likes
I love these, it shows Facebook that you like my content and it will help me reach more women because my mission is to help as many women as possible heal from hormonal imbalance, so they can take control of their bodies again because when your hormones are out of whack you feel like you have no control, it changes your personality
You're on edge and you know you're fatigued you're gaining weight and you just can't live that incredible life that you absolutely deserve to live so give me a like and let me know if you'd like this video if you have any questions even if you're not with me live today
I will answer them. I keep checking these comments for weeks and weeks and weeks and if you haven't done so already pick up my freebie is pinned to the top of this page
It's my hormone imbalance self-test cheat sheet, and you can learn in five minutes or less if you might have a hormone imbalance and which imbalance you might be at risk for one more thing join my group. I have a free Facebook group called hormonal Imbalance with Kendra Perry
I give free weekly master classes. I answer all your questions. There are a ton of women in there we're growing every day, and if you want to connect and get some support this is a great place
I know when my hormones were a mess I felt super alone I felt that nobody cared or understood what I was going through but in this group everyone understands what you're going through so make sure to join my group as well.
That's it for me. I hope you guys, if you're in Canada Happy Thanksgiving!
I hope you have a delicious turkey dinner, and if you're elsewhere. I hope you just have a fantastic weekend
I will see you next week.
I'm going to be coming to you live four times next week Tuesday Wednesday Thursday Friday.
So I'm gonna be talking about lots of hot topics so I will see you guys all next week. Bye!