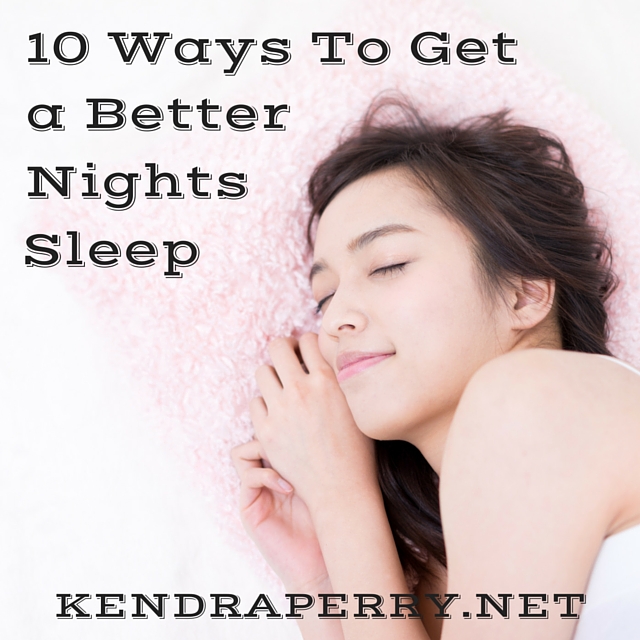 10 Ways to Get a Better Nights Sleep
We all know that sleep is important. Not only is it crucial to brain and organ regeneration, but it also directly influences mood and energy levels the following day.
Sleep is also crucial for your hormone balance and adrenal health. The adrenals do the majority of their regeneration between the hours of 10pm and midnight. If you are going to bed too late then you are missing out on this super crucial time.
If you have ever heard the saying, "an hour of sleep before midnight is worth 2 hours after midnight," this is what that phrase is referring too. A lot of important regeneration happens during this time.
Not being able to get the amount of sleep you need is frustrating. Hours lying awake or continually waking throughout the night are situations many of us are familiar with, including myself. I have been a weird sleeper most of my life. There have only been moments in my life when I felt I was truly getting the amount of rest my body needed.
You know those people who fall asleep on a dime and sleep so deeply that they snore? Well I hate those people. Just joking. Hate is a strong word but I can say that I am incredibly envious of those people and wish I could be more like them when it comes to sleep.
According to T.S. Wiley, author of Lights Out, Sleep, Sugar and Survival, missing out on just 3 hours of sleep a night can make you as insulin resistant as a diabetic. Not only will sleep deprivation increase your risk of developing diabetes, but it also increases your chances of developing obesity, according to this study.
If you are like me and struggle to get those much needed zzzzz's, here are ten tips which may help you in your quest for a better night's sleep.
1. Turn Off All Electronic Devices
Our cell phones and computers are constantly transmitting electromagnetic frequencies. If you are in the midst of cell phone waves and wifi and whatever else, it can greatly interfere with your sleep. Even your alarm clock can have an impact on your sleep quality.
Seriously.
Turn off your computer. Put your phone in airplane mode. Get rid of that electric blanket. Get a battery powered alarm clock and stop all that nose flying around your head.
2. Get Rid of Bright Lights at Night

Let's talk about melatonin. Melatonin is your sleep hormone. It is lowest in the morning and highest at night. The secretion of melatonin happens when the sun goes down and the sky gets dark. It lets your internal self know that it's night time.
So if you are hanging out in a room with bright fluorescent lights, your body still thinks it's daytime and melatonin secretion is inhibited. After the sun goes down, keep the lights low or better yet, use candles. Try to limit the amount of TV you watch or time looking at the compute screen. I suggest a no screens rule after 8:30pm
Instead of watching Netflix, you can read a book, go for a walk, hang out with your partner or play a board game.
3. Eat a Bed Time Snack
A lot of people will tell you not to eat late a night. This advice may pose a problem for those who struggle with blood sugar problems. For example, if you eat dinner at 6pm every night and breakfast at 8am then you are going a very long time without food.
A major reason that people have trouble staying asleep is blood sugar crashing in the night. Low blood sugar is not a great scenario and when this happens the body will use a number of things to bring it back up. One of these things is adrenalin which can effectively raise blood sugar but will also wake
If you are someone who wakes frequently during the night, experiment with having a healthy snack high in protein before bedtime. The protein will help stabilize your blood sugar and keep you asleep throughout the night. You may even want to experiment with keeping your snack next to your bed. When you wake up, eat a little and hopefully this should help you fall back asleep.
4. Take up Journaling
The reason many of us can't sleep is because we just have way too much on our minds. Whether it's stressing over the events of the day or contemplating what needs to be done the next, sometimes we just don't know how to hit the off switch.
I have found it helpful to journal before bedtime. It helps clear the mind and get rid of anything you may have been holding onto from your hectic day.
I also like to make my "to do" list for the following day. That way I don't need to lie awake and worry about all the things I might forget.
5. Get Regular Acupuncture Treatments Late in the Day
This is one of my all time favorite ways to get a good nights sleep. While some people may not think getting needled can be relaxing, it actually is. The theory of Chinese Medicine is based off of 12 meridians, running through the body, which are connected to the internal organs and the emotions.
For example, the liver meridian is linked to stress and anger and the heart meridian in linked to anxiety. Too much of any of these emotions can affect the organs and their corresponding meridian. This can lead to imbalances in "shen," the energy of our emotional body and sleep disturbance can be a symptom.
I have found getting a really good acupuncture treatment in the late afternoon generally induces great sleeps. If your acupuncturist has also been trained in herbs, he/she might be able to prescribe a herbal treatment that can help in between treatments.
6. Take 5-htp or Tryptophan Supplements
If they above 5 suggestions do not help you, it might be time to consider a good quality supplement. Many people try taking Melatonin supplements but I would caution against this. Melatonin is a hormone, and taking a hormone without knowing where your levels are at could cause hangover like symptoms the next morning.
L-tryptophan and 5-htp are the building blocks of melatonin. Tryptophan (the amino acid from meat products) is converted to 5-htp, which then turns to serotonin (your happy and feel good hormone) and finally becomes melatonin.
Unless you know your melatonin levels, it's best to give your body the building blocks for this hormone and so your body can decide how much it needs. While you will need to figure out your own dosages of these supplements, according to Julia Ross, author of The Mood Cure, you can start by trying 500-1500mg of tryptophan (start at the lowest dose and work your way up).
If that doesn't work, try 100-300mg of 5-htp. And if you still aren't experiencing results, try combining the two. Play around with your dose until you find a combination that works.
7. Try Taking St. John's Wort
If supplementing with tryptophan and 5-htp isn't working for you, you can try adding in some St. John's Wort. This herb has been used for centuries to combat depression because of it's ability to stimulate serotonin production. And remember what serotonin converts to??? Melatonin! Yeeeah! If you wanna give this stuff a try, try 300 mg in late afternoon and 300 mg again at bedtime.
8. Magnesium Oil/Epsom Salts Bath
Magnesium is damn important. Actually, I might consider magnesium the single most important mineral needed in the human body. When it comes to sleep, magnesium is a powerful relaxant.
In fact, doctor's use high concentrations of magnesium sulphate to stop some types of seizures. It relaxes and calms the nervous system, while promoting a healthy heart rhythm.
Unfortunately, this important mineral is also one of the most depleted minerals in our environment, so simply eating magnesium rich foods may not be enough. Another fact to consider is that it has limited absorption through the GI tract. The best way to get your dose of magnesium is through the skin.
My personal favorite is magnesium oil. I rub it on my feet at night, put some little sockies on and go to sleep. You can also try an epsom salts bath. Epsom salts is just another name for magnesium sulphate salts. Draw yourself a hot bath just before bed and this should help you relax and have a great sleep.
9. Heal Your Gut!
This one is not exactly the quickest thing to do but if none of the above options work then you need to consider the health of your gut. Why? Because 80% of your melatonin is produced in your gut. Low melatonin production may be caused by a malfunctioning gastrointestinal tract.
If you are having trouble sleeping, you are likely also experiencing digestive problems. Maybe you are also experiencing some mood problems since serotonin is also produced in the gut.
How do you heal the gut? Time, patience and probably some professional help. Eating a real food diet that is right for you is of up most importance. Probiotics, bone broth and digestive enzymes will help as well. It might also be necessary to get a pathogen screen to detect any infections or parasites going on in there. This is why you will likely need the help of a trained medical profession or a Functional Diagnostic Nutrition Practitioner.
10. Get Your Adrenal Function Tested
If all the above fails miserably and you continue to be sleep deprived, you may want to have your adrenal function tested. Having healthy adrenals are very important for good sleep. Adrenals have many life sustaining functions including producing the stress hormones (epinephrine and cortisol) and the sex hormones (DHEA, estrogen, progesterone and testosterone).
Malfunctioning adrenals can cause your cortisol levels to be high at night and thus inhibiting your ability to fall asleep. Adrenal dysfunction can also lead to an imbalance in your sex hormones. Deficiencies in DHEA, progesterone, estrogen and progesterone can all cause sleep disorders. Talk to your Naturopath or contact a Functional Diagnostic Nutritionist and ask about running Precision Analytical DUTCH test.
Now do it. Have a good nights sleep and be the best person you can be!