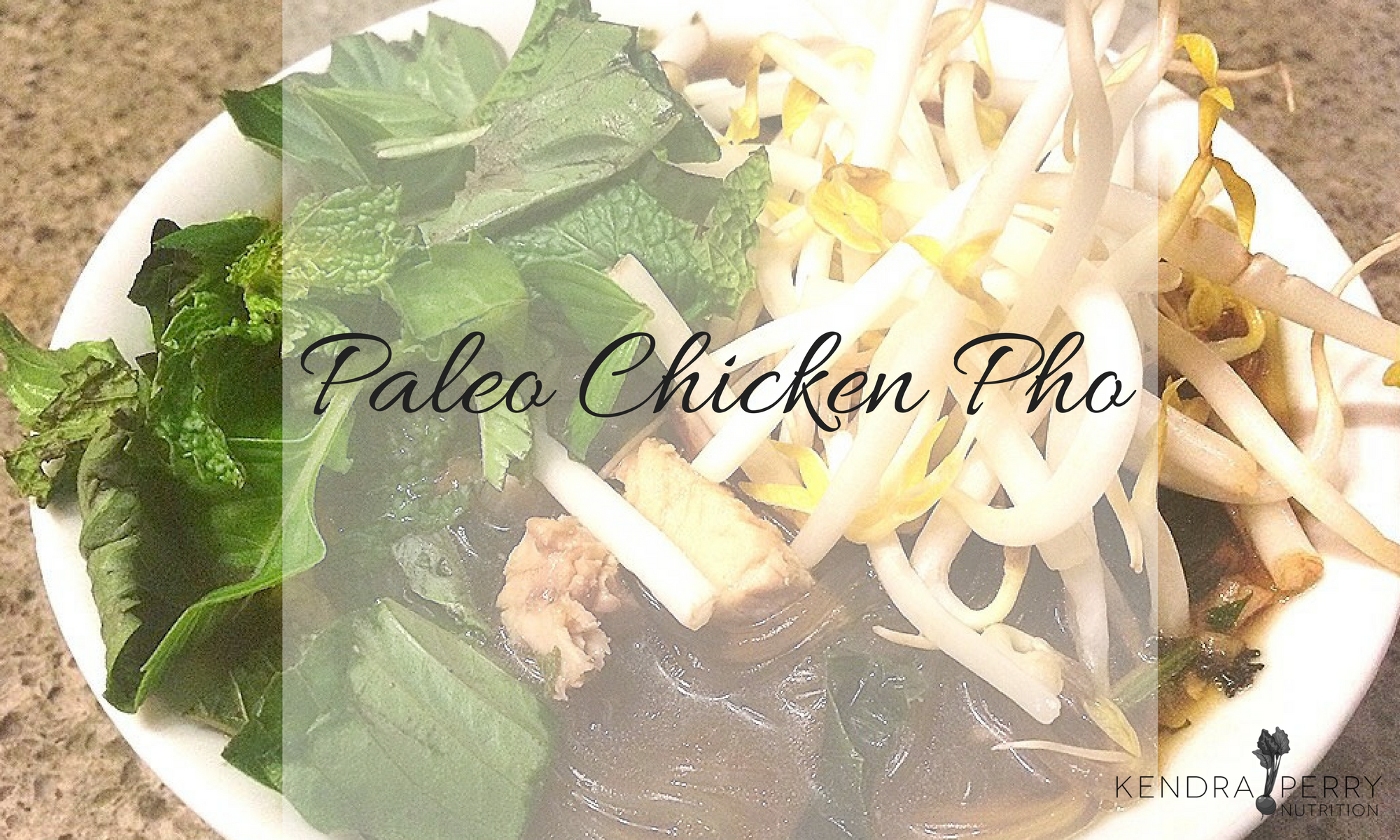 Pho is pretty much my favorite thing ever. Ever! Ever! Ever! Apparently I say that a lot. My boyfriend is always pointing out that everything I come across is the "best thing ever," or "my favorite thing ever," or the "best thing I have ever seen." I think it drives him crazy. Honestly, I don't really care. Cause everything is awesome and every day is the best day ever in the world. Take that!
But seriously, when it comes to Pho, I just can't get enough. So warm and full of nutrition, I find myself craving it the most at this time of year. The great thing about this recipe is that it is Paleo. I found these wonderful sweet potato noodles that are just fantastic. I have been eating pho for 2 weeks straight and I just keep wanting more.
I use my own homemade broth to make this and I think that's why it tastes so damn good. Broth is one of the most amazing things you can do for your digestion. Imagine the nutrients and minerals it would take to make bone. When you simmer your broth, you pull all those minerals and nutrients out of the bone and put it into a tasty delicious liquid that you can just consum consume consume!
Is broth good for my hormones you might ask? I would say "yes, yes it is." All those minerals and nutrients help your hormone system function better. How? Let me tell you.
Bone broth heals your gut. Gut health is inextricably linked to your hormonal health. If you got something nasty going on like leaky gut your body is not able to absorb enough minerals or nutrients to even produce hormones. Leaky gut leads to toxins and other gross things leaking into your bloodstream. This in itself can cause a fight-or-flight response which pushed cortisol up and throws your other hormones all over the place. If you have gas, bloating or any other gut symptoms then I guarantee your hormones are a wee bit messy. What am I trying to tell you? Make this Pho recipe and eat it up!
Bone Broth is packed full of electrolytes. We need a good balance of electrolytes for the adrenal glands to function properly. In fact, when we are stressed, electrolytes are easily depleted from the body. Sodium and potassium are especially important for the adrenal glands. The ratio between sodium and potassium will determine fluid and electrolyte dynamics, blood pressure activity, nervous system output and energy production. If either of these is depleted your adrenal health will suffer. Do drink it up. The bone broth, I mean.
Bone broth is full of beneficial amino acids like proline and glycine. Amino acids are key plays in the development of your hormones and also the detoxification process. Your liver is responsible for clearing excess hormones from the blood. So if your liver doesn't detoxify well then extra hormones are running amuck around your body doing all kinds of weird things. Poor detoxification is implicated in things like estrogen dominance and PCOS.
No discussion about hormones can leave out a discussion about gut health and digestion. The two are romantically involved and you just can't break them up. So what I am trying to say is make my Pho recipe. Make it for your digestion, make it for your hormones and make it because it just taste so damn good!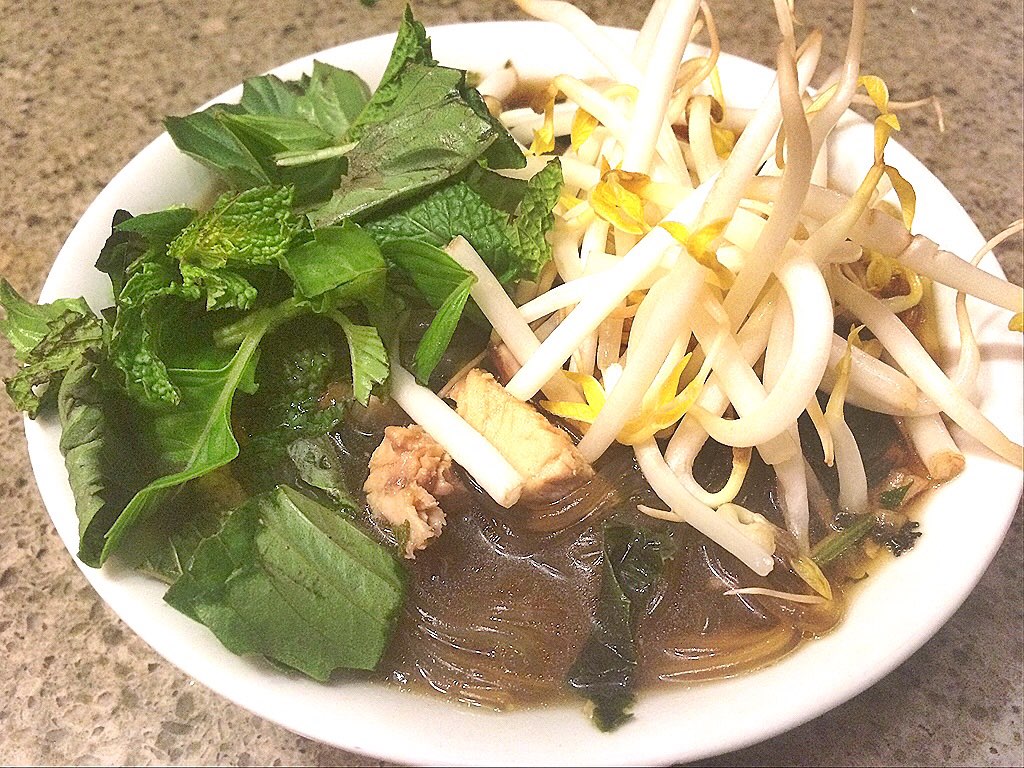 Paleo Chicken Pho
2016-11-01 19:19:37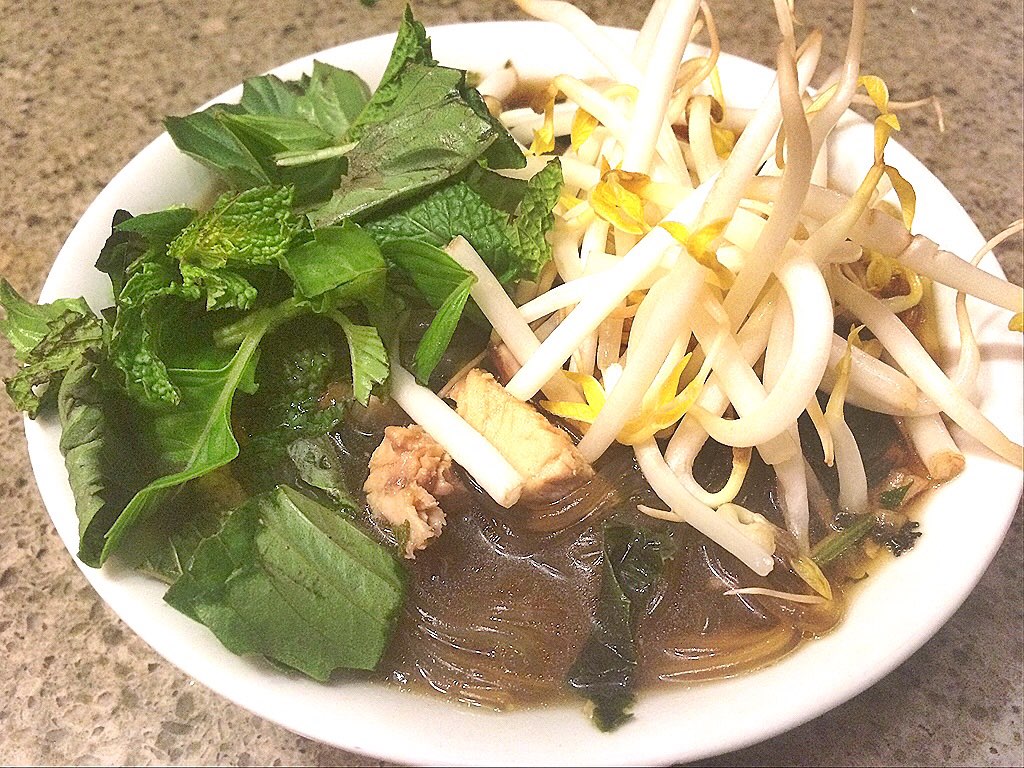 Serves 6
Delicious Vietnamese Pho with a Paleo twist to warm your belly this fall.
Ingredients
12 cups homemade bone broth
2 large yellow onions, cut into thin medallions
6 large garlic cloves, minced
4 one inch cubes fresh ginger root, peeled
2 cups kale, chopped
2 cups pre cooked chicken, diced
1/2 cup gluten-free tamari
1/4 cup fish sauce
1/4 cup honey
Juice of 4 limes
1 lime cut into 8 slices
hot sauce (optional)
200g sweet potato noodles
5 star anise
3 cups bean sprouts
1/4 cup fresh mint
1/4 cup fresh basil
Instructions
Put broth into a stock pot
Bring to boil and let simmer
Add in chicken, onions, garlic, ginger, tamari, fish sauce, honey, star anise and juice of limes
Let simmer for 20 minutes
Add in kale and sweet potato noodles
Let simmer for 10 minutes
Serve and add in fresh lime sprouts, hot sauce, fresh basil and mint as desired
Notes
This is a big recipe and should last you a few meals. You can cut it in half if you want to make a little less.
Kendra Perry Nutrition http://kendraperry.net/